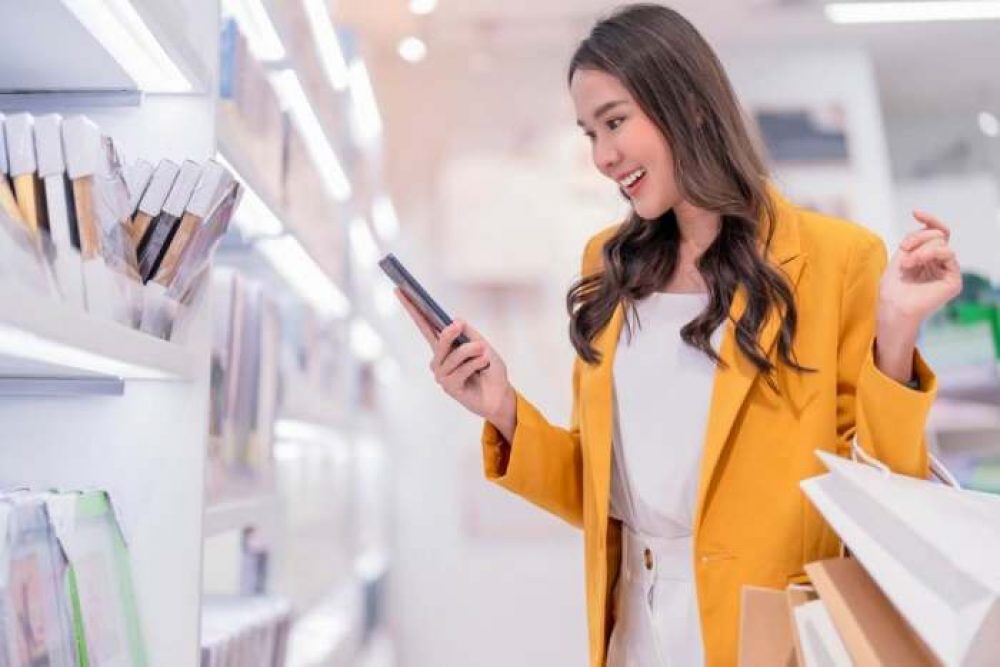 The nearly decade-old brand Glossier, that first targeted millennials, but had to adapt as their base clientele grew up, opened a retail store in Chicago's Gold Coast on Friday, April 14, as the company enters a new phase of its business.
Chicago has already been amazing for Glossier, the company says 
The brand new cult-favorite beauty brand's Chicago location at 932 N. Rush Street is inspired from the city's industrial roots and cool weather, featuring a refreshing minty-green color palette which remembers the brand's After Baume, the ideal moisturizer for chilly days, a nod to Chicago's crisp winter days, when wearing such a product is a must. 
This is the 11th overall store of the brand. With successful stores in Miami, Boston, New York, and Los Angeles, it's clear that Glossier has found a special approach to beauty that has enthralled customers across the country.
"Chicago is home to many Glossier customers and has been an amazing community for us. Our initial pop-up there five years ago was a great first entry-point into the city, and we're excited to return with a more expansive product portfolio for our customers to experience in real life," said Adriana Deleo, VP Deputy Creative Director, Design at Glossier. "We hope that Glossier Chicago becomes a space for the community to gather. You'll see more of that through events and moments we host in store over time, but we create these spaces to fuel connection and joy, and Chicago will be no different."
Our city has many destinations oriented towards young, hyp customers. A United Kingdom-based chain will be expanding to Chicago's Wicker Park. The Cauldron, which has six locations worldwide, will open this new venue, their third -and largest – in the US, on May 4. Another hotspot in town is for those who love beauty and fashion, but also good coffee. Ralph's Coffee, the highly photographable coffee shop from fashion brand Ralph Lauren, opened its first Chicago location last fall, inside the brand's flagship store on Michigan Avenue.
Glossier went through a significant restructuring last year
Founded in 2014, Glossier started as an online-only brand, going for pop-up shops around the globe next and then starting to open actual brick-and-mortar stores. Today, it has stores in New York, Los Angeles, Miami, Boston and more, and its products are available at Sephora in the U.S. and Canada. 
The news of the new stores opening came after Glossier's significant restructuring in 2022. That included laying off its tech department in a pivot away from a vaguely understood community-focused platform; introducing a new CEO as founder Emily Weiss stepped down; naming its first celebrity brand ambassador, Olivia Rodrigo; and selling some products through discount store TJ Maxx. In early 2023, Glossier began selling products through Sephora.com before moving into the actual physical stores. On Feb. 23, every Sephora in the United States and Canada was decorated in millennial pink to bring attention to the brand's entry into the retailer. Posters of Glossier's Cloud Paint liquid blush were covering all front windows, to really make a splash. 
According to The New York Times, Glossier reintroduced its $14 Balm Dotcom in February with an updated, Gen Z-friendly vegan formula and a new applicator tip. It sold $1 million worth of balms in the first week. Glossier has received $265 million in venture-backed funding, with a valuation of $1.8 billion. In 2018, the brand stated it earned $100 million in annual sales.
Before coming to Chicago, the brand opened a new store in New York, sort of a coming back home. The Glossier new 7,000-square-foot flagship store in SoHo came to life in February 2023 after the  permanent closure of a previous version that opened in 2019 and closed at the onset of the Covid-19 pandemic in 2020. Its predecessor was roughly 5,500-square-feet across a two-story ground-floor retail space with 3,000-square-feet of shopping space. The new store is situated a block away from the last location. It offers 3,100-square-feet of shopping space, including a 500-square-foot lounge.
A space made to honor Chicago's present and past
The Chicago store is Glossier's first in the Midwest. It has an inviting feel to it, featuring brick arches – produced using clay from the Chicago River—and an installation that pays homage to the Chicago Cultural Center's iconic dome. When entering the space, guests are met by stone-white bricks and cream coloured arches, together with rectangular tables with mirrors for a perfect vanity experience. The metal installation on the contrasting wall has been molded into Glossier's signature wave, with a high-gloss finish, giving the space a shiny, futuristic trait to appeal to the younger demographic.
Customers can take fun selfies in front of a circular "You Look Good" mirror, which is scaled up by a wavy panel wall in ombré shades of Glossier pink. Corrugated metal sheets were put together to make the wall, as an homage to Chicago's industrial past. 
At the grand opening, the store had an item exclusive to Chicago—a deep turquoise Bucket Hat, in a shade dubbed "Park," the right accessory for springtime strolls through the Windy City. For every purchase of the hat, Glossier will donate $5 to The Gray Matter Experience, an organization which wants to empower young Black entrepreneurs. Glossier also offered complimentary embroidery on their store-exclusive Bucket Hat on a first come, first serve basis with one hat embroidery per person.
The first few customers in line on opening day received some special giveaways from Glossier. To celebrate their grand opening, Glossier threw a special event, complete with delicious mocktails and snacks from local favorites like Garrett Popcorn. Visitors were also treated to a live performance by Chicago-native saxophonist Darryl Tate. 
Located at 932 N. Rush Street, Glossier store awaits customers Monday to Saturday from 10am-8pm and Sunday from 11am-7pm.