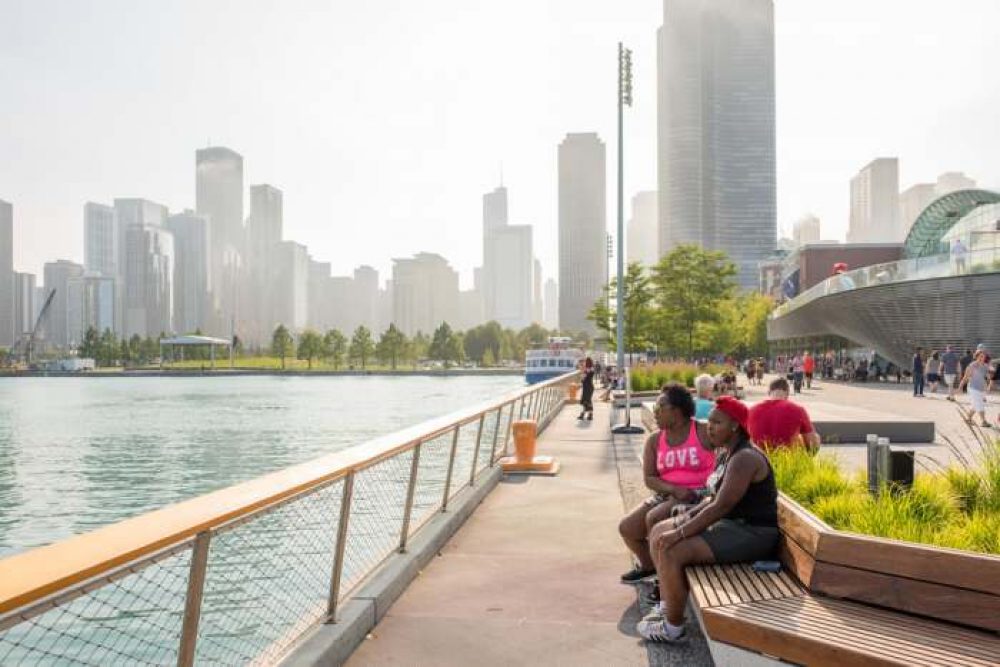 While we are still just working our way through the beginning of the New Year, it's a good time to start thinking about the many attractions and activities coming up in Chicago this year. There is literally something for everyone, regardless of your taste or adventure level. The 2023 calendar of events for Chicago is jam-packed and in this article, we will look at some of the most amazing things we are looking forward to being a part of this year. You may be surprised at what the city has in store for the year.
Immerse Yourself In A High-Tech Adventure
There is a new attraction at Navy Pier this year. It is called Illuminarium and is a 32-thousand-square-foot immersive space. Virtual reality exhibits will take you to some amazing, exotic places without leaving the city. Expect to find laser projectors, scents, 3D audio, and other high-tech tools to enhance it. The experience, which will tickle all of your senses, will include a trip through the solar system, and an African safari.
Alamo Drafthouse Movie Chain Comes To Chicago
You may have heard of this Texas-based movie theatre chain. Alamo Drafthouse has transformed a night at the movies with amazing food options, a strict no cell phones allowed policy, and screenings that often fit a specific theme. The six-screen theatre opened in January in the Addison and Clark development close to Wrigley Field. This facility puts a new spin on the concept of dinner and a movie that you cannot miss.
Catch A Show And A Beer At A Historic Location In Bridgeport
The Ramova Theater in Bridgeport was originally opened in 1929. It continued to be a cinema house until 1985 when it closed. A complete restoration of the historic site is complete which has turned the site into a live music hall with a brew pub on one side and a restaurant on the other. Chef Kevin Hickey pays tribute to the Ramova Grill, which was once attached to the theater, with a reintroduction of chili, the most popular menu item at the time.
Experience A Concert In The Old Morton Salt Building
The former Morton Salt Factory has undergone renovations and last year reopened as Salt Shed, an outdoor concert venue. Later this year, the indoor portion of the complex will open featuring food and drink options, and Goose Island's new brew pub. The venue will host some pretty big bands throughout the year including Third Eye Blind and Iggy Pop.
Enjoy A Dining Experience Like No Other At Hell's Kitchen
Celebrity chef and restauranteur Gordon Ramsey has launched several of his branded eateries in Chicagoland. His newest gift to the Windy City is Hell's Kitchen. If you've seen the TV series, then you have an idea of what to expect here. The site will include 18,000 square feet spread over two stories in River North. The developers are incorporating an airy, vertical design in homage to the city's skyscrapers. The menu will feature signature items like sticky toffee pudding and beef Wellington.
Taste A Brew Or Two At The Guinness Factory
It was back in 2021 when Guinness announced plans to add a second US taproom to the West Loop neighborhood of the city. The project is finally completed and can be found in a former railroad depot at 375 North Morgan Street. The 15-thousand square foot venue will provide locals and visitors the opportunity to sip beers that are only available at this location. The name itself has created a fair deal of buzz and this site is should be popular.
The Double Door Rocks Back Into Chicago
If you have lived in Chicago for any length of time, you have probably heard of the Double Door. It was a local music venue located in Wicker Park. It closed in 2017 when the landlord of the building evicted it. However, the new Double Door has returned to a new location inside the Wilson Avenue Theater in Uptown. The new site is a building that dates back over a century and has been under renovation for the past several months. The new Double Door has two mezzanine levels over the main floor, a lounge in the basement, a balcony on top, and a new 17-foot tall sign. The new sign is in homage to the original club sign that was taken down when it closed.
Get A Slanted View of the City High Above It
The building has had several names and has been most recently known as the John Hancock Building. It still offers some of the best views around. 360 Chicago is the attraction and from the observatory, you can see Chicago, and portions of nearby states, from a vantage point 1,030 feet above the streets. There are also interactive exhibits that reveal Chicago's history and then there is TILT. You join several other people in a glass-enclosed platform that will slowly tilt over the side of the building. The total tilt is 30 degrees. It is something that both locals and tourists will talk about long after experiencing it.
NASCAR's First-Ever Street Race Hits The Windy City
As controversial as it was from the first conversation, Chicago will be hosting a weekend of NASCAR street racing. Although the event is believed to not be as big a money maker as you would expect, it will still be an interesting sight to watch race cars rip through Grant Park, and down Michigan Avenue. Ticket prices are steep for what will likely be a one-time event. Reserved seats start at $415 each and tickets that come complete with VIP perks are priced at $4,300 per.
Final Thoughts
A lot is going on in Chicago on an average day or week. However, this year will see some incredible new and exciting activities. Of course, all the regular attractions are still here, but the city wants to offer more variety and excitement which means newer events to enhance what is already here. Whether you are a long-time resident, or just in town for a vacation, you won't be disappointed. Chicago has a lot to offer and all you have to do is look for it.