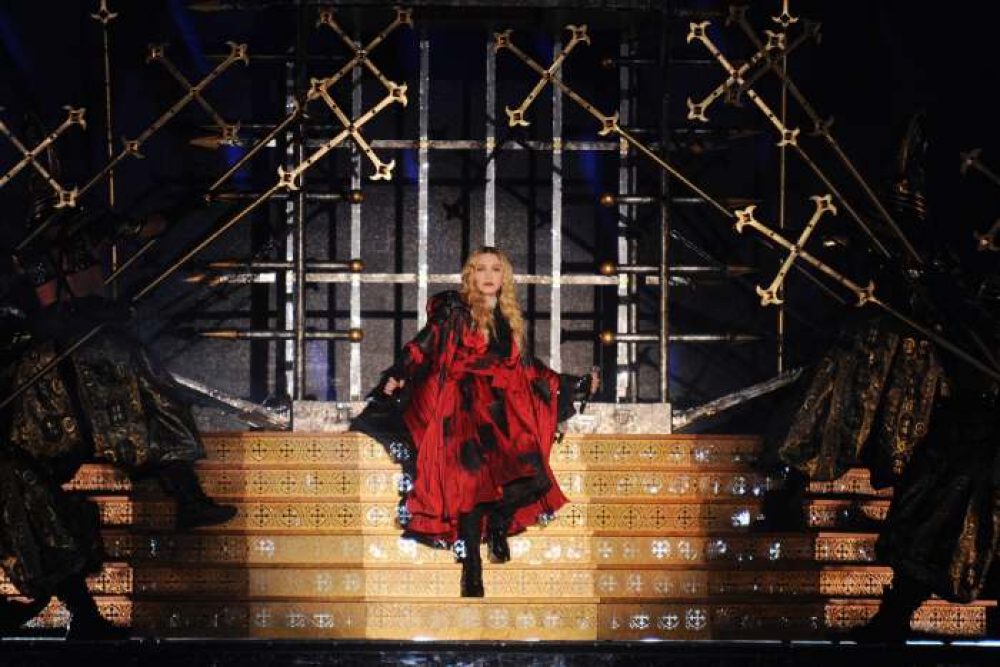 Madonna's upcoming Celebration Tour will make a stop in Chicago. The show is slated to take place on August 9 at the United Center. The tour, which will hit a total of 35 cities in North America and Europe, starts July 15 at Rogers Arena in Vancouver, British Columbia, and will make stops in Detroit, Chicago, New York, Miami, Los Angeles, Denver, Atlanta, and Boston. The North American part of the tour will end with a show in Las Vegas on October 7. The European section of the tour has 11 dates running into fall with stops in London, Barcelona, Paris, Berlin, Milan, and Stockholm. The final tour date is December 1 in Amsterdam.
Tour Celebrates Madonna's Musical Career
The concept behind the Celebration Tour is that each show will permit the singer/songwriter to "Take A Bow" as she sings her greatest hits, including 38 songs that cracked the Billboard Hot 100 charts during her career. The tour announcement featured the 64-year-old singer in a star-studded video that gave a nod to her 1991 "Truth or Dare" film with a roundtable. Stars seated there included Judd Apatow, Diplo, Lil Wayne, Jack Black, Kate Berlant, Bob The Drag Queen, Meg Stalter, Larry Owens, Amy Schumer, and Eric Andre. The group is shown playing an adult version of the classic game truth or dare.
The video shows Schumer challenging Madonna with a dare to "do a world tour and play your greatest (expletive) hits." Madonna responds to the dare with, "Four decades? As in 40 years? As in all those songs?" She goes on to admit that is a lot of music and asks, "You think people would come to that show?" Everyone in the room says it should be well attended. Madonna replies with, "Okay, so the answer is: (expletive) yeah!" Everyone cheers and soon begins to chant the words, "Madonna World Tour!"
What They Had To Say
The official media announcement proclaims that Madonna will "be highlighting her unmatched catalog of music from the past 40-plus years" and adds that the show will feature New York. The intention is to pay respect to the city where Madonna's music career was launched. Madonna explains further by saying, "I am excited to explore as many songs as possible in hopes to give my fans the show they have been waiting for." Some of her Billboard Hot 100 hits include:
Like A Virgin – 1984
Peaked at #1 and stayed there for six weeks
Crazy For You – 1985
Peaked at #1
Take A Bow – 1995
Peaked at #1 and held that position for seven weeks
Like A Prayer – 1989
Peaked at #1 and sat there for three weeks
Vogue – 1990
Peaked at #1 and was there for three weeks
Justify My Love – 1991
Peaked at #1 and held there for two weeks
Papa Don't Preach – 1986
Peaked at #1 and stayed there for two weeks
Live To Tell – 1986
Peaked at #1
Music – 2000
Peaked at #1 and held that spot for four weeks
Open Your Heart – 1987
Peaked at #1
Vanity Fair Features The Celebration Tour
Three international editions of Vanity Fair magazine will be producing an "icons issue" with Madonna on the cover in recognition of her upcoming concert tour. The publication is a joint effort of Vanity Fair Italy, Spain, and France. In the magazine, Madonna answers a question about how much her highly criticized and provocative career has cost her. She responds by saying she could use the figure of "several billion dollars" as the answer but adds, "the thing it's cost me most is loss of sleep and maybe less time spent with people I love." She went on to include peace of mind but points out that these losses come with the territory.
Final Thoughts
With a musical career that spans over four decades, Madonna is hitting the concert trail in 2023. The relatively short tour will hit 35 cities in North America and Europe with a stop a Chicago's United Center on August 9. Like her or not, there is no denying the impact Madonna has had in both the music and fashion worlds. She has a total of 57 chart hits since entering the Billboard Hot 100 chart with "Holiday" the week of October 29 in 1983. Since then, she has collected 38 top 10 hits, a record total for a female artist. Her Celebration Tour will celebrate her massive music catalog of hits and be the show that the artist herself calls one that her fans have been waiting for. Ticket sales should be brisk for each venue.