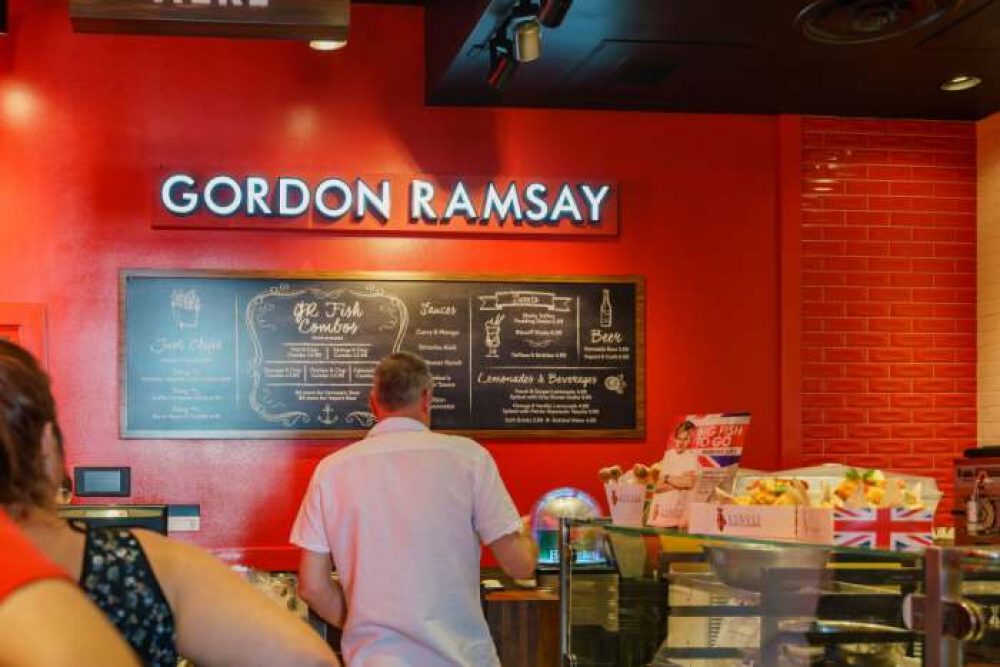 Downtown Naperville will soon be the home of Ramsay's Kitchen, as celebrity chef Gordon Ramsay plants his signature style in the heart of the city. The restaurant, located at 39 West Jefferson Avenue, will be just the third of the Ramsey-branded eateries in the country. The site was once home to Ted's Montana Grill and Oswald's Pharmacy, two well-known businesses in the downtown core situated just west of South Washington Street. Locals will be very familiar with the location.
Restaurant To Open In Spring 2023
According to the Gordon Ramsey North America website, the downtown Naperville operation is set to open in Spring. A list of job openings indicates this. Positions applications are currently open for include general manager and executive chef. Wages noted in the listings go up to $110,000 annually. All other front-of-the-house and back-of-the-house positions are also available. This will be the second Gordon Ramsay restaurant to open in the region.
More On The Restaurants
The other two Ramsey's Kitchen restaurants are in Las Vegas and Boston. The menu features a variety of beef, pasta, and seafood dishes. The restaurants serve breakfast, lunch, and dinner. Here is a quick look at a few of the items the Boston location features on its menu.
Breakfast
Buttermilk Pancakes, Avocado Toast, Fruit Bowl, Ham & Cheese Omelet, Eggs Benedict, or Quiche. Prices are below $20.
Lunch
Jumbo Lump Crab Cake, Shrimp Cocktail, Wild Mushroom Soup, or Grilled Chicken Cobb as starters with sandwiches ranging from Beet Burger, Crispy Skin Salmon, or Fish & Chips.
Dinner
Connecticut-Style Lobster Roll, Oysters on the Half Shell, Pan-Seared Scallops, Braised Pork Shank, or 12-Ounce Prime New York Strip.
Development of the Naperville location is in the hands of 41 North Contractors, based in Lisle. City files show that building permits for the project were drawn up in October 2022. 41 North Contractors has a successful track record in the local construction industry. The company has worked on and completed several retail and restaurant projects in and around Naperville.
Ramsey's second new restaurant project for the Chicago area was first announced last year. It will be a Hell's Kitchen restaurant at 508 North State Street in the River North neighborhood that has had a Gordon Ramsey Burger restaurant since 2021. The Hell's Kitchen restaurant gets its inspiration from the FOX television series of the same name.
What They Had To Say
Ramsay says, "When we thought about where to open additional locations of Gordon Ramsay Hell's Kitchen, Chicago was key to me." He adds that River North is a favorite neighborhood of his, "and I'm thrilled to soon have two restaurants there." Ramsay's first step into the Chicago restaurant landscape was when he opened Gordon Ramsay Burger in 2021. He currently has 21 restaurants across the country. They include Ramsay's Kitchen, Hell's Kitchen, Gordon Ramsay Fish and Chips, Gordon Ramsay Burger, Gordon Ramsay Pub and Grill, Gordon Ramsay Steak, and Gordon Ramsay Food Market.
More On Gordon Ramsay
Gordon Ramsey was born in November 1966 in Scotland and is best known as a British chef, restauranteur, and television personality. He is also a writer. Ramsay established Gordon Ramsay Restaurants in 1997. He rose the international fame as an influential chef in 1999 from the British television mini-series Boiling Point. His restaurants have a total of 17 Michelin stars and his London-based Restaurant Gordon Ramsay has had three Michelin stars since 2001.
Ramsay has an extensive automobile collection including several Ferraris and is also known for his charity work. His list of charitable events and activities is lengthy and includes sitting as an Honorary Patron of the Scottish Spina Bifida Association, participating in Soccer Aid to benefit UNICEF, working with international development charity group VSO (Voluntary Service Overseas), and as an ambassador, with his wife Tana, for Cornwall Air Ambulance.
What seems to stand out most about Ramsay is his personality. He is known to be blunt with an extremely hot temper. He has a strict demeanor and sprinkles his vocabulary with outbursts of extreme profanity. However, his success in the restaurant business seems to buffer all of that to where he is viewed as more of a celebrity chef than a foul-mouthed cook.
Final Thoughts
There is something about Chicago and the surrounding suburbs that attracts well-known restauranteur and chef Gordon Ramsey. Whatever it is has encouraged him to plant several of his signature restaurants in Chicagoland since 2021. His second and third ones are due to open later this year, a Gordon Ramsay Ramsey's Kitchen in Naperville, and a Hell's Kitchen in the River North neighborhood of Chicago.