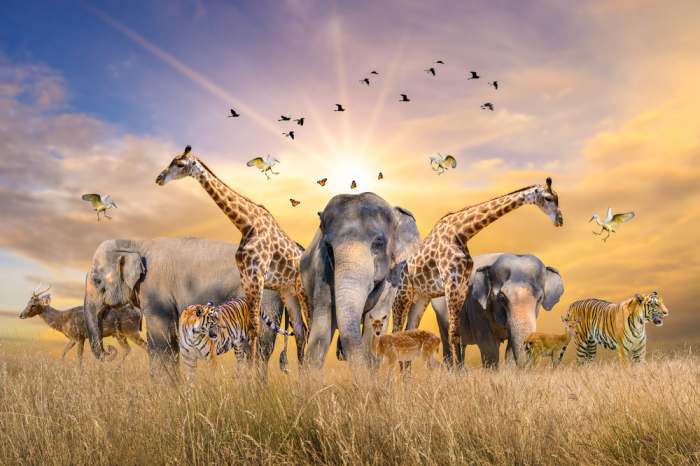 In case you always wanted to go on an African safari or to go into space and walk on the moon like Neil Armstrong, starting with 2023 you will have the chance to experience it. You'll get a feel of how these adventures could be when a new entertainment venue opens inside Navy Pier, bringing a rotating selection of immersive experiences to the lakefront attraction.
Virtual reality-like experiences, a new reason to call Chicago home
The entertainment company Illuminarium Experiences plans to build a 32,000-square-foot Illuminarium—which uses huge projections and soundscapes to create virtual reality-like exhibits—inside of the Pier's Crystal Gardens space, a six-story glass atrium currently home to a botanical garden and some fancy fountains. Visitors will get to walk through a series of narrative exhibits that aim to place viewers "inside" the story without using headsets or typical virtual reality gear, thanks to the use of special camera projections and other technology, which is already in use at an Illuminarium location in Atlanta.
This would offer another attraction to visitors, but also provide a new entertainment possibility for people who just decided to move to Chicago. When it comes to quality living, Chicago already has a lot to offer. Whether you're seeking world-class dining, a thriving cultural scene, or major league sports teams, this city has got you covered. And that's not even mentioning the incredible shopping experience, which is among some of the best in the country! There are some things you need to learn about the Windy City before moving here. With over 2.6 million people, Chicago is the third-largest city in the country after L.A. and New York City. The city's size makes it ideal for those who love crowds, action, and access to all that big-city living entails, this next attraction of Illuminarium being one more reason to choose Chicago.  
The inaugural exhibit, called "Wild: A Safari Experience," will use video content shot in South Africa, Kenya, and Tanzania on cameras that provide a 240-degree field of view—a wider, more cinematic version of the 210-degree human field of vision, complete with sounds and scents which, of course, remain to be seen, felt, heard. Similarly, the next exhibition, "Spacewalk," will project images from the surface of the moon and Mars, plus other celestial sights. 
"Navy Pier juts out 3,300 feet into the water, and our Centennial Wheel rises 200 feet into the sky, but Illuminarium breaks all boundaries by taking us places most of us would never see—transporting us across oceans—and under them—and sending us soaring beyond the reach of astronauts," Navy Pier President and CEO Marilynn Gardner said in a statement.
A new dining and drinking concept for those who can't make it to Vegas
If you cannot go to Vegas, and choose one of the 27 best hotels in Vegas  we have hand-picked, based on guest experiences, hotel attractions, Google ratings, and other key metrics, to help you decide which one is the most suitable for your budget and needs, the new Illuminarium attraction will also feature a bar. This will have a new dining and drinking concept incorporating projection and audio systems to mimic seven different settings from around the world and beyond, including a crowded Tokyo street and trippy dreamscapes. So, if you cannot visit all of those places, dining at the Illuminarium will be the next best thing.  For the moment, we do not know the prices of the tickets, but it is expected to be something similar to other immersive experiences; in Atlanta, an adult can enter the safari experience for $35, while tickets for children are $30. Of course, there is still some time to wait before experiencing it, because construction is scheduled to start mid-2022 and it will take more than a year for the venue to be completed. Anyone who is curious to see how it is going to look, can always see the pictures and videos from the Atlanta Illuminarium.  
A new space for unforgettable birthday parties
The venue will also surely provide a new hot spot in town for birthdays and other celebrations. When you live in a large city like Chicago, it can be difficult to throw an elaborate birthday party at home, especially if you live in a space-constrained home. You almost never have enough space in your apartment for the 30 to 50 guests you want to invite to your birthday. Fortunately, the Windy City has plenty of affordable world-class restaurants where you can throw any type of party. Sometimes the most enjoyable occasions are the ones where you can just let go and immerse yourself in the experience, knowing someone else has got the nuts and bolts of the party covered. To help make your decision easier, we have chosen for you the top Chicago birthday restaurants. You can host any type of party at these best-rated birthday restaurants in Chicago, from a casual evening for your dad's 50th, a blowout 30th-birthday, or a themed birthday party for your little one. And best of all, you can do it without breaking the bank. And, starting with 2023, if you are a bit bored with the present options in town, Illuminarium will provide the new attraction you needed to make your party unforgettable.