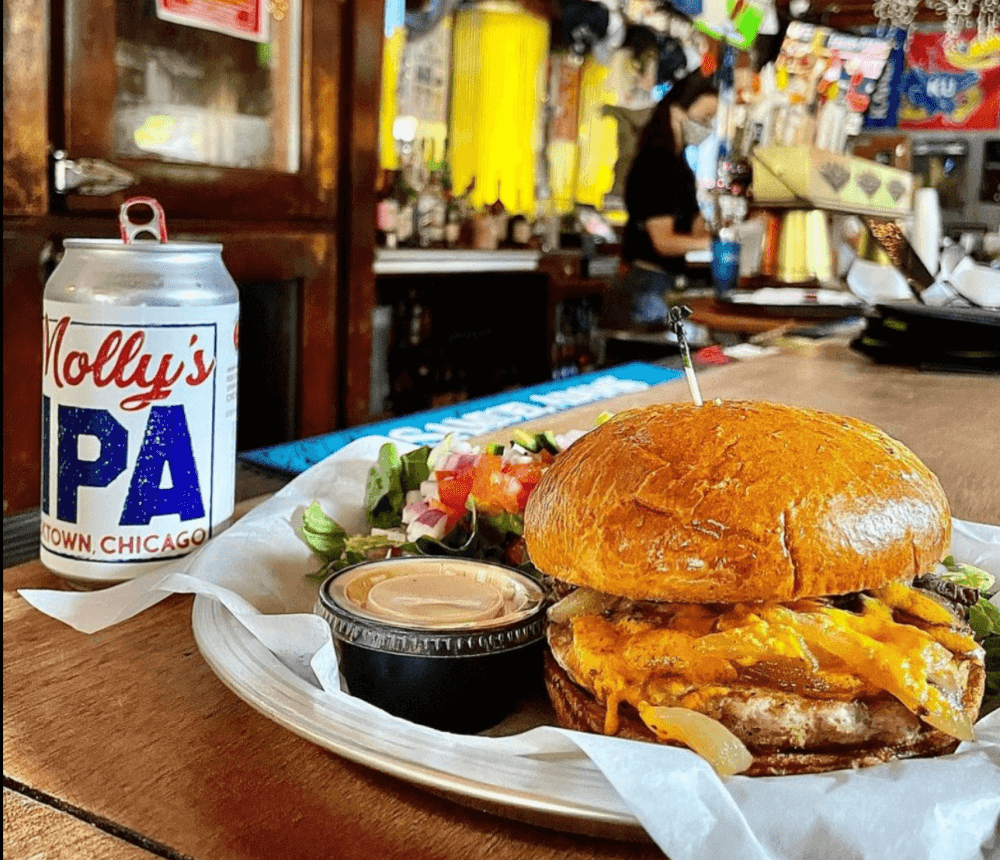 There is no doubt that this is a rather famous landmark in Chicago. We'll get to that part in a little while, but first, we should take a lot at the history behind the words that appear on the menu that proudly proclaims, "Lottie's, Since 1934."
A Quick History Lesson
It was in May 1934 when a neighborhood grocery store and bar was turned into a full-service tavern. The person behind that transformation was Lottie Zagorski. Standing 6-feet tall, she operated Zagokski's grocery store and bar that was rumored to house a speakeasy in the basement. A speakeasy, for those who do not know, was an illicit establishment that sold alcoholic beverages. By 1936, public officials and gangsters found Zagorski's grocery store and bar as a safe place to hang out. The basement rathskeller was home to various vices including gambling, betting on horse racing, and stripping. A crackdown on crime in 1966 revealed that the hidden spot at Zagorski's was where Lottie had been operating a gambling ring with a member of the mob. It was October 1973 when Zagorski died of natural causes shortly after she testified before a grand jury. The establishment went through several owners and was finally renamed Lottie's in 1986 and renovations in the basement in 2004 led to the discovery of a collection of human bones. By 2009, 75 years after Lottie first established her grocery store, fixtures from those bygone days are still on display and the location continues to draw tourists, regulars and even some old-timers who will share memories with anyone willing to listen. Lottie's has become an icon in the Chicago restaurant and bar landscape.
We Mentioned It Is Famous
Television fans of the programs Chicago Med, Chicago Fire, and Chicago P. D. will recognize Lottie's. That's because it was the real-life inspiration and filming location of Molly's – a fictional Chicago pub featured in the three different shows that was co-owned by the characters Gabriela Dawson (a paramedic on Ambulance 61 in Chicago Fire), Brian "Otis" Zvonecek (a firefighter of Truck Company 81 on Chicago Fire), Christopher Herrmann (a firefighter on Engine 51 on Chicago Fire) and Leslie Shay (a paramedic on Ambulance 61 on Chicago Fire). Because of the high profile, Molly's has given Lottie's, fans from all over the world who have seen the bar in their favorite show have made at least one trip to the actual location to say they have been there.
What You Get At Camp Lottie's
There are a couple of ways to enjoy Camp Lottie's. First, eight private, heated tents contain a television that you can rent for between four and six people every day of the week between 11 AM and 11 PM. They come with food and beverage minimum rates depending on the day of rental. There are also movie nights on Tuesdays and Wednesdays with two separate seatings that also include minimum food and beverage spends. Since these tents are typically booked days and weeks in advance, you may get lucky and find one available if you just walk-in. Otherwise, reservations are strongly suggested. 
What If The Tents Are All Booked?
There is an alternative to enjoying Lottie's that does not involve heated tents. They are heated pods located on the patio. There is a total of six of them and each provides privacy for the users. There are no televisions in these and the heated pods are available to be rented in two-hour increments. Each comes with a food and beverage minimum and none of these are available until all the tents at Camp Lottie's have been rented. So, in reality, the pods are back-up to accommodate customers who didn't get a heated tent. Regardless, the pods still permit you to enjoy the Lottie's experience outdoors in comfort.
What Others Have To Say
Online reviews can tell you a lot about a place you have never been to before. Sometimes you gain some insight on a detail that you may not have been aware of or learn a trick or tip that can make your visit more enjoyable. The fact that Lottie's has a storied past and some television fame, has not hurt the establishment much at all and is responsible for a lot of the traffic that finds its way to 1925 W Cortland Street in Chicago. Here are a few comments we culled from online reviews of Lottie's Pub.
"We are huge fans of the Chicago Fire, Chicago Med, and Chicago PD television series. We knew we had to visit Molly's aka Lottie's Pub…visitors need to remember that this is a small, neighborhood bar, it's not an "attraction." In fact, they rarely film at the bar anymore because NBC has a replica of the bar as a set in a nearby studio. We did go to the firehouse after Lottie's. It's about 6 miles away and they were super nice and gave us a tour of the firehouse. If you are a fan of the show, this is a fun place to visit!" Another reviewer posted this online: "My wife and I stopped here while in Chicago because we both watch the Chicago Fire TV show. The bartender was very nice and answered all my wife's questions about the show. We did not eat here, just had a couple of beers. The bar atmosphere is very nice. It was a Wednesday so the bar was slow. It would be fun to go back on a weekend when the bar would be busier."
The Food Part
We can't talk about a pub without mentioning the food and beverage part. As for liquid refreshment, Camp Lottie's has you covered in more ways than one. They offer domestic or import buckets of beer, camper's cocktails (Maker's Mark Pumpkin Spice Old Fashioned or Milagro Margarita), thermos' of drinks including Camp Fire Hot Apple Cider, Down Home Hot Chocolate, and Hot Toddy. And there's an extensive wine list. As for food, there are starters, burgers, sandwiches, pizza, soups and salads, tacos, and Camp Lottie's S'Mores which come to your table in a package that contains graham crackers, Hershey milk chocolate, marshmallows, and a roasting kit. 
Summary
If you find yourself in the Windy City looking for an unusual experience, Lottie's Pub is the place to go. Not only does it have a history dating back to Prohibition, but the popular pub has also been a television star. It's a great place to visit as a tourist and is just as good to stop by for a drink and meal on a date or with the gang (socially-distanced, of course). Lottie's is open daily at 11 AM and the kitchen stays open late until 10 PM. Why not check them out tonight?