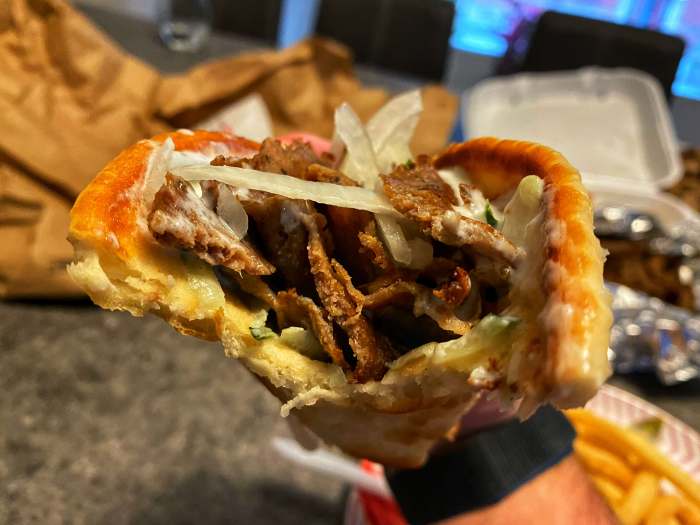 They call it Greek fast food. That's a gyro and if you haven't experienced what this wonderful Mediterranean favorite is like, you must give Windy City Gyros a visit. They have been serving up gyros and other meals for over 30 years so you know that they know what they are doing. Not sure what the fuss is all about regarding gyros? Well, let's take a closer look at what you are getting yourself into at Windy City Gyros.
In a hurry? Check out our quick video below:
What Is A Gyro?
Okay. We've called it Greek fast food but what exactly is a gyro? A gyro, in simple terms, is a dish that is made from meat that is cooked on a rotisserie. But instead of your average horizontal rotisserie, the meat used in gyros is roasted on a vertical rotisserie. Hand-made gyros contain meat that is cut into round, flat, thin slices. They are then stacked on a spit, seasoned, and placed in the shape of an inverted cone on the vertical rotisserie. Seasoning may include a variety of spices ranging from cumin and oregano to thyme, rosemary, and others. The cone of meat cooks while it slowly turns in from of a heat source. The lower parts of the cone are basted with the juices that run off of the upper portion of the cone. This continues until the meat has been properly cooked. Once ready, the outside of the meat is sliced vertically. When done correctly, the meat comes off in crisp shavings. The meat is then served in an oiled, lightly grilled piece of pita bread. Extras rolled into the gyro can include tomatoes, cheese, lettuce and is topped with tzatziki sauce. Gyros are typically made with pork with chicken, lamb, or beef being less common in Greece. For American-style gyros, the meat of choice is usually beef mixed with lamb.
Popular Dishes At Windy City Gyros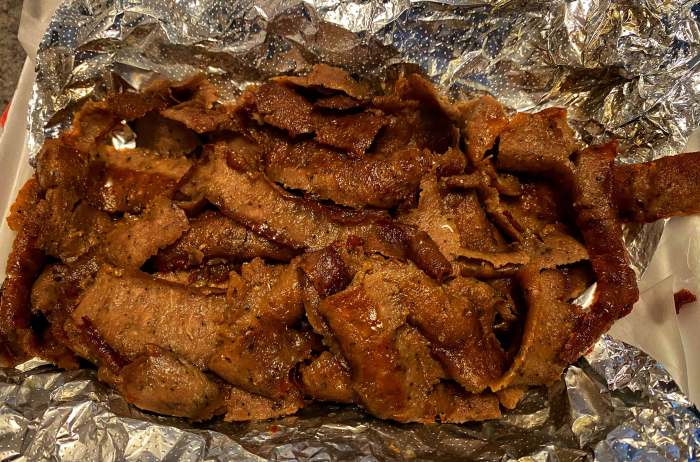 The most popular item on the Windy City Gyros menu is something called "Gyros Plate Deluxe" and it is simply described as containing "More meat, more French fries, and two pita breads." Essentially, you get enough grub when you order the Gyros Plate Deluxe to make five sandwiches so if you are out with friends or family, you can't beat the value from the Gyros Plate Deluxe. It also comes with your choice of nine different extras including extra pita bread, an extra side of tzatziki sauce, American cheese, grilled onions, bacon slices, a side of ranch dressing, cheddar cheese, mozzarella cheese, a side of feta cheese, a side of hot peppers, side of sweet peppers, side of honey mustard, side of BBQ sauce, side of hot sauce or swiss cheese to personalize your gyro to the way you want it. Naturally, each side will cost a little extra.
Elsewhere on the menu at Windy City Gyros, you will find their Gyro Sandwich ("Delicious seasoned meat served on warm pita bread. Gyros sauce – tzatziki made daily – sliced tomato, and onions.") Of course, you can add any of the nine available extras to round out your gyro. There's also the Gyros Plate with French Fries, Large Fries, Mozzarella Sticks ("Delicious Chicago style Mozz Stix served with marinara sauce."), the Chicken Pita ("One of our favorites…Loaded with delicious seasoned chicken breast, sliced and wrapped in a warm, fluffy pita bread. Topped with mayo, lettuce, and tomato sauce."), Hot Dogs and much more.
What Others Have To Say
But don't just take our word for it. Dripping, oozing sandwiches stuffed to the max with carefully roasted meat sounds incredibly addictive. By the looks of some of the online reviews that Windy City Gyros have collected in recent weeks, that is an accurate statement. For example: "This is a classic city gyro spot and my favorite in the city. I've never had a bad meal here. The guys at the counter are great and it's as Chicago as it gets. Their gyros are incredible and that's typically my go-to. The other top things on the menu are their Chicago hot dogs, chicken nuggets, Philly cheesesteak, and their rotisserie chicken. Actually, their rotisserie chicken is incredible and always have a bunch just roasting behind the counter. It's also open late and you can typically find Chicago public workers getting a meal here around the clock which is always a good sign. This is a classic Chicago joint that I come to frequently and it always delivers. Don't let the 3.5 stars fool you because if you're looking for a greasy Chicago meal then this is the spot." We couldn't say it any better ourselves.
Here's what another reviewer posted online, "Windy City Gyros is that one neighborhood restaurant that you visit when calories don't matter but you are looking for delicious cheap-ish food. My favorite meal is the double cheeseburger with or without fries, a drink, and soup/salad. The soup is surprisingly good. It changes from time to time so check the monitor near the register if you are curious. My second favorite dish is the rib tip meal." One more reviewer said, "Yum! Best fast-food gyro on the planet! Yup, that's what I said! This is a neighborhood fast-food Greek restaurant located on the outskirts of Lakeview before Buena Park. I have only had the gyros but I can't see ordering it from any other place now. Seriously so good!" How can you match reviews like that one? Seriously?
How To Find Windy City Gyros
Windy City Gyros is located at 3932 N Broadway Street, Chicago. They serve Mediterranean, Greek fast food and are open daily at 11:00 AM for lunch and dinner. Closing hours vary depending on the night but they are usually open well after midnight. So if you are craving something different than pizza or Chinese, why not give your taste buds an adventure with food made by a family-run restaurant that has been in business for over three decades? That would be Windy City Gyros. Feeling like delivery? You can access Windy City Gyros via your preferred mobile delivery service on your Smartphone. Never had a gyro before? Try one from Windy City Gyros and you are sure to be hooked.