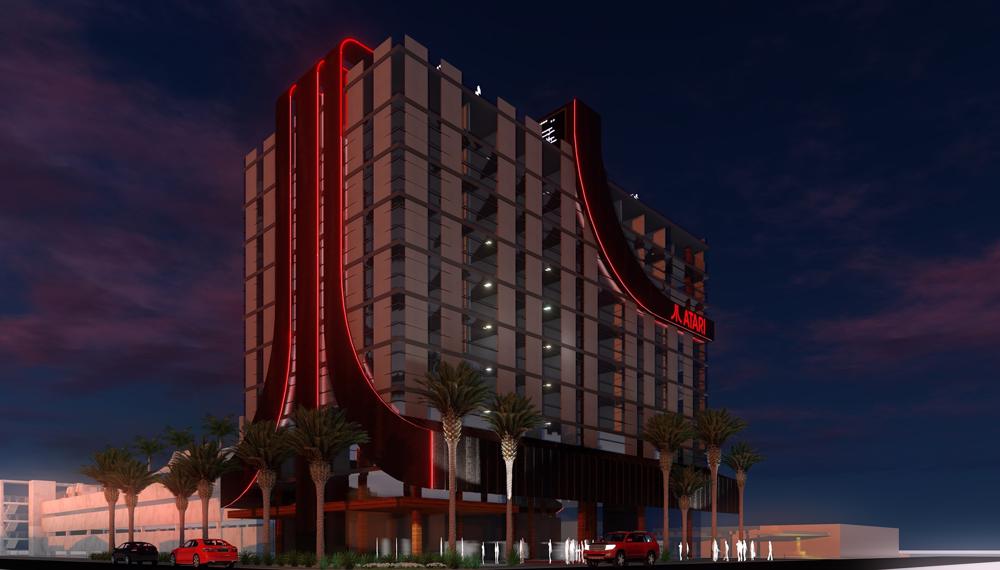 A video game giant is set to open one of its first game-themed hotels in Chicago.
Atari announced plans to open a series of themed hotels across the US in the coming years, including one in Chicago.
In a press release, the company said it hopes to start construction on the first hotel in Phoenix, Arizona, in the fall, and work will be completed within 18 to 24 months.
CEO Fred Chesnais said, "We'll build a space that will be much more than just a place to stay. Atari is an iconic global brand that resonates with people of all ages, countries, cultures and ethnic backgrounds and we cannot wait for our fans and their families to enjoy this new hotel concept."
The company will work with innovation and strategy agency GSD Group to bring the hotels to life.
It has described the hotels as a "unique lodging experience combining the iconic brand with a one-of-a-kind video game-themed destination," adding that the lodging will offer "immersive experiences," including virtual and augmented reality, for all ages and gaming abilities.
Some hotels, Atari announced, will also feature state of the art venues and studios to accommodate esports events. There's no doubt Atari's venues will fit right into the other great hotels Chicago has to offer.
Development and design of the buildings are being led by the GSD Group and Napoleon Smith III, the producer of the Teenage Mutant Ninja Turtles film franchise reboot. True North Studio, a Phoenix real estate developer, will develop the first venue.
Napoleon Smith III said, "When creating this brand-new hotel concept, we knew that Atari would be the perfect way to give guests the 'nostalgic and retro meets modern' look and feel we were going for. Let's face it, how cool will it be to stay inside an Atari?"
Additional hotels are planned for Las Vegas (where there's already plenty of awesome hotels) Denver, Austin, Seattle, San Francisco, and San Jose alongside the Chicago and Phoenix venues.
Shelly Murphy said, "Atari Hotels will be the first of their kind in the U.S., offering gamers of all ages the ultimate in immersive entertainment and in every aspect of gaming. We're excited to be working on this project with such great partners and to bring a big win to Arizona."
READ MORE: Here are the best hotels in Chicago with rooftop bars.
Speaking to the NY Times, Murphy added the plan was to create a space where guests could "eat, sleep and play," though the size of the hotels will vary depending on the market and region.
Some hotel rooms will offer retro video game themes while others will have a more futuristic design.
Murphy said, "Our hope is that you come in and never want to leave because there's a lot of interaction."
More than 2.5 billion gamers across the world playing on PC, console, and mobile spent over $152.1 billion on video games in 2019, marking an increase within the industry of 9.6% year on year.
Global Games Market expects the market to grow to reach nearly $200 billion by 2022.
Atari now promises to offer "recognizable intellectual property" which will marry "the origins of gaming and the future of the booming industry into a fun and unique travel destination."
Fans can now sign up via Atari's Hotels website for exclusive member offers on hotel stays, events, apparel, and more.
Atari was founded in 1972 and has built its way up to become one of the pioneers of the video game industry, creating games such as Asteroids, Pong, Centipede, and RollerCoaster Tycoon.