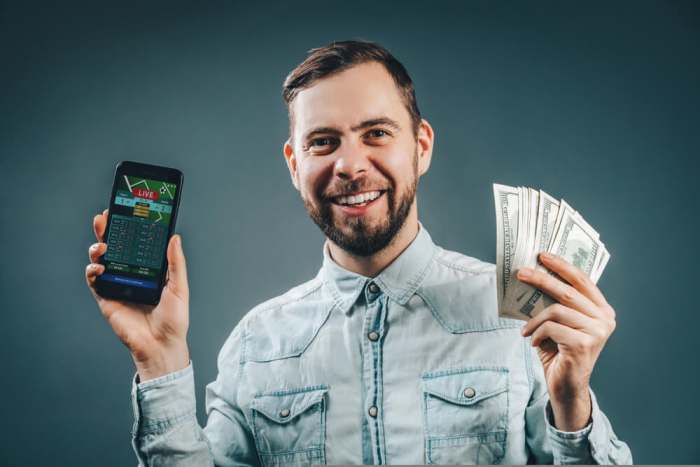 Sports betting has caught on in Illinois. It's obvious when you look at the numbers that are being generated through wagers collected at both retail and mobile sportsbooks in the state. August 2020 saw the state set an all-time record for the largest monthly handle to date at $139,643,887. That's well over double the July 2020 monthly high record handle of $52.5-million. What makes this even more incredible is that brick-and-mortar sportsbooks have only been operating in Illinois for five months and mobile/online sportsbooks have been operating for just two months. If this is any indication, the state of Illinois has truly hit the jackpot with the legalization of sports betting.
Who The Leaders Are
Before we take a closer look at what sportsbooks are bringing in the big money, let's take a look at the August 2020 handle and put it into perspective. The Illinois Gaming Board regulates online sports betting in Illinois and is responsible for the accurate reporting of the statistics related to the totals and sources. The $139.6-million collected in August is more than double the combined amount of wagering money that was collected in the first three months the IGB reported numbers from sports betting. The handles collected from March, June, and July of 2020 totaled $61.7-million. Keep in mind there was a COVID-19 closure that impacted the months of March, April, May, and June.
As for where the bettors are placing their wagers, according to the August data at this point, BetRivers at the Rivers Casino is responsible for a huge chunk of both the retail and online handle. BetRivers processed over $11.3-million from in-person wagering and $106.3-million through their online wagering app. The Argosy Casino Alton was the only other sportsbook to generate more than $1-million in wagers with their close to $2.7-million of activity. William Hill at the Grand Victoria Casino Elgin was in third place for the month with close to $600,000 in wagers following their launch on August 1. What do these numbers mean? Well, the sportsbooks generated revenue of over $7.2-million from a hold of 5.18%. The state of Illinois earned a 15% tax on the handle which is calculated to be in the $1-million range. Oh, and remember, the money going to the state is earmarked for rebuilding the economy and infrastructure.
What Bettors Are Wagering On
Another interesting stat collected by the IGB is what sporting activities bettors are spending their gambling money on. In August both baseball and basketball drew the most attention. Even though both Chicago MLB teams did not get past the First Round of playoffs, both the Cubs and the White Sox generated a fair deal of betting interest. BetRivers took in over 885,000 bets which produced a handle in the neighborhood of $42.4-million. That equates to just about 86% of the total baseball handle for the month of $49.4-million. With the Argosy being located close to the St. Louis market, it makes sense that a good portion of the MLB handle in that sportsbook would have come from fans of the Cardinals. Baseball generated almost 36% of the handle at Argosy which amounted to nearly 20% of all wagers made at the site.
As for the NBA, bettors still wagered on games although the Bulls were not playing and spectators were barred from attending. Almost 570,000 wagers were processed for basketball bets which produced a handle in the range of $46.9-million. The third-most-popular sport for Illinois bettors was hockey and a total of 300,070 bets were made on NHL games during August. That generated a handle of close to $14.76-million. Parlays are still big attractions for bettors and sportsbooks in the state processed 253,066 parlay wagers which created a handle of almost $10.6-million.
September Expected To Produce A Bigger Handle
With the amount of interest building in Illinois for sports betting, it stands to reason that with the kind of momentum that is building that the September 2020 handle should blow away the August data. Plus, sports fans will also have the NFL to add to their betting options. With football traditionally generating the greatest amount of wagers, legalized betting in the state will surely benefit from this trend. College football will also have a huge impact on betting activity. Add to this the fact that two of the newest sportsbooks in the state will have a full month of action under their belts and you have all the ingredients for an incredible month of sports gambling activity.
Sportsbooks To Watch
DraftKings launched retail and online operations on August 5 with its retail location at the Casino Queen. Their online sportsbook did not fully operate until August 19. Even so, the company generated a handle of over $13-million through its online sportsbook in just 12 days of business. FanDuel launched its online wagering app on August 28 and generated a $4.2-million handle in just 4 days of operation. They opened a retail location in East Peoria at the Par-A-Dice Casino on September 10. And PointsBet launched its mobile sportsbook on September 12 and opened its retail location at Hawthorne Race Track on September 30. They intend to establish three more off-track wagering sites within the Chicago area (Crestwood, Oakbrook Terrace and Prospect Heights). Finally, William Hill started taking mobile wagers on September 15. All of these sites will assist in generating a much greater handle for September 2020.
In Conclusion
In short, bettors in Illinois are enjoying the fact that they can now place legal wagers on major sporting events. With the sporting seasons about to peak in the next couple of months, the record monthly handle from August 2020 is likely to be shattered more than once as bettors locate sportsbooks near them or have registered gambling accounts at the newer mobile sportsbook operations. The real winners here are not just Illinois gamblers. Sportsbook operators are pulling in some serious coin for themselves as well as collecting a good chunk of change for the state through taxation. Will sports betting continue to grow in Illinois? You bet it will.