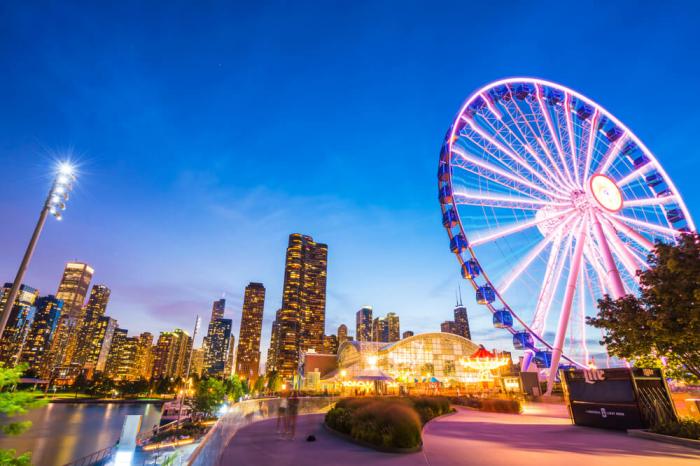 While a seemingly never-ending list of festivals and events have been canceled this summer due to Chicago's stringent reopening guidelines, Navy Pier is going ahead with a variety of free cultural programs and events. But to enjoy the summer festivities at Navy Pier, you'll be required to wear a face mask and adhere to social distancing guidelines.
The city's lakefront attraction has already reopened partially to the public, welcoming visitors back to the expansive Offshore rooftop, restaurants, and the Centennial Wheel, but requiring guests to wear face masks and adhere to social distancing. Those safety guidelines also apply to Navy Pier's roster of movies, concerts, and festivals, beginning in July.
Highlights of the public offerings include the return of the family-friendly movies in Polk Bros Park, including films like Frozen 2 and The Lion King, taking family and friends on a journey to "real and imaginary exotic locations."
Also in Polk Bros Park, the Water Colors jazz series will offer weekly live music, including a tribute to The Blues Brothers, performed by Blue Brothers saxophonist Lou Marini and the Chicago Jazz Orchestra.
Let's not forget the youth-focused Fresh Fest!, featuring a showcase of local Latinx musicians. The LatiNxt Music Festival and the Chi-Soul Fest brings live music back to Navy Pier throughout the summer.
Coronavirus Restrictions in Place
Visitors can expect to deal with limited capacity at Navy Pier's events, as it enforces all of the safety measures mandated when it reopened in June.
All guests are required to wear a face mask and stay at least six feet apart from other groups of guests. In addition to the cleaning procedures focused on frequently sanitizing surfaces that are touched by people, Navy Pier has also placed hand sanitizer stations all around the venue as well as hiring "social-distancing ambassadors" to enforce the rules.
To find out all of the details of Navy Pier's free summer programs, check out its website, or simply peruse the lineup below:
Wave Wall Wax
This is a weekly DJ series hosted at the Wave Wall Platform. It happens every Saturday through the end of August from 5 to 7 pm.
Summer Fitness series
A Rush Hour Workout, an invigorating mix of boxing, barre burn, HIIT, and yoga sculpt, happens every Tuesday in Polk Bros Park, followed by Sunset Yoga. Come out on Tuesdays through the end of August from 6 to 7 pm and 7:30 to 8:30 pm to feel the burn.
Live on the Lake!
 Come out to the in the Miller Lite Beer Garden for the weekly live music series featuring local and regional acts. The fun begins on Saturday afternoons from 2 to 11 pm and Sunday afternoons from 2 to 8 pm through September 7.
Wave Wall Moves
 Enjoy exciting, curated Chicago Dance performances by local dance companies on the Wave Wall Platform. Beginning on July 4 through August 28, on Saturdays from 3 to 3:15 pm.
Water Flicks
Bring the family to Polk Bros Park for free weekly movies, featuring family-friendly adventures to exotic locales. The shows begin July 6 through August 24, Mondays from 6:30 to 8:30 pm.
Fresh Fest! Presented by Allstate
This is an all-day festival showcasing young Chicago performing artists, happening on the Wave Wall Platform as well as in Polk Bros Park. The fun launches on July 10 from 10 am to 8 pm.
Wiggleworms
This cheerful children's music series hosts kid-friendly performers every Friday morning. Wiggleworms is presented in partnership with the Old Town School of Folk Music. The fun starts on July 10 and runs through August 21, on Fridays from 10 to 11 am.
Water Colors
 This lively jazz concert series in Polk Bros Park features local jazz musicians. The music runs July 10 through August 21, on Fridays, time to be announced.
LatiNxt Music Festival
 Local Latin soul, cumbia, Latin surf rock, and global artists celebrate Chicago's Latinx music scene. The festival happens on July 24 and 25 from 5:30 to 11:30 pm.
Chi-Soul Fest
 Navy Pier's roster of free cultural programs finishes up with two days of soulful performances by Chicago's finest soul musicians. September 18 and 19, times to be announced.
You Might Also Like: