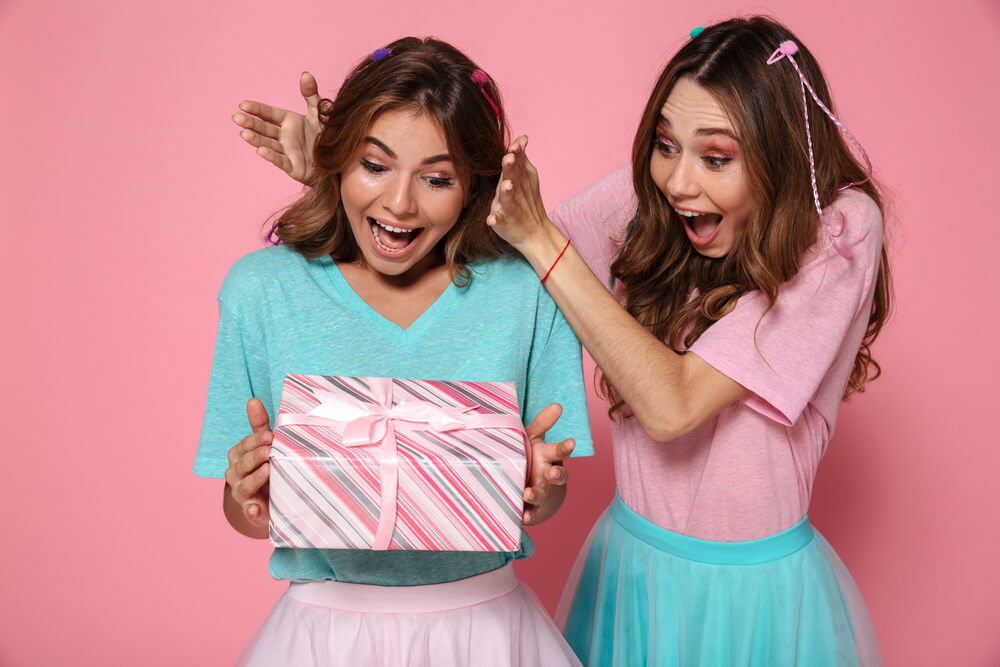 Admit it: your sister is your BFF – she was probably your first bestie, and still the only consistent confidant in your life. Despite life's ups and downs, your sis has always been there for you, through thick and thin.
Can you imagine your life without her? That's why you don't really need a special occasion to get your sister the most amazing gift ever. But just in case her graduation, anniversary, birthday or another milestone is around the corner, you need to bring out your A-game.
You're perhaps the only person who knows her inside out, but in truth, it's easy to draw a blank when trying to think of the best gifts for your sister, especially something she's not already received. Worry not — we've put together a bunch of thoughtful, unique gifts for sisters in your life.
From hella cute phone skins and faux-fur jackets to cozy sweaters and to-die-for handbags, we're sure there is something she'd love to unwrap here.
1: Kool8 Water Bottle for the Active, Tea Loving Sister
You wish the best of everything for your sister, including robust health and well-being. This season show you truly appreciate her with Kool8, a stylish, beautifully sleek insulated water bottle.
This unique and innovative water bottle is designed for on-the-go hydration, making it a perfect gift for an active sister who wants to stay hydrated at home, at school, at work, or on the move. Whether she's into gym fitness, hiking, running, yoga, dancing, or camping, Kool8 is tailor-made for an active lifestyle.
If your sister is a social- and eco-conscious person, this bottle will definitely tickle her fancy. Not only is Kool8 BPA-free and reusable, but they give 20% of profits towards providing clean, safe drinking water to underdeveloped regions of the world. No wonder it was voted "the best water bottle of the year" by CoolThingsChicago.
It also comes with a tea infuser, making it ideal for a tea-loving sister. With stainless steel construction and two-walled vacuum insulation, it'll keep her tea warm for up to 12 hours and drinking water cool up to 24 hours.
2: HAUS LABORATORIES Liquid Eyeliner
Amazon
Best choice for every sister
Every lady deserves an item from Lady Gaga's Haus Laboratories in her makeup bag. This uber-sleek makeup pen from the cosmetic brand is as thoughtful as it gets. It's a tried-and-true eyeliner poised to give her eyes some dimension and make them really pop.
With a deep whiskey formula, this long-wearing eyeliner is smudge-resistant and super easy to apply. Besides, it's animal cruelty-free, 100% vegan, and comes with a precise and flexible felt-tip for an extra luster finish. Get it in either deep brown or matte black – there's something to match any skin type.
3: QUMY Waterproof Dog Boots
Amazon
Best choice for the dog parent
If your sister is a proud pet owner, this waterproof dog boots from Qumy will make her heart skip a beat. With heavy-duty rubber soles, cozy insoles and great stitching, she will be happy with the level of protection they offer and their snug fit thanks to Velcro straps.
Her beloved furry pal will love how comfy these boots feel, plus their tough anti-slip soles provide extra traction, stability and protection from hot pavements, extreme cold and sharp thorns during walks, hikes, etc. You can pick from a variety of sizes, from 5 to 8.
4: Jo Malone Rose & Magnolia Cologne
Amazon
Best choice for the fragrance queen
A new fragrance can certainly add some flair and oomph to her life. This limited-edition cologne from fragrance guru Jo Malone might be pricey, but your sis is worth every penny. The feminine perfume combined two kinds of roses — warm amber (Rose Damascena) and earthy patchouli (Rose de Mai) — with lemon-infused magnolia. The concoction is something of beauty.
This floral infusion is sensual, enchanting, and blooming, sure to bring some charm into her routine. It comes in a beautifully-presented 100ml spray bottle.
5: Homesick Scented Candle
Amazon
Best choice for the homesick sister
Not to be dramatic, but some people would die to get a whiff of their sweet home scent. If this sounds like your sis, buy this custom scented candle to help her beat homesick blues. There's no better gift to remind your BFF that there's nothing quite like home.
This 100% natural soy wax candle is made right here in the USA and will give you 60 to 80 hours of burn time. The beautiful part is that you get to choose the smell of a specific state. The Illinois candle, for example, features a floral infusion of violets, white flower, lavender and honeysuckle with notes of grain fields – I can smell home already!
6: Jane Austen: The Complete Works 7-Book Boxed Set
Amazon
Best choice for an avid reader
Close to two and a half centuries since her birth, Jane Austen remains one of the most prolific, acclaimed and celebrated authors of all time. With spirited and vivacious heroines, her charming novels are still inspiring bestsellers in the age of Amazon kindle, with ardent fans across the world, from the US to Singapore.
If your sister loves a good read, she might be a fan too. That's why we think this Jane Austen's entire oeuvre will make her go crazy happy. The hardcover set is a perfect birthday gift for a sister thanks to its embossed motifs and brilliant cloth bindings.
7: V & H Makeup Pocket Mirror
Amazon
Best choice for the selfie snapper
If your forever bestie likes to retouch her makeup on the go (who doesn't, right?), then a cute pocket mirror might just be what the doc prescribed. This slick pocket mirror from beauty brand V & H will be her makeup BFF. It offers 10X magnification glass plus 1X compact flap so she won't miss any spot.
This little gem is a perfect companion for travel. If your sis is a selfie addict, she can tuck this chic mirror into her purse or desk drawer to always be picture-perfect.
8: Lodge Enameled Cast Iron Dutch Oven
Amazon
Best choice for the family chef
Dutch ovens are a kitchen staple and one that your sister will appreciate more than you think. This cast-iron Dutch oven from titan brand Lodge is going to take her culinary game to a whole new and exhilarating level.
This classic is perfect for slow-cooking mouthwatering dishes, browning meat cuts, or whipping up her favorite casseroles. The beauty of it all is that this nifty kitchen tool moves from the oven seamlessly to the table. Pick from 5 sizes and 11 fabulous colors.
9: INSPIRING Floral Stainless Steel Tumbler
Amazon
If your sister is like the best of us, then every day is her tumbler day. This INSPIRING stainless steel floral tumbler is the real deal. Whether it's used as a wine glass, tea steeper or filled with her morning cup ó joe, this gorgeous tumbler will fit the bill.
Equipped with a BPA-free, smell-resistant and spill-proof lid, we love that this superbly-insulated tumbler keeps hot drinks warm for up to 6 hours, and cold drinks cool for up to 3 hours. Pick a 12 oz., 20 oz. or 24 oz. depending on her drinking habits.
10: W&P Porter To-Go Bowl/Lunch Container
Amazon
Know a workaholic sister who loves to eat healthily? If yes, her work lunch and meal prep routine just got better thanks to these cute portable to-go bowls. With 1 liter capacity and protective non-slip exterior, she'll never have to settle for fast food or cafeteria meals.
These pretty bowls come in either BPA-free plastic or ceramic with no-slip silicone sleeves. A small cut of every purchase goes to support food education programs in NYC schools, a fact your social-conscious sister will appreciate so she can "dig in and do good." They are available in a range of color options, including green, pink blush, mint, cream, charcoal, navy, tan, black, red and slate.
11: Dyson V8 Animal  Cordless Vacuum Cleaner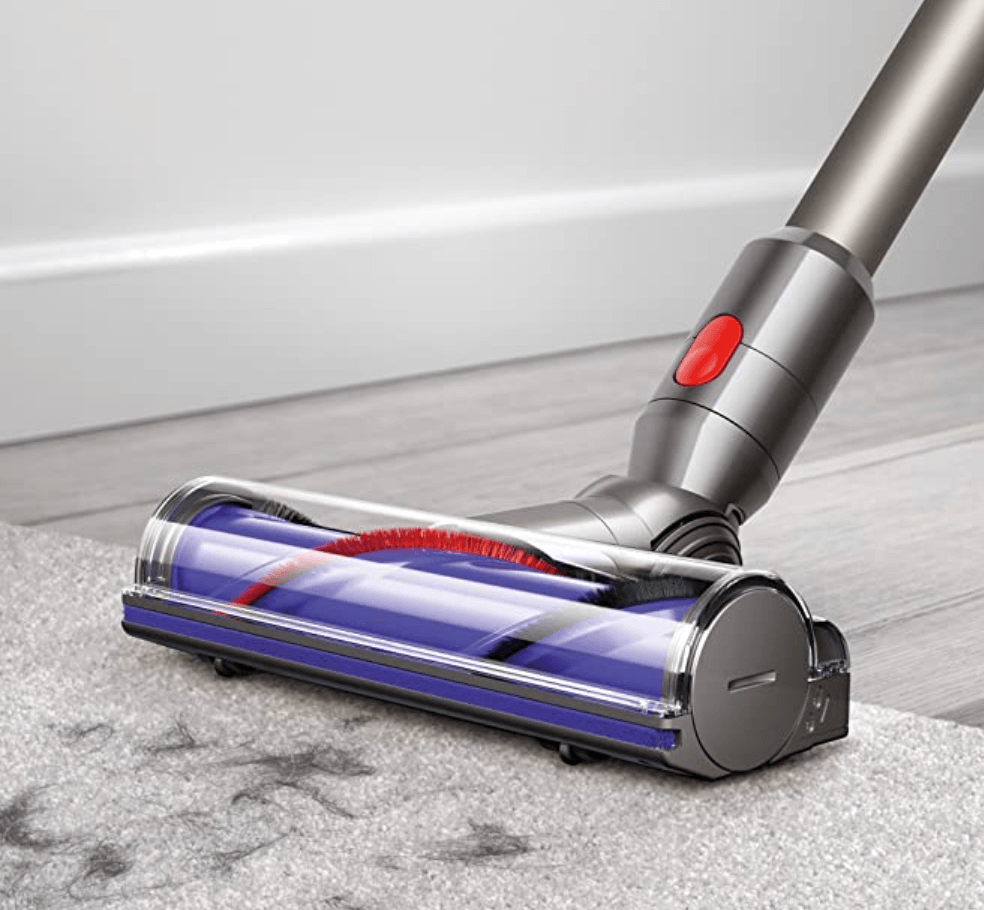 Dyson is a vacuum cleaner brand that needs no introduction. We are sure your sis will flip over this cordless vacuum cleaner from Dyson. The V8 Animal Pro is specially designed for pet owners.
You can count on this compact monster to zap 99.97% of pet dander, dust, allergens, and other small particles. It will get her place looking impeccably clean in no time, including all the hard-to-reach nooks & crannies in her car.
Buy the Dyson V7 Animal Pro+ Cordless Vacuum Cleaner on Amazon here.
12: YnM Weighted Blanket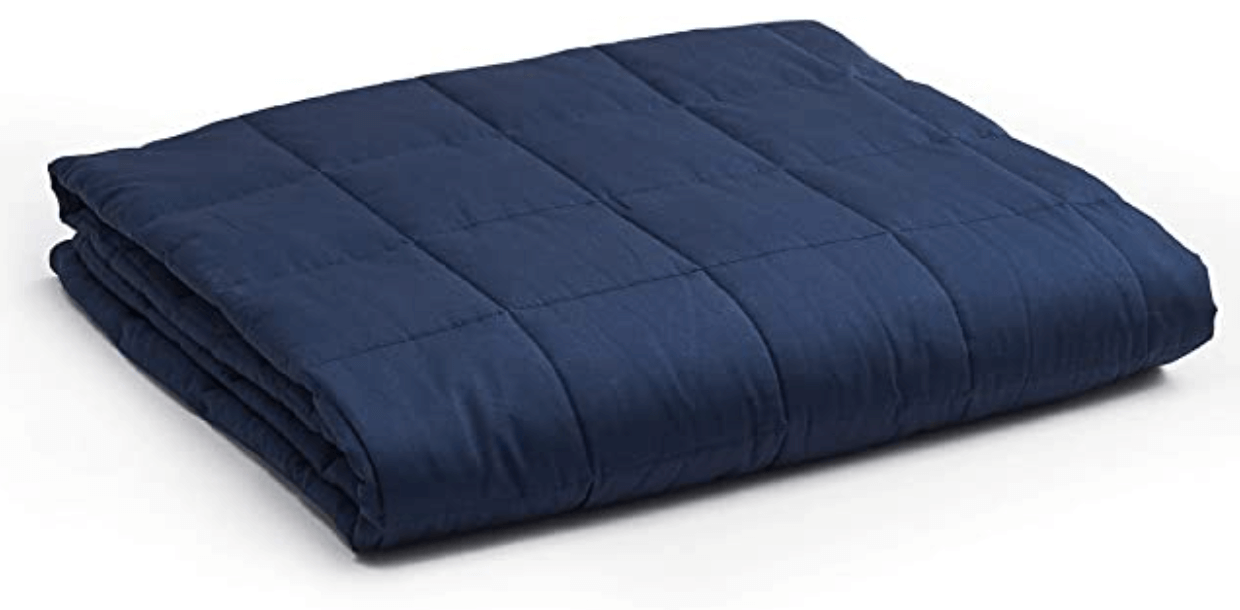 This gift will go perfectly well with Jane Austen's book set. This weighted blanket is made from 100% Oeko-Tex cotton for those chilly times you can't give your sister a hug. With a steaming hot cup of cocoa in hand, you can snuggle up in this blanket for hours watching Netflix or catching up with your reading list.
Her winter months will never be the same again with this gift of warmth. And with close to 10,000 five-star reviews on Amazon, YnM must have done something right with this blanket available in 20 cool colors.
Buy the YnM Weighted Blanket on Amazon here.
13: Knock Knock "What I Love About You, Sister" Fill in the Love Book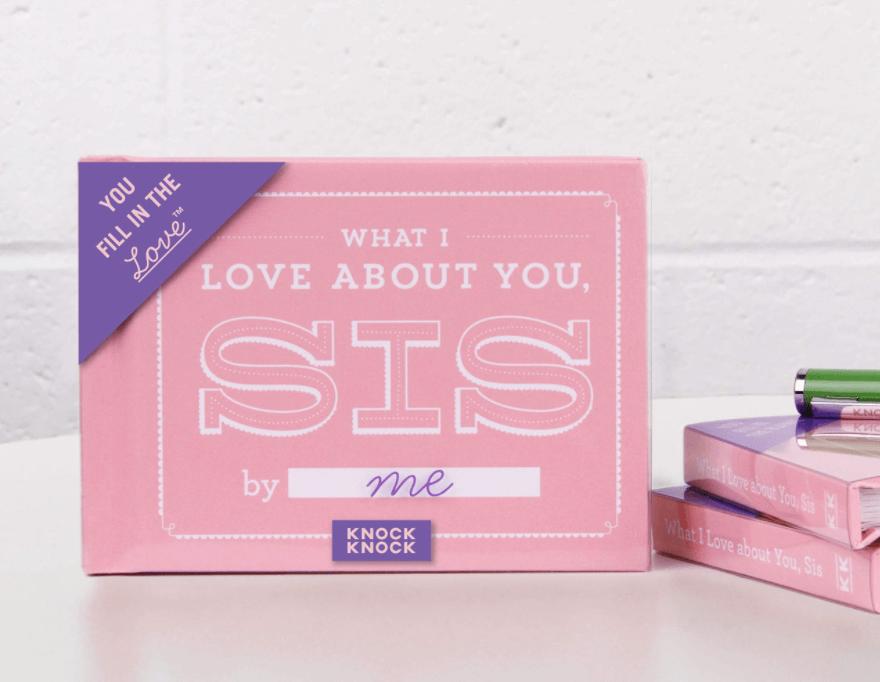 Sure, your sis knows that you adore and appreciate her, but it doesn't hurt to remind her from time to time. This "What I Love About You, Sister" Fill in the Love Book from Knock Knock allows you to put together a scrap journal of all the cutest moments and best memories you have shared together.
This is a truly thoughtful, personal and unique gift that will get you to the top of her favorites list. Make it as silly, sassy or fun as you see fit.
Buy the Knock Knock "What I Love About You, Sister" Fill in the Love Book on Amazon here.
14: Apple AirPods with Charging Case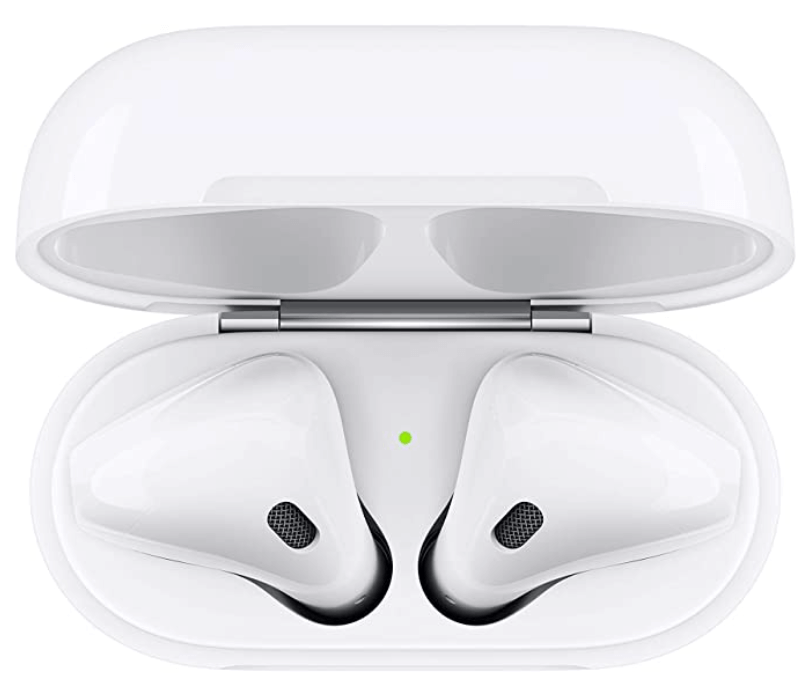 If your little or big sister has a thing for tech, she probably owns the latest Apple gizmos. That's why the newest Apple AirPods with charging case will blow her mind, that's if she doesn't already own a pair.
This nifty paid allows seamlessly switching between iPhones, iPads, and other Apple devices. They connect automatically and will provide her with over 24 hours of uninterrupted listening between charges. The pair is effortless to set up too.
Buy the Apple AirPods with Charging Case on Amazon here.
15: Roselyboutique Natural Jade Roller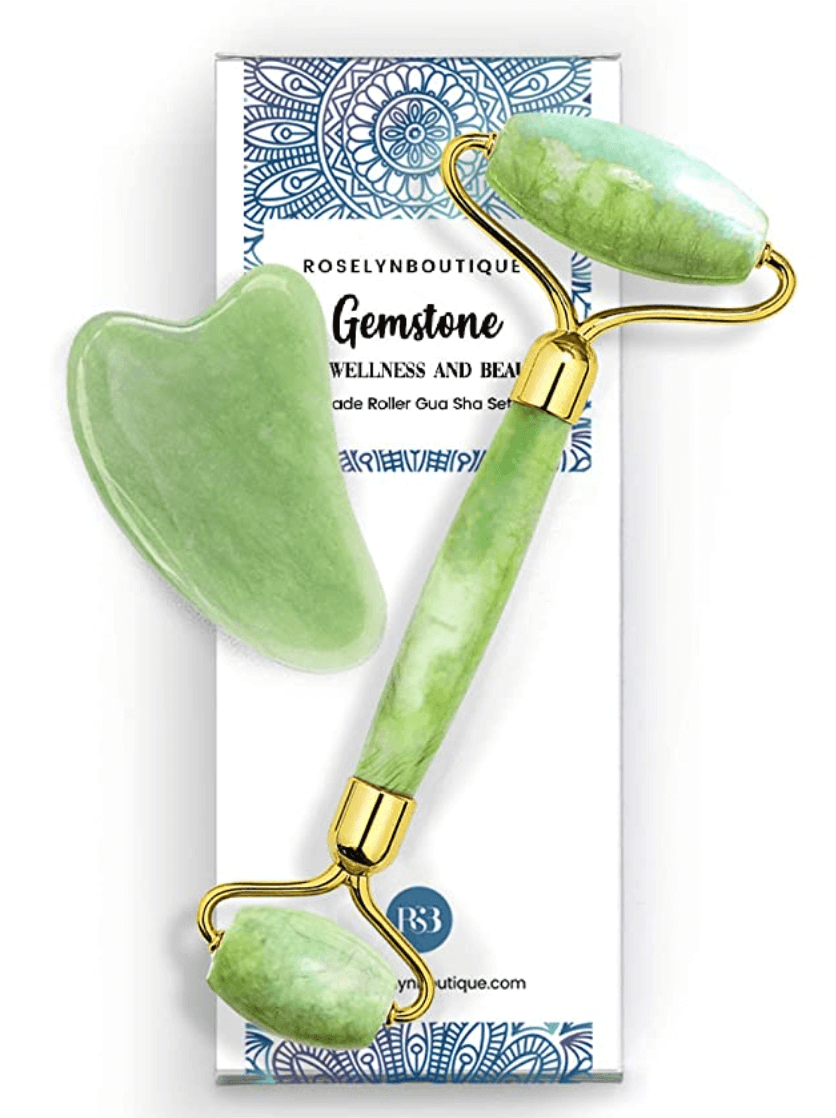 You'd go to the end of the world for your sister, so why not give her the gift of a youthful-looking, radiant skin face? This natural jade roller is an awesome anti-aging magical wand that will take care of those puffiness and dark circles under her eyes.
This slick-looking roller stimulates lymphatic drainage and blood flow in the neck, face, and body, not to mention it looks stunning beside your makeup paraphernalia on a bathroom tray or vanity. Above it all, the handy tool does its magic without any irritants or chemicals.
Buy the Roselyboutique Natural Jade Roller on Amazon here.
16: 1928 Jewelry Brass Antique Inspired Oval Drop Earrings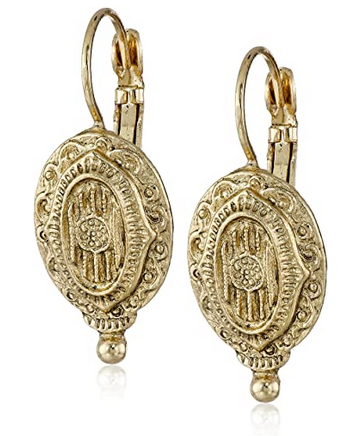 She probably has many pairs of stud earrings, but these antique-inspired drop earrings will surely upgrade her jewelry collection. The brass finish will make them stand out from rest.
From the 1928 Jewelry's bold lady label, this drop pair of earrings will certainly look and feel chic on any occasion and under any circumstance. They are a conversation starter too.
Buy the 1928 Jewelry Brass Antique Inspired Oval Drop Earrings on Amazon here.
17: Smeg 2-Slice Toaster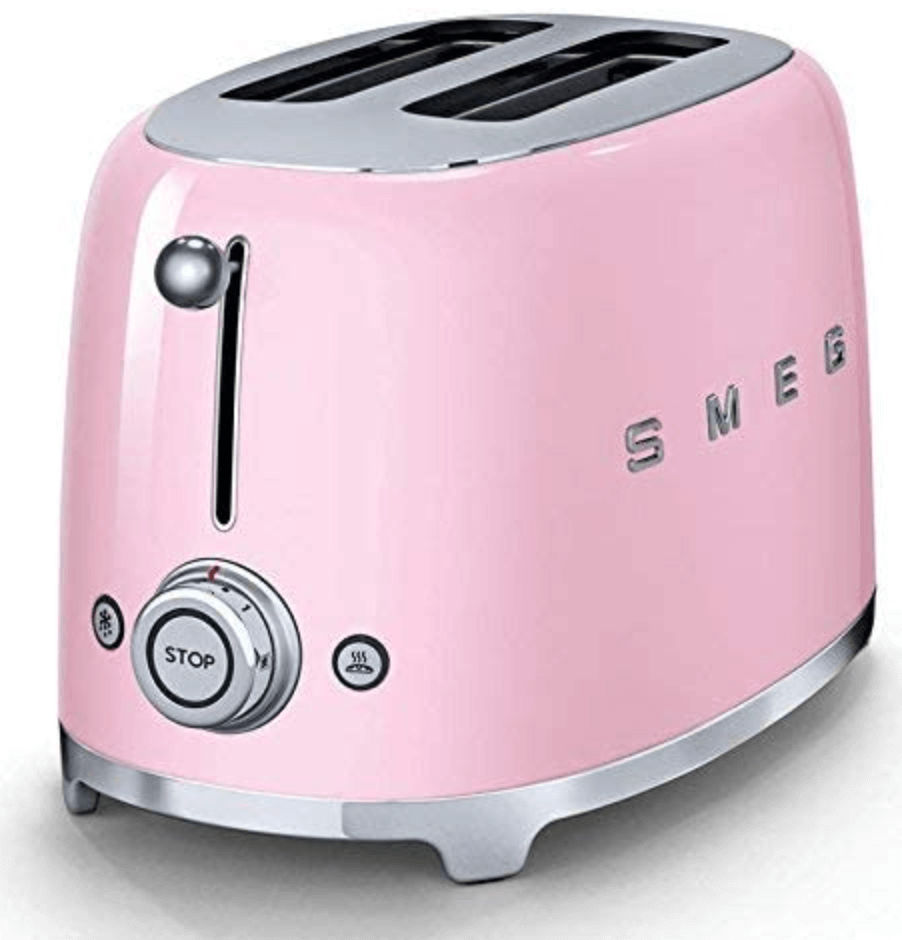 Retro finish. Extra-wide slots. Self-centering racks. Six bread browning levels for the perfect toasts. And three pre-set programs — what more could you ask for in a toaster? Your sister will never make avocado toast the same way again.
This cool, retro-style two-slice toaster from Smeg is a décor face-lift her kitchen countertop needs right now. You can get it in a variety of chic and stylish colors, including vibrant pink, cool pastel blue, sizzling red, pastel green, charming black, chrome, and neutral cream. Talk about choice!
Buy the Smeg 2-Slice Toaster on Amazon here.
18: ECOWISH Fuzzy Faux Shearling Zipper Jacket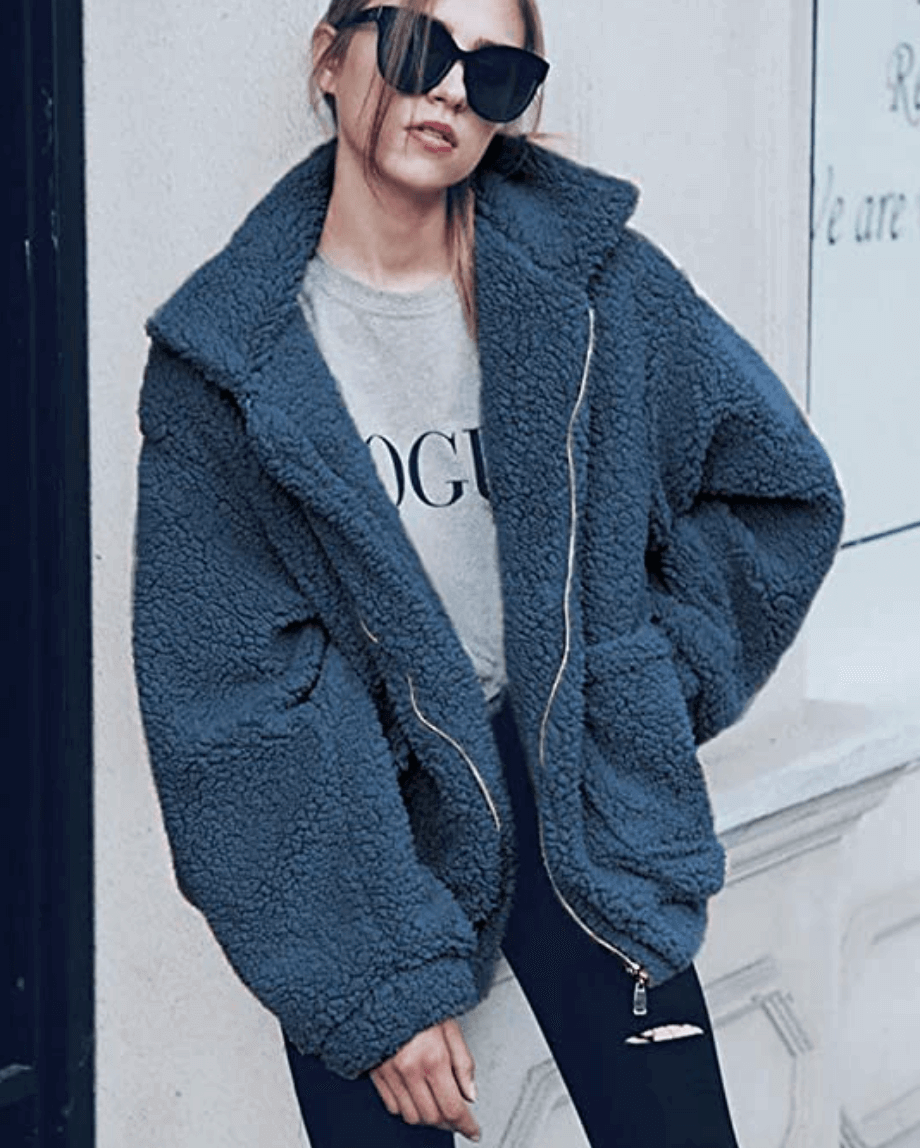 Got a fashion-forward sister in your hands? This casual lapel fleece from Ecowish is perfect for the spring weather. She will definitely treasure this cozy & warm oversized coat in fuzzy faux-shearling fabric.
It comes in thirteen color styles, including blue, brown, black, camel, coffee, cream, green, pink, khaki, red, and white, all of which are well-priced. No matter your choice, the jacket will go nicely with her leggings, skinny jeans, tees, tops, and shirts.
Buy the ECOWISH Fuzzy Faux Shearling Zipper Jacket on Amazon here.
19: Bang & Olufsen Beoplay H9i Wireless Headphones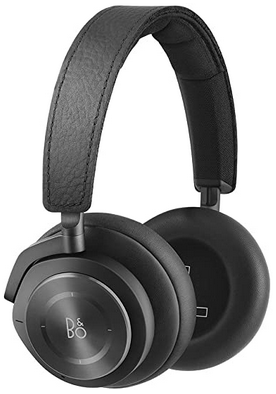 The best part about these monochrome wireless Bluetooth headphones (besides their sleek design and on-device touch controls)? They are incredibly good at tuning out noise and surrounding sounds, so your sister can block out the rest of the world in style.
Buy the Bang & Olufsen Beoplay H9i Wireless Headphones on Amazon here.
20: Dyson Supersonic Hair Dryer Iron/Fuchsia
An iron and fuchsia combo, the Dyson Supersonic Hair Dryer is the gift her hair calls for right now. It will effortlessly protect her locks from extreme heat damage to retain that natural luster. Customers rave about the fact that this dryer takes nearly all types of hair from wet to dry in fewer than 10 minutes. Impressive!
Buy the Dyson Supersonic Hair Dryer Iron/Fuchsia on Amazon here.
21: Keepsake Runaway Dress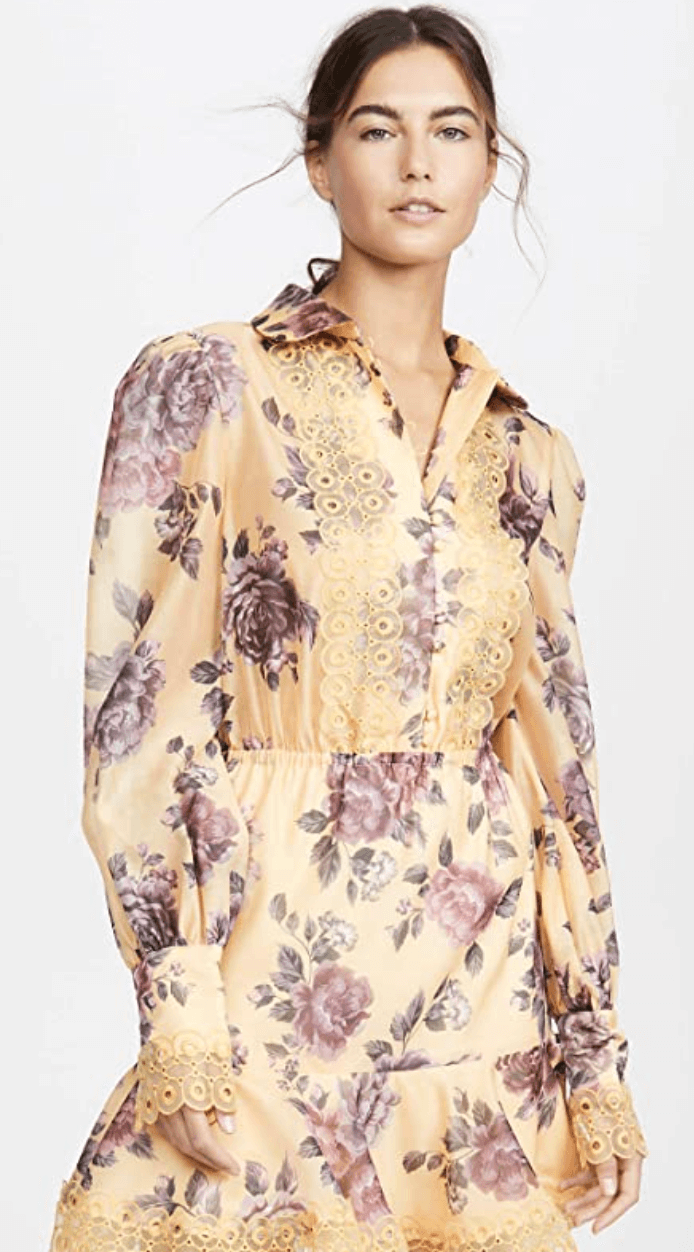 With temp rising every day, that can only mean one thing: summer is around the corner. If everything goes well, sun-kissed skin and unlimited beach time are in the offing, which is why this runaway sundress from Keepsake is one of the best gifts for your sister.
Every lady would appreciate getting such a chic, stylish dress. We love the funky floral pattern, puff sleeves, and off-the-shoulder neckline; they make the dress quite eye-catching. Trust me; she will get lots of compliments for the dress.
Buy the Keepsake Women's Runaway Dress on Amazon here.
Tips on Buying the Best Gifts for Sisters
Your sister is the real one, and you can rest assured she thinks the world of you. For all she has done for you, your sister deserves all the love in the world, or at the very minimum, a fantastic present.
Not sure what to get her? Lucky for you, we have rounded up 7 failsafe (and unexpectedly easy) tips you can follow to find a gift that will make your big or little sister feel truly loved and treasured.
Tip #1: Mirror your "True Self"
I know what you are thinking: the gift is for your sister, so why the heck does it have to be about you? This is where science comes to your rescue. The act of giving a gift is actually more about the giver than the recipient, would you believe it!
That's right; according to an interesting study appearing in the Journal of Experimental Social Psychology, investigators discovered that the recipient feels a greater sense of friendship/appreciation after getting a gift that mirrors the giver's true self. In other words, give a present that reflects who you are — your dislikes and likes.
Gift-giving, in light of this, isn't just about demonstrating how much you know about the recipient. It's also about giving a "piece of you", something that means a lot to you.
This is good news is that your sister may be one of the only few people who genuinely knows and cares about your truest and peculiar interests. So, if you're into purple stuff, don't be afraid to get her a purple sweater (assuming she loves sweaters, of course).
Tip #2: Don't be afraid to just ask: Give her what she wants!
While it might sound unorthodox, sometimes you can take the guesswork out of gift-shopping by simply asking your sister what she actually wants. In fact, a series of five studies conducted by scientists at Harvard and Stanford found that people are more appreciative of presents they explicitly asked for than the other way around.
They found this to be true for money gifts and wedding gifts, as well as friendship and holiday presents. This is not always a great idea, though, particularly if she forked out for a nice surprise for you. Some people fancy the element of surprise.
Tip #3: Think about what she needs
She has been dropping clues all over the place. Maybe she has been hinting about getting a new phone, kitchen appliance, eyeglass frame, and so on. Think hard and long about what she might want, and don't hesitate to look back to the past.
We live in the age of social media, so don't be afraid to check out what she has been raving about on her Instagram, Facebook or Twitter page. Has she been talking about a particular coat, baking item or makeup product?
Pinterest is another underrated source of gift inspiration. If your sister has a Pinterest, there's a good chance that she has pinned lots of items in her wish-list. Scoping that out would definitely be a clever move.
Tip #4: Take a closer look at her hobbies, collections, and interests
Maybe your sister loves to collect nice china, and you can score a few to add to her collection. She'll love you more for that.
For a gym rat who enjoys working out, give her a practical gym bag to lug her stuff around or a gorgeous water bottle. Is she really into new tech and gizmos? A new pair of AirPods will definitely earn you more sis points (and lots of hugs).
Tip #5: Jokes aside, seriously
Yes, your sister may be the comedian of the family, the jokes extraordinaire if you will, but giving a gift is a serious endeavor. The last thing you want is to give her a joke gift, so do it at your own peril!
Giving her a box of onions disguised as chocolate as a birthday gift for your sister is much akin to starting a psychological war. And don't forget the whole joke can take the cheer out of her birthday.
The same goes for buying your sister a scale or deodorant. No matter how expensive or fancy it might seem, it's gutless, unacceptable and tactless. The jokes should be preserved for your speech during her wedding or anniversary.
Tip #6: An experiential gift can go a long way
The thought, as they say, is what counts, but some presents are more meaningful than others when it comes to strengthening that sibling bond. One recent study found that gift recipients prefer to get a gift of experience than a material present.
With that in mind, you might be better off giving a ticket to an upcoming play or an Amazon gift card rather than forking out top dollar for the latest LED TV or a flashy handbag.
Tip #7: Steer clear of gift bundles
If you're drawing a blank, the chances are you will tend to bundle several gifts hoping that at least one of them will steal the show. Big mistake. Research published in the Journal of Consumer Research noted that people often "average out" the value of bundled gifts.
In other words, the cheaper gift will diminish the value of the prized present. So, if you have snagged the cutest Patek Philippe watch, don't accompany it with a cheap bottle of perfume.
You Might Also Like: