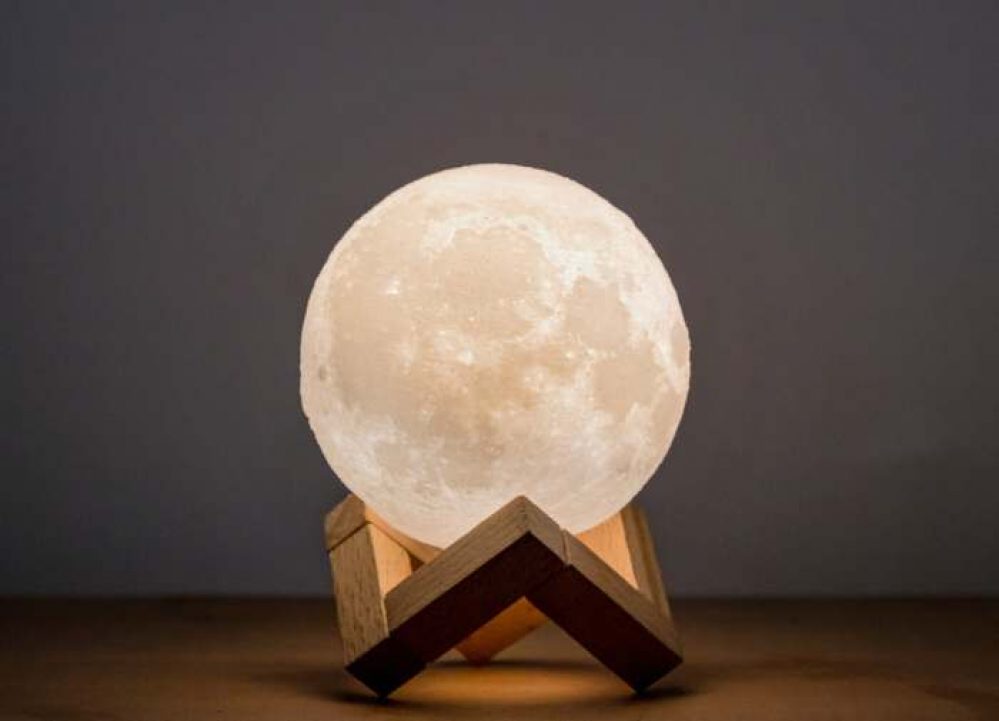 -21%
1 new from $34.99

4 used from $30.96

Free shipping
Last update was on: January 19, 2021 2:33 am
Moonlight Shadows Lamp: Snuggle lovers sitting under a full red moon - Create a romantic atmosphere around and add a warm, comfortable glow to any room, every night.
Dimmable & Touch Sensor Night light: Simply touch the sculpture, and you can easily adjust the light intensity up to 3 levels to suit your mood, to fit your needs.
Elegant Decorative Lighting: USB power, woodgrain shell, perfect for any occasion - Chirstmas, Dating Anniversary, Valentine's Day, Birthday Celebration, Mothers / Fathers Day, Hanukkah, Engagement and Bridal Shower.
Valentine's Day has always been filled with red hearts, romantic dinners, boxes of chocolates but most important love and affection for your partner, friends, or even family. No matter how commercial it's become, this day is the right one to tell someone special in your life that you appreciate them and all that they have done for you.
And when it comes to tangible things, a thoughtful gift can be a great way to show your wife or partner just how much you care about her. Go for something meaningful and practical at the same time, like Mamre Moon Ambient Light. We included this on our list of best Valentine's Day gifts for her, a list that we carefully assembled to help you impress your partner on 14th of February – or any other day.
Since 2006, Mamre has been an innovative brand created by a family that specializes in selling and developing electronic home products. They strongly believe that the integration of technology and creative design not only provides great practical utility, but also joy and happiness. Inspired by a beautiful story, Mamre Moon Ambient Light is crafted to transmit a beautiful and powerful message: No other love story could compare to the love story that you and and your partner share.
When lit, Mamre Moon Light radiates a warm, amber glow, providing a calm and relaxing atmosphere. If your partner is a yoga fan or she practices meditation activities, she can even place the Ambient Light in her meditation corner or spa room for a peaceful and calming experience.
The lamp's elegant and simple shape makes it a fantastic decorative element in your home, no matter where you decide to place it. Enjoy its warm light from your bed side, dressing table, sofa side or living room table. It will impress not only your partner, but also your guests or other family members.
Besides its cozy moon light, its most striking feature is its small sculpture, which is designed in the shape of a loving couple. Seated, facing back and embracing each other, they are beautifully illustrating an intimate and romantic moment – admiring the shiny and immense moon.
The couple illustrates the intimacy between two people–your partner will simply adore it. It can be a great representation of the feelings you carry for her.
For your comfort, Mamre Moon Ambient Light provides a dimmable touch sensor. By simply touching the sculpture, you can easily adjust the light intensity up to three levels, according to your preferences. This tool is ideal in creating an ambiance that suits your mood and it can also create the ideal bed light.
The wood grain shell of Mamre Light can subtly integrate to your home décor, adding a touch of elegance to any corner. The sculpture that illustrates the embraced couple is crafted from a golden metal, which will just enhance the refinement of your home style.
Mamre Moon Ambient Light also comes with unique DIY keepsake ideas: 2 number kits and 6 decals (3 themes). They include: Mr and Mrs / Happily Ever After, We Still Do / Happy Anniversary and Love Never Fails / Happy Valentine's Day. Furthermore, you can always write wishes or signatures on the moon surface, exactly as you please.
In addition to the Mamre Moon Ambient Light and the creative stickers, the package contains one USB power cable (5ft) and one USB wall power adapter. You can charge the device using a power bank (not included), so you can enjoy its comfy light during your outdoor activities, like camping or car excursions.
Customers are excited about this stylish and modern Ambient Light, most of them offering it as presents to their partner, daughter or even wedding gifts. This is a clear sign that Mamre Moon Light will be greatly appreciated not only for Valentine's Day, but also for a multitude of special celebrations, like your grandmother's birthday, your sister's graduation day or your special Mother's Day. However you decide to use it, we are sure that this precious device will bring joy and warmth to any home.