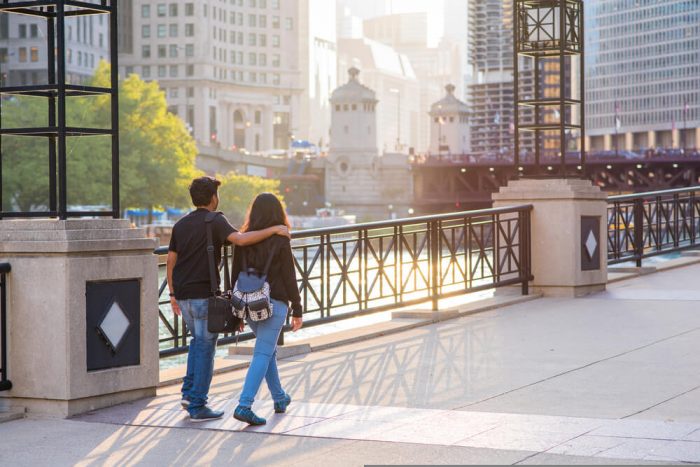 It's been a long few months worldwide, but with lockdown regulations easing, it's time to get back into the dating game. Doing this under new guidelines and maintaining social distancing rules may seem like a bit of a daunting prospect. Whether your new relationship is blossoming or you've been married for years, use this as an opportunity to think outside the box and see your city in a new light on your next date night. Here's a handful of great 'socially-distanced' date night ideas for those looking to impress in Chicago:
Drinks on a Rooftop Bar
Taking in a view of Chicago's skyline has never been a bad idea, but when it comes to COVID-19 protocols, the best practice is to spend time outdoors, so there is no better time to hit up one of the Windy City's incredible rooftop bars. Of course, the cocktails are likely to set you back a little more than you'd expect, but the views will be priceless and you'll be sure to impress your date.
Socially Distanced Dinner and Movie
Trust in the tried and tested formula of dinner and a movie. Use the current climate to your advantage though and make it memorable. You'll find plenty of cinemas, including Chicago's famous Music Box, are now offering outdoor movie screenings in parking lots or quaint gardens. And when it comes to dining options in Chicago, if you are after something a little more special, why not give the socially distanced Omakase sushi experience a try?
Get Sporty
Finding ways to stay fit and healthy is a great way to let loose on a date. Get acquainted with the age-old bow and arrow at Archery Bow Range Chicago in Humboldt Park, or throw sharp objects at Bad Axe. The beer garden and ice curling rink at Kaiser Tiger will also make for a date to remember.
Take a Romantic Road Trip
If you've been dating a while why not give your loved one a change of scenery by taking them on a surprise road trip? Crank up the tunes and hit the open road on the way to beautiful Lake Geneva. Those looking to get off the beaten path can take their pick from a number of well-known lakeside towns such as Williams Bay, Fontana and Lake Delavan.
Spend Date Night In
And for those who aren't quite ready or able to get out and about just yet, how about a romantic night at home? If you're handy in the kitchen, why not try out a new recipe? Alternatively, you could order in from your favorite restaurant. Make the night extra special by getting your significant other a gift, like spoiling with a bit of bling from one the reputable jewelers in Chicago.
2020 has seen life change in profound ways and adjusting to the 'new normal' isn't going to be easy. It's important to try to re-establish our routines and start interacting with fellow humans outside our original COVID pods. Dates have always been a good way to get out of your comfort zone, and it might just be something that keeps you sane during these trying times. Use it as a way to rediscover what's great about Chicago. Good luck out there!