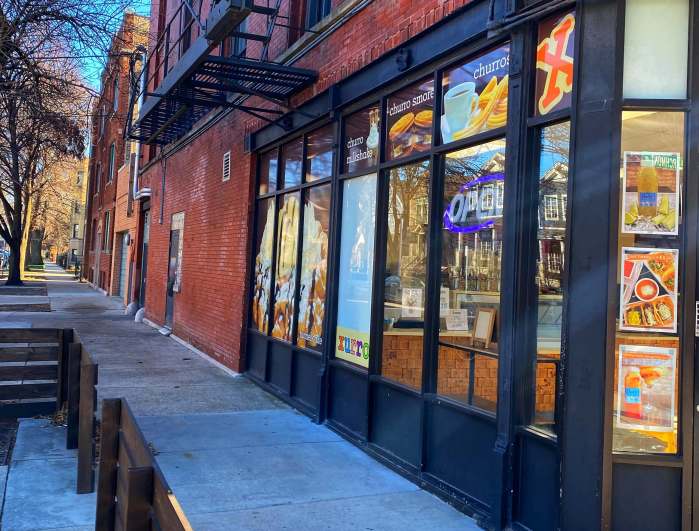 Xurro Chicago is one of many hot spots in and around the Windy City. If you are out on the town and looking for a treat or a place just for a delicious dessert, this is the place to visit. But before we dig into the menu and look at what some customers have to say about this place, let's look at the history of Xurro and what churros are all about.
Address: 3927 N Lincoln Ave, Chicago, IL 60613 
In a hurry? Check out our 1 minute review below.
What Is A Churro?
You may have seen them, possibly even had one without truly knowing what you were enjoying. A churro is a popular Mexican and Spanish dessert. It is so popular that you can find churros on menus in many American restaurants. Some say a churro resembles a doughnut or a cruller but in reality, a churro is made from a choux pastry which is deep-fried and served with sugar sprinkled over it. At Xurro, instead of frying the dough in sunflower oil, they use vegetable lard. Churros come in different types with the most common being those called tejeringos or porras, depending on where you are. Essentially, churros taste like a fried pastry and can be dipped, filled, or just stuck into some ice cream. You will also find something called churritos on the same menus. These are small churros.
A Little Bit Of History
Ramon Covarrubias and his wife established the first Xurro at the Maxwell Street Flea Market in Chicago back in 1996. Their goal at the time was to make the best churros possible and no shortage of trial and error hounded the Covarrubias' as they followed that path. Hundreds of different recipes were tried and rejected until they created the one that turned their business into a hot spot in Chicago's dessert landscape for the past several years. It started with a food truck that shortly became the most-visited site at the flea market. At that location, customers were able to watch the entire process that was followed to fulfill their order. It wasn't until 2009 when Carlos Covarrubias and his three sisters branched out with the family business and opened the first storefront Xurro location on South Willcott Avenue in the Pilsen neighborhood of Chicago. The business continued to grow and today there are eleven locations in the Midwest and in 2019, the family opened two Xurro storefront locations in Orlando, Florida. In addition to those and the multiple sites in Chicago, Xurro locations can be found in Pleasant Prairie, WI, and Michigan City, IN.
Let's Look At The Menu
Mmmmm. Here's the fun part. If you've been craving a different kind of dessert, then you won't be disappointed at Xurro. That's because serving desserts, ice creams and beverages is all they do. It says so on the menu. So let's break those categories down for you.
Desserts
You know this is why you came here, right? At Xurro you can enjoy an 8-inch Funnel Cake (a round funnel cake topped with powdered sugar), an 8-inch Sundae Funnel Cake (same as the Funnel Cake but with vanilla ice cream), a Churro Sundae (a vanilla ice cream sundae with your choice of syrup and a churro that is cut in half), or Churritcos (small churros).
Ice Cream
There are a few great choices in this category on the Xurro menu. You can order a Sundae that includes two scoops of vanilla ice cream and your choice of strawberry, chocolate, or caramel topping. Or you could just have two scoops of ice cream or Ice Cream in a Waffle Cone. Don't forget, waffle cones are a popular treat with or without the ice cream!
Beverages
There's a lot more to the beverage selection than you may think. At Xurro Chicago, the beverage selection may be a hint as to why this place is such a hot spot. There's the Churro Milk Shake, available in six different flavors including Oreo, Vanilla, Strawberry, Chocolate, Churro, and Horchata. Or you could sip on a 24-ounce Horchata (a rice drink made with a little bit of cinnamon and vanilla). Other drinks include the 16-ounce Smoothie, Frappe Coffee, 24-ounce Lemonade, 24-ounce Strawberry Lemonade, 16-ounce Aztec Iced (iced Abuelita hot chocolate poured over ice), 16-ounce Iced Coffee (espresso shot with sugar, cream, milk, and ice), 16-ounce Chai Tea, Iced Mexican Mocha, and water.
What Others Have To Say
Of course, we consider Xurro to be a Chicago hot spot but why not take a quick look at what some of the recent customers there have to say about their experiences? Here are a few we found online.
"Everything was made fresh. The perfect thing to eat in the cold Chicago weather…The ice cream sandwich hit my craving spot! First time trying it and will try again but must warn it gets messy!" Another reviewer talked about their first-time experience at the Pilsen storefront location, "It's super clean and churros are made fresh to order! If you grab a drink nearby or dinner you can walk on over to grab a churro afterward. Be on the lookout for their flavor of the day – I went today and they had pineapple available!" And one more local offered this review, "Just got peanut butter and vanilla custard-filled churro. Some more about these magical fried sticks: evenly coated with cinnamon sugar, crunchy outside, soft interior, not oily or heavy, silky smooth filling. I don't know how authentic it is in the Churro universe but it's delicious."
Summary
Wandering around in Chicago trying to satisfy that dessert craving? There is a place for that. It's called Xurro and you are in luck. There are several of them open in and around the city. Plus, they are open every day from 8 AM to 9 PM. Or you can contact your preferred home delivery service and have them dash some churros to your door. There may even be one located within your neighborhood. Check their website at ChurroFactory.com to find out more. Regardless of how you do it, Xurro guarantees you will love their desserts and once you try them, you will be hooked.