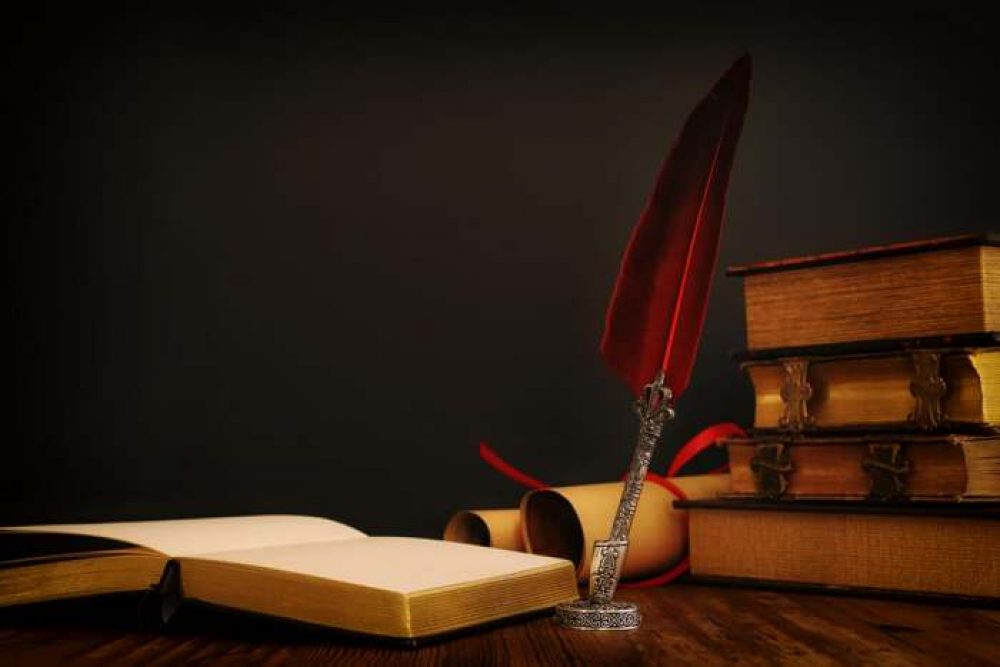 Whether you've peered into the back of your closet looking for Narnia or imagined getting an admission letter from Hogwarts, there's a good chance you have dreamt of leaving the harsh, real-world and stepping into your beloved dark fantasy novel. However, your favorite speculative fiction genre isn't all about witchcraft, magic, whimsy, mystery, and wardrobes.
With the world coming out of a crushing pandemic, the best fantasy novels are sure to provide some respite and help us not only get away from our daily life hustles and pressures but also confront them. Tales of the otherworldly give us a chance to make a better sense of the realities of the world we live in. In a way, this enables us to refract heartache, wickedness, change, and pain through a fairy-tale lens, so we can be well-prepared to face them squarely.
As with the best science fiction books, an excellent fantasy novel is oddly relatable, and memorable, allowing the reader to marvel with childlike wonder. Even better, the genre is teeming with amazing page-turners sure to please any fantasy lover.
Each year, a collection of the best dark fantasy books is released, which is a great place to find the top authors of the genre. But don't worry – we've done the legwork and put together a list of the best fantasy novels to check out this year. They include a blend of highly anticipated releases and timeless classics from beloved authors.
1- Hotel at the End of Time by James Michael (2021)
Amazon
Canadian author James Michael has proved to be a great novelist, and his work lies somewhere in between urban fiction and fantasy. Hotel at the End of Time is perhaps his best-known, packing lots of explosions, witty humor, and adventure.
Vain is the only individual who has ever managed to break out of the Hotel at the End of Time. While escaping, she made away with one of their most treasured assets: a magical padlock that gives one the ability to live forever. The forces of the establishment will go above and beyond to get their Padlock back.
All forces of the Hotel at the end of time have teamed up against Vain. They have transformed ordinary objects into deadly weapons. The Wyatts, a crew of multi-dimensional convicts, and Trick, their psychopathic leader, are baying for her blood.
When Vain meets Emma, a shy graduate student with formidable and chilling powers, everything changes. The duo team up and set sail for a roller-coaster of an adventure that will see them fight the felons and, accidentally, learn how to stop the Hotel once and for good.
2- Piranesi by Susanna Clarke (2020)
Amazon
From the New York Times bestselling author of The Jonathan Strange and Mr. Norrell, Piranesi is a science fiction tale that dwells on the nature of fantasy in and of itself. The narrator of the book responds to the name Piranesi, although he doesn't believe it's his real name. This moniker was picked especially for him by the only living individual he has ever met during his journey across the House, the Other.
The reader may, of course, acknowledge that the name pays homage to the Italian sculpture famous for his etchings of make-believe prisons and Roman ruins. While this might be a running joke made at the expense of Piranesi, it also helps the reader make sense of the world Susanna Clarke has imagined.
In her second book, Clarke uses tropes that have driven the world of fantasy fiction and surrealism for more than a century. At the core of this tale is the notion that our universe was once filled with magic. The author imagines a world where all that magic went over the course of time.
3- Winter World by A. G. Riddle (2019)
Amazon
The debut novel in A. G. Riddle's trilogy, The Long Winter, is an absolute masterpiece and one of the best science fiction thrillers. Especially in this pandemic-ridden period, if you're hearting for that escape and feeling of being embraced by ice age magic, Winter World will deliver big time.
This fantasy fiction book is set in the near future, in which climate change has sent the world on a cooling spiral back to the ice age. For an unmentioned reason, the solar energy received by Earth has been gradually dwindling, so the polar ice caps are expanding and countries are battling for the last few habitable regions of the planet.
In a desperate hunt for answers, scientists discover a mysterious object sitting in front of the sun. Could it be the cause of the massive and rapid cooling of the planet? NASA is on a frantic race to salvage the planet, but its mission is full of mishaps and adventure.
Save for the near-perfect protagonist, Winter World is a great read with a plausible concept. Fans of Star Trek will love this tale of space travel and the return of the ice age.
4- Golden Compass (His Dark Materials) by Philip Pullman (1996)
Amazon
If you have read the entire J.K. Rawlings' 7-book Harry Potter series and are still aching for something similar, you can't do better than Philip Pullman's sensational hit trilogy His Dark Materials. It has already been adapted into an equally successful fantasy drama TV series aired by HBO and BBC One.
The Golden Compass is the first novel in the trilogy, which also includes The Subtle Knife (1997) and The Amber Spyglass (2000). The series follows the life and adventures of an otherworldly young orphan named Lyra Belacqua, who lives with several scholars at an Oxford college.
Together with her spiritual daemon, the 12-year-old travels across a myriad of worlds of the trilogy, on questions that will eventually help rescue the whole multiverse from certain destruction. On one of these missions to find her missing pal, Lyra stumbles upon a haunting secret that has to do with a series of kidnappings.
5- Extinction Shadow by Nicholas Sansbury Smith and Anthony J Melchiorri (2019)
Amazon
Authored by the tag team of authors Anthony J Melchiorri and Nicholas Sansbury Smith, Extinction Shadow is the first book in their Extinction Cycle: Dark Age series. But the fantasy novel is very exciting and perfectly comprehensible that it can stand on its own. In fact, you don't need to have the knowledge of the first seven books of the Extinction Cycle to jump into this one.
Easier still, the reader will be delighted to meet Kate, Reed, and their pals 8 years after the end of the Extinction War. With sweeping elections around the corner, life in the Allied States of America is sure to be a little unpredictable for a short spell, but no one thought it would be this chaotic. With Team Ghost again in full action across the country, you'll get to meet new characters and a boatload of unexpected threats.
This novel has plenty of what you'd expect from Sansbury Smith — military action, All up, Extinction Shadow is a solid debut to the series. It's brilliantly choreographed and the plot is engrossing, making it a rousing fantastic read for any lover of fantasy fiction.
6- Bad Soul by David Bussell (2018)
Amazon
If you don't think an epic dark fantasy novel could trump some of the best action books with brutality and bloodshed, clearly you have never read David Bussell's Bad Soul. Written in partnership with fantasy genius M.V. Stott, the novel is the first book in the 6-part Uncanny Ink series that details the adventures of one Erin Banks.
Lethal, dodgy, and unforgiving, Erin is the ultimate assassin through and through. But these powers aren't innate; she got them thanks to her mysterious tattoos that turn her into a slaying machine. Magic, monsters, and mobsters are no match for her.
After serving a short prison stint, Erin is hired to capture an errant soul by a powerful demon of the dark cathedrals. Wouldn't you know it; the creature has an even better proposal, something much more rewarding than money!
Despite its cruel characters and haunting premise, Bad Soul draws on a rich tapestry of fantasy tradition and reads like Reaper's Blood by way of Kel Carpenter.
7- Devourers by Indras Das (2017)
Amazon
Beyond the werewolf premise on the surface, Indras Das's debut novel, Devourers is a tale of monsters, violence, war, and love. It beautifully and masterfully tackles the underlying racial, sexual, and cultural violence that humankind always inflicts upon each other. In that manner, the novel blurs the line between what it's to be a monster and what it's to be human.
In the astonishing opening chapter, we meet Alok, a lonesome history professor who is drawn into a fascinating story of the past by a young protagonist who identifies as a "half-human" and "half-werewolf." The said young man commissions Alok to transcribe a saga of an immortal shape-shifting creature named Fenrir. What follows is an indescribable circle of violence rendered in grotesque yet loving detail.
Das's Devourers is definitely not for the faint-hearted, but it's an unsettling and ambitious journey into humankind's capacity for brutality and violence.
8- Chameleon Assassin by B. R. Kingsolver (2016)
Amazon
Voted 201 Best Contemporary/Urban Fantasy by eFestival of Words, B.R. Kingsolver's 2016 smash hit Chameleon Assassin is the debut book in her five-book series of the same name. It's a deep, growly and punchy investigative dark fantasy novel set in a post-apocalyptic region around Toronto.
The novel introduces us to a vibrant cast of mutants, including a strong heroine who is a trained killer with powerful mutant skills. Nothing can stop her from burrowing to the bottom of the truth. Even if that means being cornered with her wheelchair-ridden father at their home, rockets being fired at them, and whatnot. There's also an addiction epidemic to a drug called LuvDaze with almost similar effects to amphetamines.
Whether a protagonist is a bad person or a heroine is up to you as a reader. Don't expect lessons about what's wrong and what's good on this one. Be ready for some action, bad-ass characters, and some more action. It's a fantastic, readable novel; highly recommended for any fan of post-apocalyptic fiction.
9- Library at Mount Char by Scott Hawkins (2015)
Amazon
The debut work of author Scott Hawkins, Library at Mount Char is a spellbinding tale of revenge, betrayal, and apocalyptic power. For a first novel, this title gets a solid 5/5 star rating, all the more so that what it narrates is chillingly mysterious. From the opening chapter, you will appreciate Hawkins' no-frills, prose style, and oddly brief but enthralling writing.
Carolyn is your average 8-year-old girl, but her life is about to change forever when her suburban division is gutted down. At about the same year, she and 11 other kids were taken into the odd-looking Library by a man they came to call "Father."
The novel is filled with a memorable cast of colorful characters and has an engrossing plot that will shock you over and over again. Library at Mount Char is a beautiful, fresh, and captivating yet unsettling novel.
10- Strange Circumstances by Various Authors (2012)
Amazon
Strange Circumstance is a collection of dark fantasy stories co-written by various authors, including veteran writers Marshall J. Stephens, David Chrisley, and Weston Kincade. It was edited by Scott Rhine and Katy Sozaeva. This anthology features fantasy works that explore the predictability (or unpredictability, to be precise) of destiny and fate.
Together, the 15 flash dark fantasy pieces and 12 twisted short stories provide the reader with a magical lens to explore the boundaries of our universe. In a way, these beautiful tales help us see what is hidden within the secrets of the paranormal, religion, extraterrestrials, magic, and science. It's a deep dive into what lurks in the unknown.
From atrocious espionage, revolting conspiracy, mysterious trees that jut from the train car floor to stories of vanishing celebrities and terrific sorcery, there's something for every fan of dark twists and tales in this collection.
11- The Bone Doll's Twin by Lynn Flewelling (2001)
Amazon
If you're looking for a bewitching fantasy tale of hidden destiny and dark magic, look no further than Lynn Flewelling's The Bone Doll's Twin. It's the first novel in her Tamir Triad trilogy, followed by Hidden Warrior (2003) and then by Oracle's Queen (2006).
Skala has been a fairly peaceful kingdom, protected for more than three hundred years by a matriarchal line of warrior queens and a divine prophecy. Unfortunately, they became complacent and a usurper king named Erius took over the crown from her young half-sister. What followed is a grueling spell of wars with rivals, drought, and plague.
One thing to note is that The Bone Doll's Twin is not a stand-alone novel; you'll have to read the other two installments in the trilogy to get the complete story. It's a prophecy-heavy, action-filled tale with an underlying dark background. It's a great coming of age novel that every feminist and fantasy lover should read.
12- Prince of Thorns by Mark Lawrence (2011)
Amazon
Mark Lawrence's debut novel, Prince of Thorns, is a dark fantasy with plenty of clout and controversy surrounding it. Since its first release in 2011, the novel has stalked a great deal of tongue-wagging from both the fantasy and sci-fi aisles when it comes to what's acceptable for humans to enjoy and like. It's actually the first novel in his Broken Empire trilogy, which also comprises King of Thorns (2012) and Emperor of Thorns (2013), both of which were received with equivocal warmth and controversy.
Prince Honorous Jorg Ancrath watched in horror as his brother and mother were slaughtered right in front of him. He was then 9, but now as a 13-year-old, he's the bandleader of a bloodthirsty gang. At the age of 15, he decides that it's time for him to reclaim his rightful place as the king and return to the castle.
Lawrence's writing style, prose, and pace are dead right on the spot in this novel. He uses a series of anecdotes to provide some respite in an otherwise gruesome and dark tale.
13- Hundred Thousand Kingdoms by N. K. Jemisin (2010)
Amazon
N.K. Jemisin's debut fantasy novel, Hundred Thousand Kingdoms, sports a fascinating, heartwarming, and well-crafted mythology. It's one that you won't forget anytime soon after reading. For some reason, it reads like a political thriller blended with science fiction and high fantasy.
At first glimpse, the novel's plot is pretty pedestrian: Yeine Darr, a young lady, and the protagonist is chosen as the next leader of the Hundred Thousand Kingdoms. Soon, power struggle and wrangles emerge between her and two arch-rival cousins. Once you plunge deep into the story, you'll appreciate N.K. Jemisin's attention to detail and world-building ability, which take this tale to a whole new level.
As a reader, you'll certainly look forward to reading the next chapter as Yeines goes through royal politics. Be sure to check out other novels in the Inheritance trilogy: The Broken Kingdoms (2010) and The Kingdom of Gods (2011).
The novel won Locus for Best First Novel in 2011 and was nominated for Nebula, Hugo, and World Fantasy awards.
14- Running with the Demon by Terry Brooks (1997)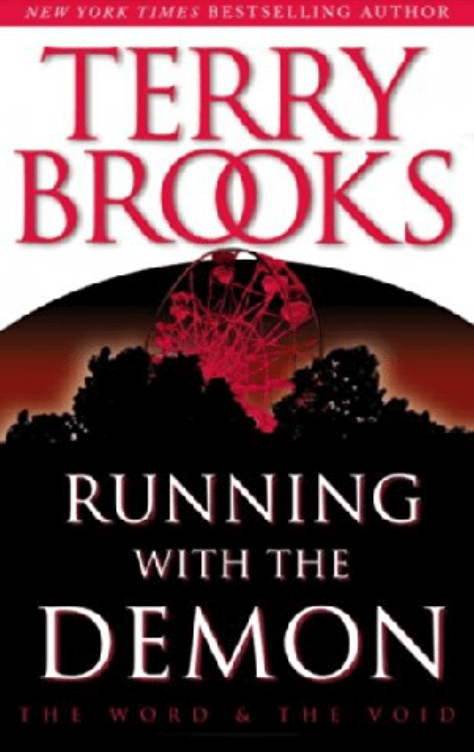 The idyllic steel-mill town of Hopewell, Illinois, is about to wake up to an all-out war between Evil and Good. The town's Sinnissippi Park has, over the years, concealed a mysterious evil, kept away from the people by unimaginably strong powers. However, the wicked creatures that usually lurk silently in the shadows have become braver and a violent explosion is about to descend on the sleepy town.
This draws John Ross, a Knight of the World, who has nightmares of the said creatures plunging the world into a horrific mess. In this battle of good versus evil, we meet powerful and eccentric characters like Nest Freemark, a 14-year-old with powers greater than he could have imagined.
Tormenting, beguiling, and ambitious, Running with the Demon is book 1 in Terry Brooks' The Word and the Void trilogy.
Buy Running with the Demon by Terry Brooks on Amazon.
15- The Sandman by Neil Gaiman (1988)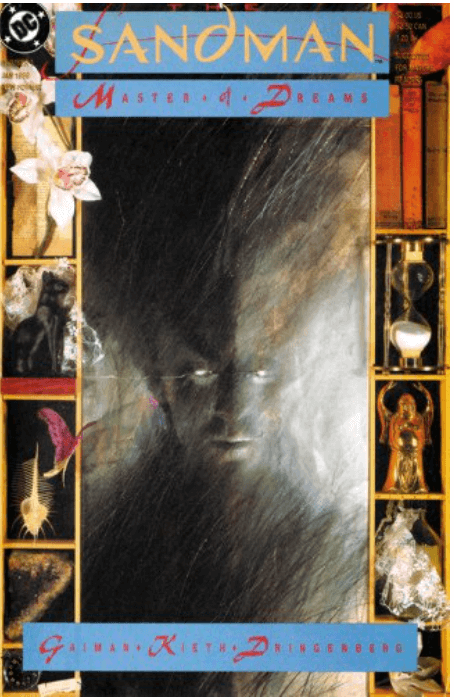 Neil Gaiman is a serial writer whose favorite (and perhaps best) works are his short stories. However, most fantasy readers meet Gaiman through his graphic novels. While his other books The Graveyard Book, Coraline, Stardust, and American Gods are the crop of the cream, we think The Sandman is the epitome of Gaiman's prowess as a fantasy novelist.
Initially published in 1988, the 77-comic book series and New York Times #1 bestseller takes us to the world of religious fantasy. The occultist has made an attempt to capture the physical representation of Death to ask for immortality. Instead, this quest leads to Dream, his young brother, being imprisoned for 70 years.
When he escapes prison, Dream doesn't hesitate to go on a mission to reclaim his reign. This marks the beginning of one of the most beloved and entertaining in the history of graphic fantasy novels …. The Sandman.
Buy The Sandman by Neil Gaiman on Amazon.
16- Perdido Street Station by China Miéville (2006)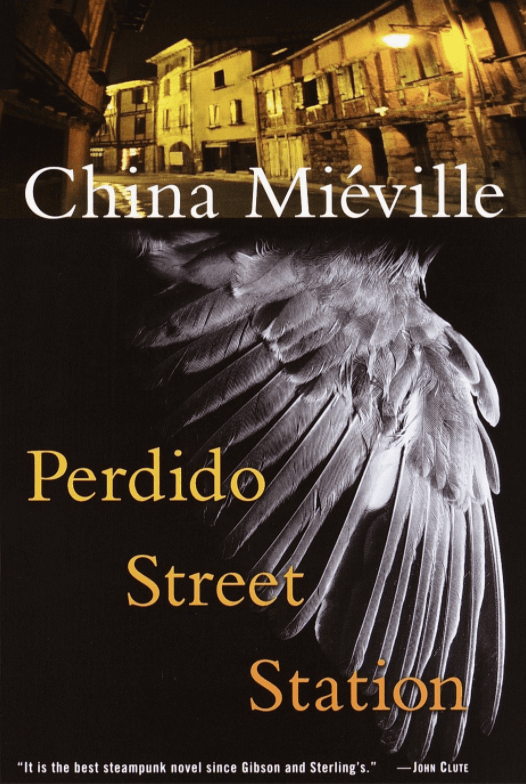 Most, if not all of China Miéville's novels belong to the category of Weird Fiction – a subgenre that brings together the best of horror and fantasy. It's the brainchild of the multi-award-winning author of bestsellers like The Dreams in the Witch House & The Lurking Fear, Eldritch Tales, and At the Mountain of Madness.
Miéville put a rather near-fantasy spin to Weird Fiction. Perdido Street Station is the first novel in her gripping Bas-Lag trilogy. In her own words, the novel is essentially a "secondary world fantasy" with Victorian machinery and technology. Despite reading like a Medieval tale, it's based in an industrial capitalist society.
Miéville really brought her A-game when it comes to prose style, plot, well-defined characters, world-building, and creating monsters. It's very difficult to find any flaw in this novel. It's unbelievably imaginative, impeccably plotted, and thoroughly entertaining.
Buy Perdido Street Station by China Miéville on Amazon.
17- Storm Front by Jim Butcher (2007)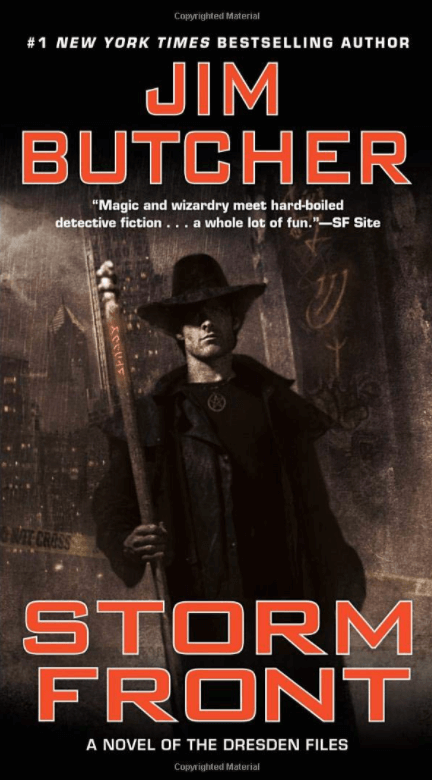 Storm Front is the debut novel in the #1 New York Times bestselling series that brings you 17 action-packed novels. Despite its simple, straightforward plot, the novel manages to grab your attention with suspense, rain-slicked battles, and lots of dark humor.
As a powerful pro wizard, Harry Dresden knows that your everyday world is teeming with magical, mysterious, and strange things. The series is set in a violent version of present-day Chicago, where magical creatures roam just beneath the Earth's surface.
Harry makes his living as a PI, investigating and solving cases that cut across the worlds of the uncanny and the real beings. In Storm Front, the debut novel in this long-running series, Harry confronts a barrage of mobsters, werewolves, and vampires.
Butcher's Storm Front is a tenacious urban fantasy that will captivate the reader with an abundance of turns and twists right from the first chapter. He uses his unique, fast-paced style to bring hard-boiled characters like Dresden to life.
Buy Storm Front by Jim Butcher on Amazon.
18- Berserk by Miura Kentaro (1990)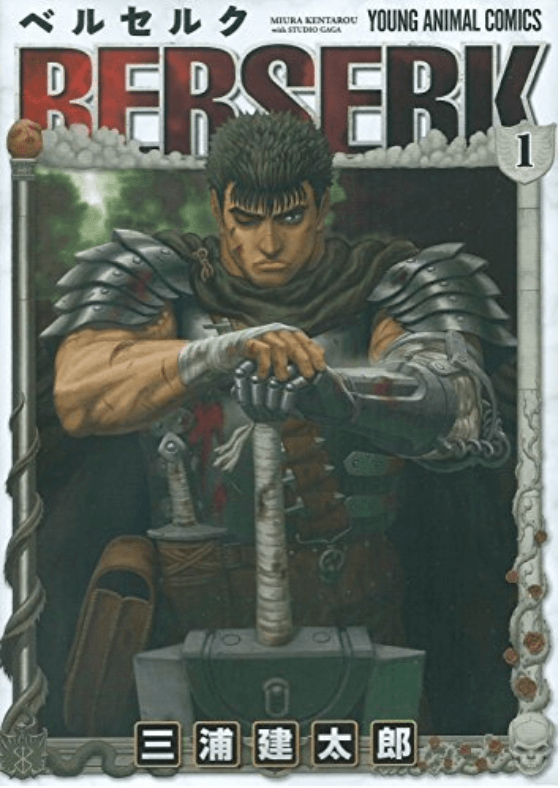 First published in 1990, Berserk (Bersereku) is the first book in Miura Kentaro's ultra-violent fantasy manga series of the same name. It follows a cursed lonely wanderer with a haunting fate, as well as a colorful cast of bio-horror evils. Worthy of its moniker, Berserk offers up a tableau of chilling thrilling action and merciless violence in an amalgamation of graphic horror and pure dark fantasy.
Set in an underground world of fantasy Dark Age, the tale's antihero is plausibly called Guts. He's powerful, all-muscle, relentless, and a shameless murder. He is on a do-or-die mission to lift his demonic curse and avenge a cannibal rule of the demons.
The manga masterpiece is deliciously scary right from page one. The brilliant use of shadows and pencil shading gives the story a menacing appeal and tone. Add to that the intense and frenetic pace, and Berserk in one fantasy horror that you won't put down once you start reading.
Buy Berserk by Miura Kentaro on Amazon.
19- Lord of Illusions by Clive Barker (1995)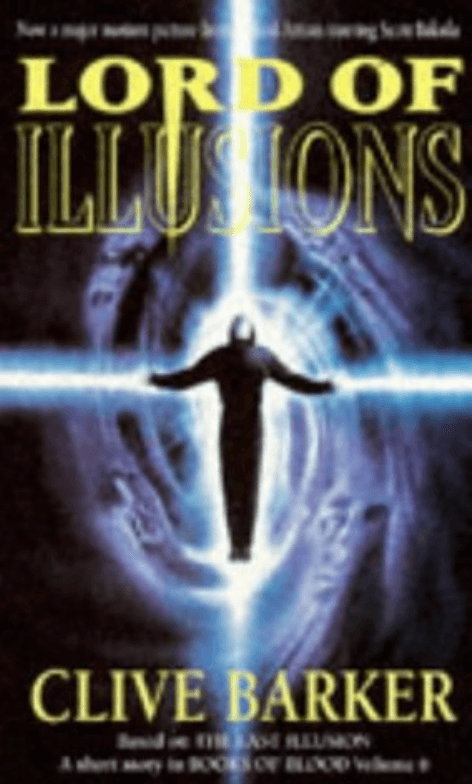 Once hailed by Stephen King as the "future of horror," Clive Barker has lived up to the hype with this fantasy tale of horror, mystery, and cult. The novel was first published in 1995, the same year it was adapted for a supernatural horror screenplay directed by Clive Barker and starring Scott Bakula, Daniel von BARGEN, Kevin J. O'Connor, and Famke Janssen.
As with The Hellbound Heart, both the film and the book provide the reader with something exciting and captivating as only Clive Barker can. Lord of Illusions is actually based on The Last Illusion, the sixth book in Barker's highly popular Books of Blood series.
The novel is fabulous, cultic to some extent, twisted, and terrifyingly dark. It's packed with some of the most familiar characters that recur in Barker's earlier works, most notably Books of Blood.
Buy Lord of Illusions by Clive Barker on Amazon.
You Might Also Like: