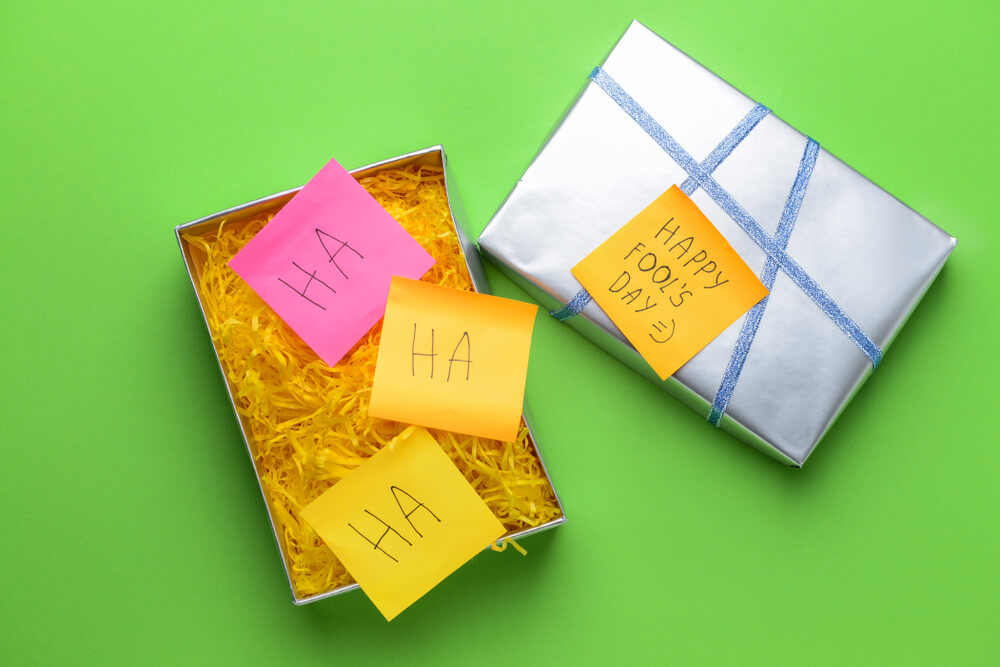 Is there any better gift than the gift of laughter? Every now and then it helps to shake up the rote ritual of gift-giving with a few surprises that break the monotony of socks, sweaters, gadgets, and gift cards. For inveterate gagsters, this means prank gifts—gifts designed to inspire shock, delight, and ultimately tickle the funny bone.
Funny prank gifts come in all shapes and sizes, some perfectly benign and others not for the faint of heart. Some are family-friendly; others, you only want to give to someone with a "blue" sense of humor. Some of the best prank gifts allow the recipient to pull a prank on someone else; in other cases, the joke is on the gift recipient.
Either way, a prank gift gets remembered! Here are our picks for the 22 most hilarious prank gifts, guaranteed to get a laugh.
1- DE Spider Prank Scare Box
Amazon
The spider that springs out of this simple wooden box does not look very realistic. It's quite clearly made of plastic. This is a good thing. If DE had spring-loaded this trap box with a spider that looked real, there would be a rash of heart attacks.
The arrangement of this spider, black with venomous red markings, causes it to leap out of the box as the sliding lid is removed, such that it lands on the hand of the person opening it. The perfect gag gift to give to your arachnophobic friends! Just make sure to check that they are still friends once they regain consciousness.
2- Witty Yeti's Because You Probably Touched Your Junk Hand Sanitizer
Amazon
Of course we offer people hand sanitizer because we know that germs can pass from their hands to their mouths and cause disease. Right? These gag hand sanitizer bottles by Witty Yeti say the quiet part out loud—we don't really care if some people pass germs from their hands to their mouths, we just don't want to shake hands with someone who has probably touched their junk in recent memory. These funny prank gifts are also useful—each bottle is filled with two ounces of alcohol-based hand sanitizer to cut through even the nastiest junk-germs.
3- Witty Yeti Full-Size Fake Parking Ticket
Amazon
The problem with people who take up the last two parking spaces in the lot with one car is that they are usually not nearby. If they were nearby, you could ask them to repark their car or just stare at them icily. What to do if they are nowhere to be seen?
This 20-pack of fake parking tickets by Witty Yeti is the perfect solution. When placed face down under the windshield wiper, they look like a real parking ticket, which will catch the bad parker's attention. Once flipped over, however, the recipient realizes that no fine has been levied—this is just a citizen's reminder that they suck at parking, with helpful follow-up numbers like 1-800-YOU-SUCK.
4- BigMouth Inc. Original Toilet Mug
Amazon
Nothing says "tasty" like a sip from the toilet bowl, amirite? You may know that the liquid you're sipping is tasty coffee or tea. But people watching you may throw up a little in their mouths as they watch you slurp brown liquid from a disturbingly toilet-shaped mug, one of the best prank gifts for fans of scatological humor.
In addition to the original porcelain glaze, the Original Toilet Mug is available in painted gold for the billionaires-at-heart, as well as a decidedly gross "coiled brown snake" arrangement with the helpful TMI statement—"Coffee makes me poop." Didn't really need to know that!
5- Loftus New Hilarious Rubber 4 Inch Fake Human Poop
Amazon
Is there anything funnier than a poop gag? This fake human poop by Loftus is meant to be used in a very specific way—perched on a toilet seat, so it looks like someone missed the toilet bowl.
It doesn't stand up to much scrutiny, but anyone opening the bathroom or stall door will be momentarily fooled and seriously grossed out. For real, even the owner will hesitate to pick this one up after the joke is over. The texture and color is real enough to evoke phantom odors and cause physical revulsion.
6- Witty Yeti Honk If You Have to Poop Prank Bumper Sticker
Amazon
Who says the people stuck in traffic have to remain strangers to you? When they see this "Honk If You Have to Poop" bumper sticker, they may use their horn to offer more gastrointestinal information about themselves than you ever imagined you would be privy to. You may not know their hopes, dreams, and failures, but you do know that they hope to encounter a john in their near future.
Added bonus—if someone is honking at you because they are impatient or think you are a bad driver, you can have a quiet laugh to yourself, imagining why they are really honking.
7- Prank Pack "Roto Wipe" – Wrap Your Real Gift in a Prank Funny Gag Joke Gift Box
Amazon
This gag packaging by Prank Pack is the perfect way to turn any gift that fits in a 11.25" x 9" x 3.25" box. There is no such thing as a "Roto Wipe" (thank goodness). This box arrives empty, ready for you to pack your actual gift into a head-scratcher of a product box, guaranteed to fool your gift recipient into believing that you actually got them a toilet-seat-mounted scrub brush. The dude seated on the toilet giving a thumbs up makes it practically a work of art.
The "Roto Wipe" prank box is our favorite, but Prank Pack offers eight variations in this collection to pack your gift in hilarity, many of them also bathroom-themed, including: cargo socks; a "Fart Filter" personal flatulence plug; a "nap sock" that resembles a bag over the head of a hostage; a "Noggin Net" wearable fishing net hat; a plant urinal for house plants; a "Toilet Tunes" speaker/sanitizer; or a hip-mounted urinal.
8- B&E LIFE Potato Chip Snake Can Jump Spring Snake Toy Gift
Amazon
Ahh, the spring-loaded snake gag. Classic. B&E LIFE offers a clever take on this old chestnut that might fool jaded souls who have learned to expect it—especially if they have fallen for it before from the gift giver. This example of one of the best prank gifts loads the snake into a real-looking 8.5-inch canister that looks like it should hold stacked baked potato chips.
A lot of effort has been invested into the verisimilitude of the canister. The graphics look real and even include nutritional facts. But open the lid? 4-5 foot snake! This one never gets old.
9- KETEP Dad Funny Bag
Amazon
Fanny packs and shoulder pouches are useful, but why not funny as well. This is the perfect pranked gift for Dad, especially if his beer belly is getting a little … assertive. Designed by KETEP, this bag is a little scary in how real it looks and how hairy! If you tuck it under your shirt, it even looks like it could  be your real belly. It makes a great gag accessory for festivals and tourism.
10- NPW-USA Sound Machine, 16 Hilarious Sound Effects
Amazon
How many times have you wished you could push a button and a "sad trombone" noise would underscore the fail you just witnessed? This is just one of the creative uses to which you can put this awesome, pocket-sized sound machine by NPW-USA.
Someone just made a game-changing announcement? Cue the nuclear bomb sound effect. Did you just score a mic-drop moment but the board room isn't applauding you wildly like you deserve? Give yourself  a round of applause with the touch of a button.
Yes, we can read your mind, and yes, there's a fart sound effect on this unit.
11- CASOFU Burritos Blanket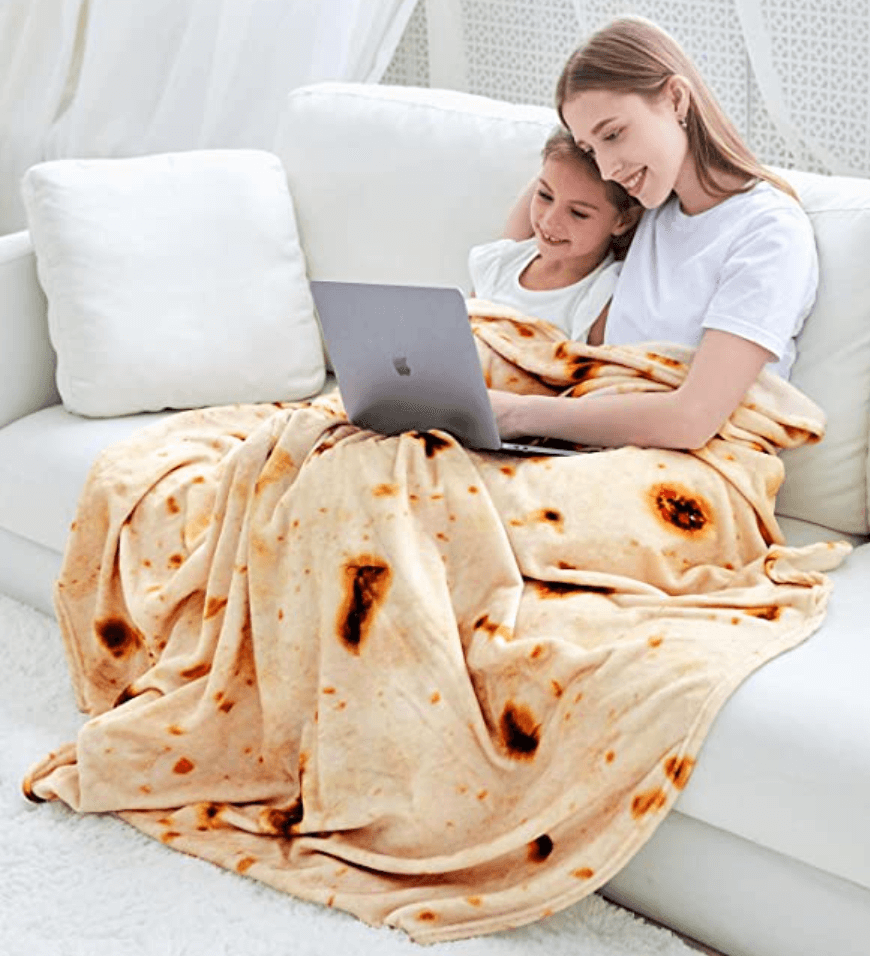 You may have felt like a burrito, wrapped tight in a soft fleece blanket on a cold night. This tortilla blanket by CASOFU makes you look like a burrito as well. The 3D ultra-high-def graphic print is surprisingly realistic—it looks good enough to eat.
This burrito blanket is part of a series of funny prank gifts that resemble other flat, round food items—a grilled tortilla, waffle, pizza, or pie. Each blanket is 18" in diameter and made of warm, soft fleece for extra comfort.
Buy the CASOFU Burritos Blanket on Amazon Here.
12- Prank Pack "12,000 Pieces Jigsaw Puzzle"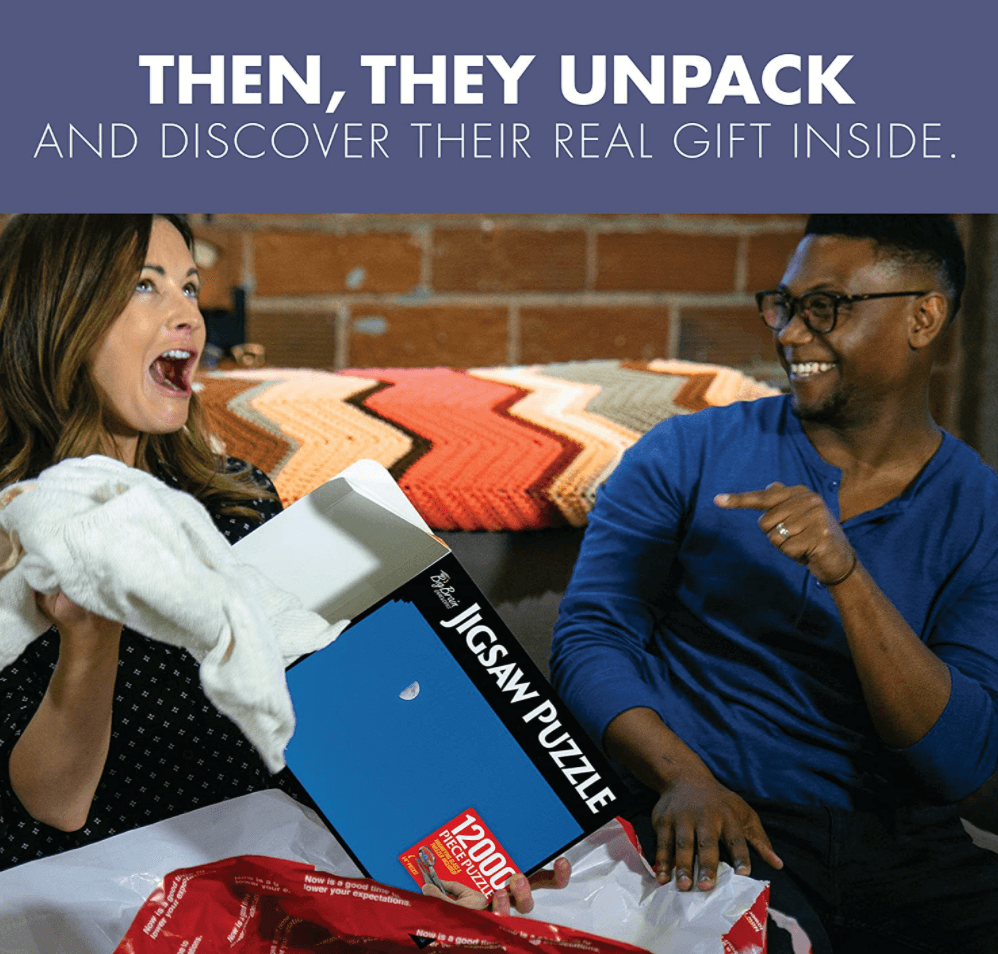 Here's another, less scatological iteration of Prank Pack's gag gift packaging line—the "12,000-Piece Jigsaw Puzzle." If you aren't familiar, 1,000 pieces is a complicated puzzle. To encompass 12,000 pieces, the pieces themselves would have to be as small as ants. This prank gift box leans into that gag by depicting a puzzle enthusiast handling the pieces with tweezers and a magnifying glass.
To make the joke even better, the puzzle image is the worst puzzle image ever—a blank blue sky, with a daytime moon looming small in the corner. Not only are the pieces too small for you to even tell the corner pieces apart, but the mostly blank blue image means there are no visual cues for how the puzzle goes together. Give this prank gift box to a puzzle enthusiast. Once they open the box to discover their actual gift, you can watch them with satisfaction as they heave a huge sigh of relief.
Buy the Prank Pack "12,000 Pieces Jigsaw Puzzle" on Amazon Here. 
13- Forum Novelties Big Undies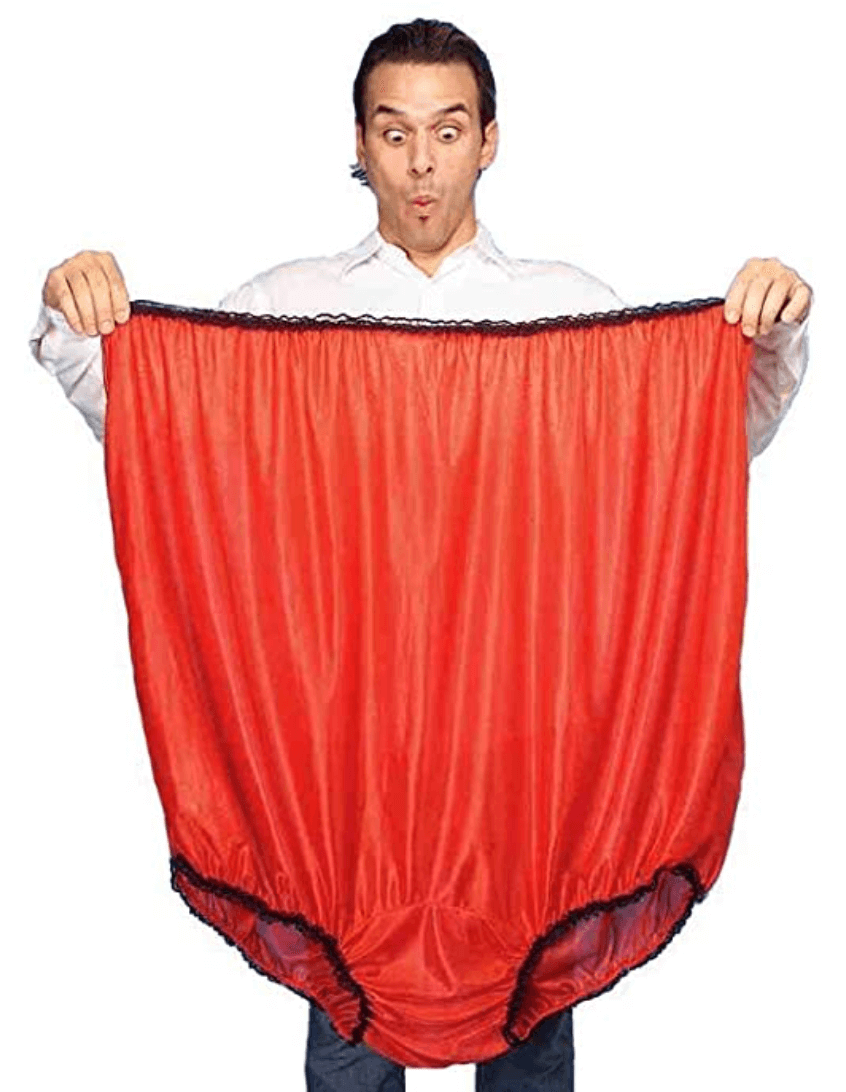 Everyone loves a gift of sexy underwear. Forum Novelties takes this joy to the next level with a "bigger is better" aesthetic. Exercise caution—these "bloomer" undies, appropriate for derrieres the size of some smart cars, are only appropriate for ladies with excellent body image … or the world's biggest Sir Mix-A-Lot fans. (No pun intended.)
These ginormous drawers are 60 inches at the waist and available in red, pink, black-and-white polka dots, multi-colored polka dots, or men's tighty whities. The "Big Man" tighty whities include a helpful reminder that "size matters."
Buy the Forum Novelties Big Undies on Amazon Here. 
14- Gag Gifts for Good Causes 2021 Pooping Pooches White Elephant Gag Gift Calendar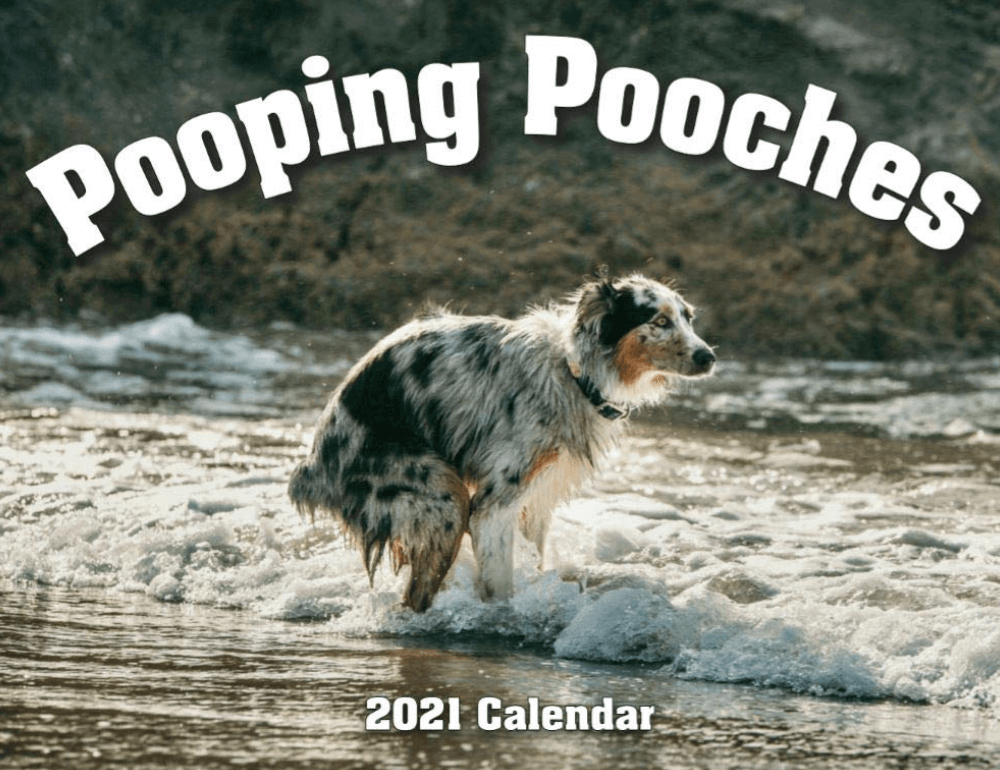 Is it strange to anyone else how much time dog lovers, many of them with advanced degrees, spend encouraging their beloved pooches to poop while in mid-walk? Celebrate this anomaly by giving the dog-lover on your list this prank gift calendar.
Each month, the recipient can turn the page and enjoy a new glorious, high-definition photograph of a dog doing its business against breathtaking backdrops. We can say with confidence that this collection of calendar models are "good boys."
Buy the Gag Gifts for Good Causes 2021 Pooping Pooches White Elephant Gag Gift Calendar on Amazon Here.
15- Laila and Lainey Baby's First Gambling Kit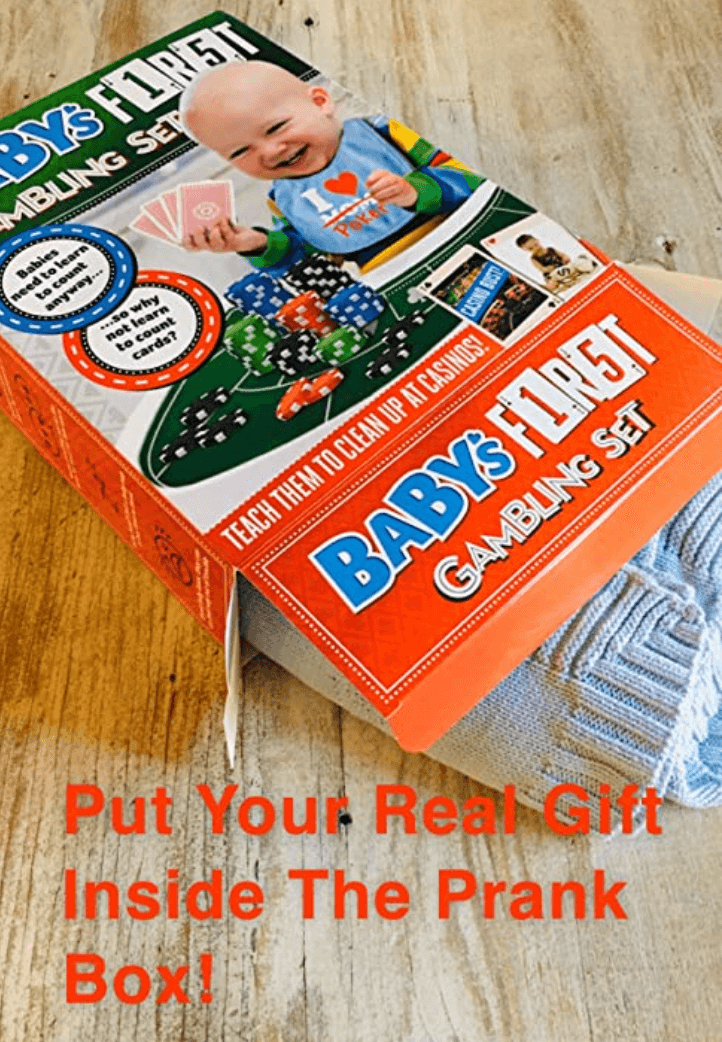 This prank gift box by Laila and Lainey brings the gag box market down to toddler size. Disguise baby's real gift in a fake gift box that represents every new parents' dream-come-true—"Baby's First Gambling Kit."
With an image of a giggling infant playing poker on a chip-strewn high chair tray, this gag packaging is priceless, as are the promotional legends—"They have to learn to count anyway … they might as well count cards!" "Teach them to clean up at casinos!" And that bib—"I Love Mom Poker."
If your parent friends don't have a good sense of humor, this prank gift box will have the added benefit of making sure you don't get invited to those boring kids' birthday parties anymore.
Buy the Laila and Lainey Baby's First Gambling Kit on Amazon Here. 
16- The Moon Ring – "It F@rts When You Open it!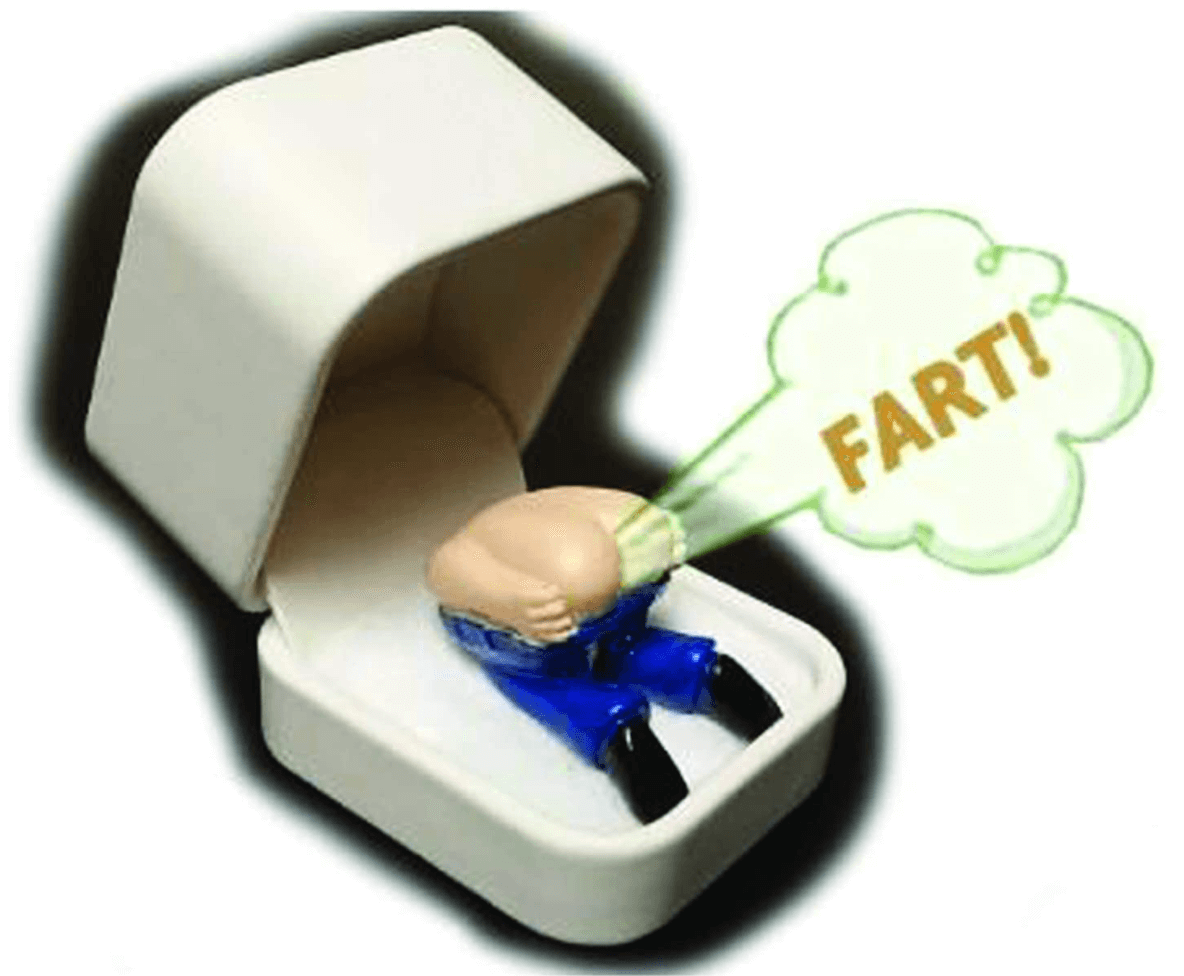 WARNING—this gag gift is only to be given to the recipients with the best sense of humor. Offering this gift on bended knee is playing with fire. It looks like it could be a wedding ring. It looks like it should be a wedding ring. But no … when the recipient opens the ring box, she is greeted with a bent-over, bare posterior … which then proceeds to make a fart noise. What better way to say "I love you" than that?
Theatrical couples who love attention could use this prank gift as a prop to intentionally make a scene at a restaurant, treating other patrons to the notion that they witnessed a proposal gone horribly wrong. Get ready to go viral …
Buy The Moon Ring – "It F@rts When You Open it! on Amazon Here. 
17- T.J. Wisemen Remote Control Fart Machine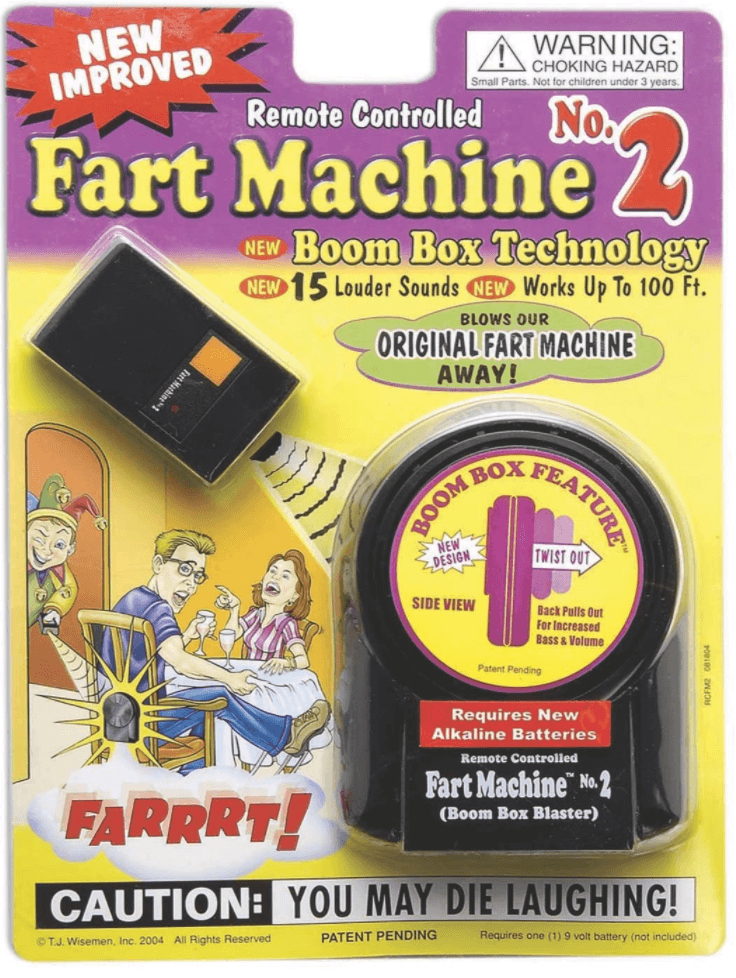 It's not just the T.J. Wisemen Remote Control Fart Machine—it's the T.J. Wiseman Remote Control Fart Machine No. 2! And yes, that's no pun intended. This is the fart machine for fart machine connoisseurs who expect more out of a fart machine. This plastic fart machine affixes unobtrusively to the backs of chairs so you can prank the sitter from afar with the remote control, casting aspersion on him or her from across the room as other table guests think he or she broke wind, as the Brits say.
But wait, there's more! The T.J. Wisemen No. 2 comes with a collapsible speaker cone. If you aren't pressed for space, you can pop out the speaker for extra volume and bass response. You know, when you need that extra fidelity in your fart sound effects. Powered by a nine-volt battery, this prank gift works at a distance of 100 feet, so they'll never, ever know it was you. Without a doubt, this is a fart machine fit for grown-ups.
Buy the T.J. Wisemen Remote Control Fart Machine on Amazon Here. 
18- Gagster Code Brown Commandos Emergency Underpants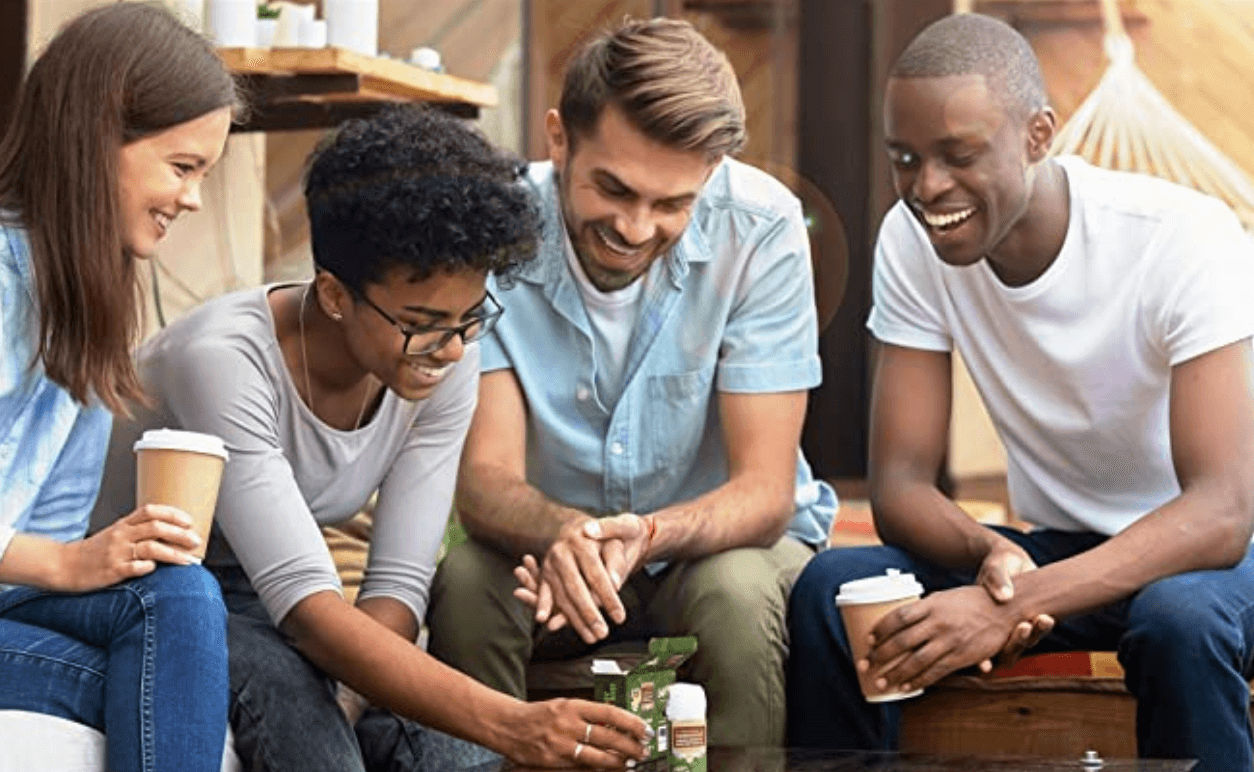 Let's face it, you don't want to be caught unprepared in the event of a "code brown." That's why the prepared person on your gift list will appreciate these "emergency underpants" to keep in a handy place—the purse, the glove box—so you don't have to "go commando" in a pinch. Each pair of "granny panties"-style one-size-fits-most stretchy drawers comes in a GI-style tin container, perfect for those battlefield emergencies. Sold in packs of three, these underpants are disposable. Use only in emergencies, and remember—put them on one leg at a time.
Buy the Gagster Code Brown Commandos Emergency Underpants on Amazon Here.
19- John T Humping Animals Adult Coloring Book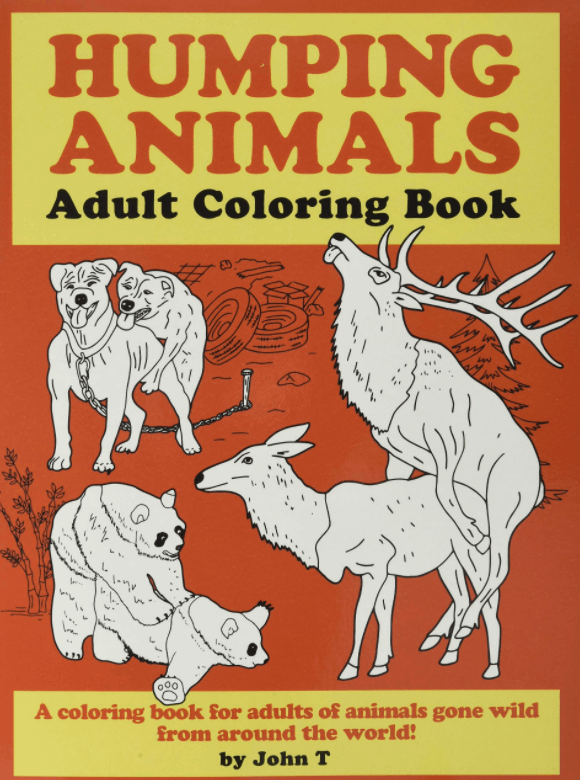 There's nothing like the call of the wild. After all, why should the kids have all the fun? John T presents the nature coloring book prank gift you didn't even know you needed—the "Humping Animals Adult Coloring Book." The artistically-inclined adult can get hours of fun out of a pack of crayons or colored pencils and this serene coloring book, depicting innocent animals in their most natural, instinctive state—copulating frantically. And you thought science couldn't be fun!
Buy the John T Humping Animals Adult Coloring Book on Amazon Here. 
20- Novelty Place Toilet Golf Potty Time Putter Game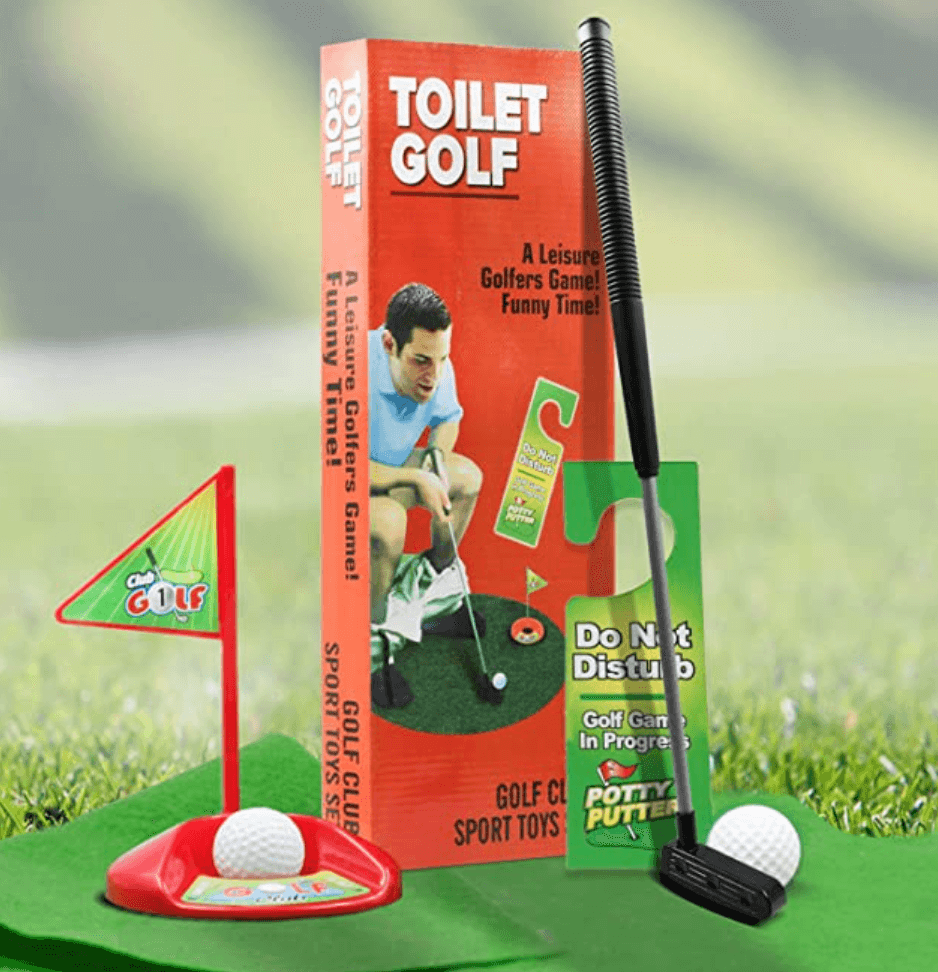 Remote control animals are always a fun choice unless, maybe, they're cockroaches. In this case, they make the perfect prank gift—an animatronic cockroach that looks disgustingly real. This 15-cm toy bug by NiGHT LiONS TECH can crawl forward, backward, and even turn corners, making it the perfect gag to scare the squeamish up onto their chairs. The remote control has a range of 6-8 meters. Both units run on lithium batteries for 7-10 minutes of running time before shutting down.
Beware—while it might be funny to watch people run away from this real-looking, skittering toy cockroach, you run the risk of the toy being short-lived if your mark reacts to the appearance of the bug by stamping on it.
On the other hand, this toy could provide hours of entertainment for the family cat … and the family who enjoys watching the cat.
Buy the Novelty Place Toilet Golf Potty Time Putter Game on Amazon Here. 
21- Prank Pack | Wrap Your Real Gift in a Prank Funny Gag Joke Gift Box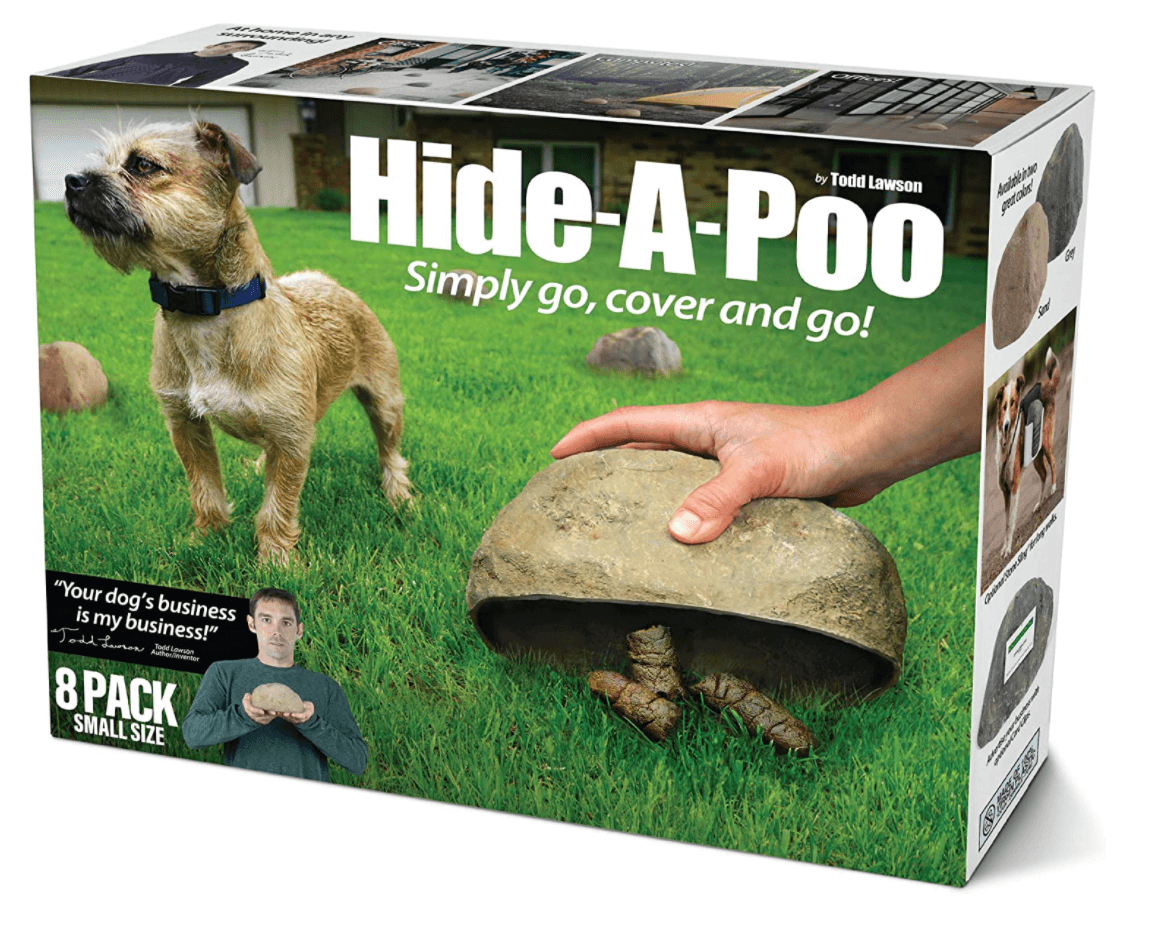 Novelty Place made the perfect prank gift for the golf enthusiast on your gift list. This product solves a problem the world was screaming to have solved—why should you have to take a break from golf when you're sitting on the john? This Potty Time Putter Game keeps the fun alive in the lavatory with a pint-sized putting green, hole, and golf club the perfect length for operating while the player "does his business." Whoever said the best prank gifts couldn't also be elegant solutions never saw this golf set.
Buy the Prank Pack "Hide a Poo" – Wrap Your Real Gift in a Prank Funny Gag Joke Gift Box on Amazon Here.
22-
Fun Time Products Dave Stott's 'Ultimate Prank Kit'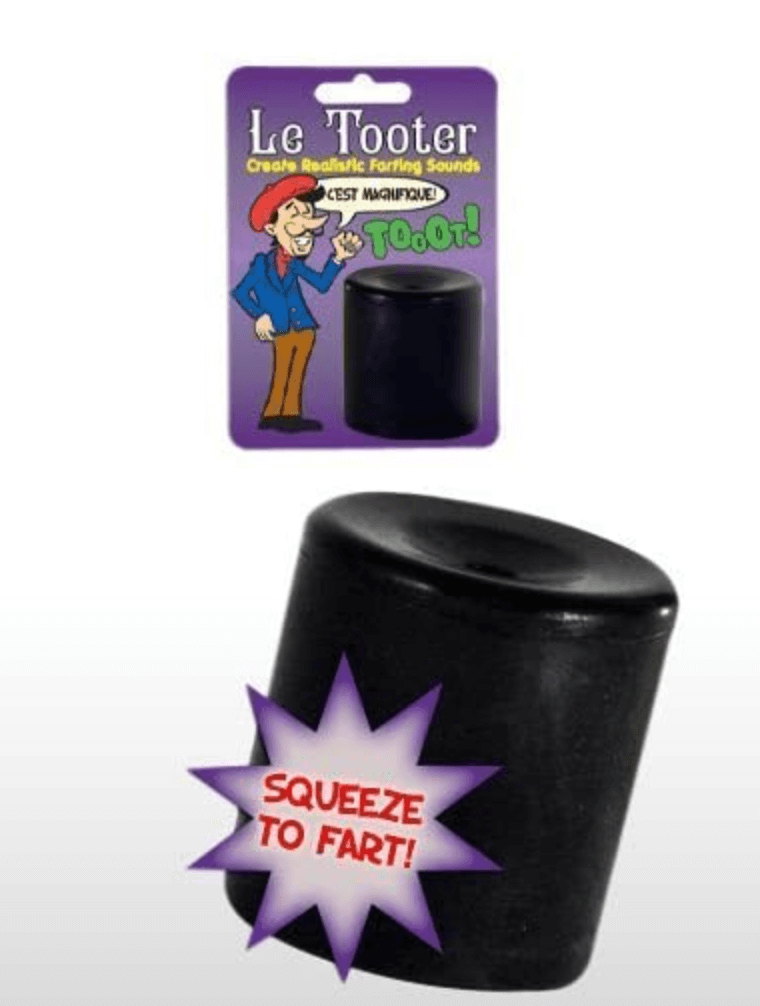 Who said exercise has to be difficult—especially if you're on the lookout for linguistic loopholes to get through your NOOM checklist? One of the best ways to get started on a weight-loss program is to take an invigorating walk around the block. BigMouth Inc. makes this habit easier than ever by providing the block—in this case, a 2×4 block of wood.
Two laps around the "block" have never been quicker. You may not lose a lot of weight, but in the grand scheme of things, isn't a good belly laugh worth it? One of the best prank gifts around New-Years-Resolution time.
Buy Fun Time Products Dave Stott's 'Ultimate Prank Kit' on Amazon here.
Why People Love Prank Gifts
Unless your friends and family completely lack a sense of humor—and in that case, we suggest getting new friends and family—there's always a place for a well-chosen prank gift. Prank gifts are practically a tradition, beloved by:
Gift Givers
Picking the right gift for a special person can be stressful. You want it to be something the recipient will enjoy—and preferably something (s)he hasn't already received as a gift in the past.
The good news is that few people think to give a prank gift. There's usually just one or two pranksters in every family unit or group of friends. If yours doesn't have one, it's time to step up! By giving this year's clever prank gift, you can establish a gift-giving niche for yourself—one that will always be welcome and which is constantly getting replenished with products.
Prank gifts sidestep the problem of getting someone a gift that they need or will use. The recipient may already have a heart rate monitor. Do they really need another? But can you ever have too much fake poop or too many noise makers?
Gag gift boxes deserve special mention because they can make a prank gift out of a normal gift. Instead of socks or a tie, the recipient will think, for several glorious moments, that you got them "cargo socks" or a "plant urinal."
A prank gift is the perfect gift for the "person who has everything." If you're running out of ideas of what to get someone on your list, it might be time for a prank gift. In a way, the prank gift itself is a comment on how hard it is to find a gift for that recipient!
Finally, with a prank gift, the gift is less the point than the impact—the laughs, the disgust, the evil glint in the eye as the prankster recipient imagines the possibilities.
Gift Recipients
Although receiving gifts can be exciting, they can get a little boring. Another pair of socks? Another necktie? Gee, thanks, mom. No, really!
A gag gift cuts through the noise. It's more than just a gift—it's a memory. It becomes a story that gets told and retold each time the gift-giving cycle comes around again.
For the prankster on your gift list, prank gifts take on a different meaning. By giving them a new prank, they can inflict their fiendish will on unsuspecting friends and family all year long.
When Is It Appropriate to Give a Prank Gift?
Of course, lovers of prank gifts also walk a fine line. What if the recipient doesn't get the joke? What if someone at the party is offended? What if you create a monster by arming an irresponsible jokester with the heavy artillery of annoyance?
Here are some things to consider when evaluating whether or not funny prank gifts are appropriate for the occasion at hand.
Does the Recipient Have a Good Sense of Humor?
Many people have a great sense of humor and will accept a prank gift in the spirit in which it was intended. But some people just can't take a joke. Consider whether or not the recipient will be confused or even offended by a practical joke instead of a practical gift. If the recipient is someone who takes jokes the wrong way, or lets jokes sail over his or her head, this might not be the right person to get a prank gift.
Is the Prank Gift Calibrated to the Recipient's Sensibilities?
Suppose the recipient has a great sense of humor. That doesn't mean every prank gift will be appropriate. A spring-loaded spider or snake-in-a-can is pretty benign, but other gifts, of a sexual or scatological nature, may not be well-suited for certain recipients, especially if they don't appreciate a raunchy sense of humor. If your gift recipient is easily offended by references to sex or bodily fluids, make sure to calibrate your funny prank gifts accordingly. There are plenty of family-friendly prank gifts on this list to suit their sensibilities.
Will Anyone at the Party Be Offended?
The recipient may have a dirty sense of humor, but the same may not go for other attendees of the gift-giving session. Of course, a gift is a personal expression between the giver and the recipient, so it may be tempting to say "Who cares if anyone else is offended! If we both like the gift, I'll give it." That's valid, but if you want to avoid offending grandma or getting dirty looks at the holiday table, consider avoiding dirty gifts or giving them in private.
Is the Mood or Tone of the Occasion Right?
Some occasions call out for prank gifts. Halloween comes to mind. So do bachelor parties and bachelorette parties. Birthdays and Christmas are probably safe bets as well. But a wedding? Maybe not the time for a gag gift, unless the happy couple has a great sense of humor.
Consider how the recipient might feel about the occasion, as well. A spouse or lover might love a gag gift any other occasion of the year, but on Valentine's Day or an anniversary, (s)he might be looking for an earnest expression of love, rather than more fun and games.
Can the Recipient be Trusted with the Prank Gift?
Not all prank gifts are pranks on the recipient. Some are pranks that the recipient can play on other people. With great pranks come great responsibility. Ask yourself if the recipient can be trusted with a prank that could be dangerous or (even worse) annoying. Something as benign as a fart-noise machine can become insufferable in the hands of someone who plays for Team Evil instead of Team Good. Make sure your gifts are age-appropriate as well.
Will Yours be the Only Prank Gift?
If the occasion calls for prank gifts (Halloween, bachelorette party, etc.) yours probably won't be the only prank gift. Keep an eye, however, on whether or not the recipient might actually be hoping for some practical gifts, like a broke college student who needs essentials. You might consider getting one "real" gift and one prank gift, to cover all your bases.
You Might Also Like: