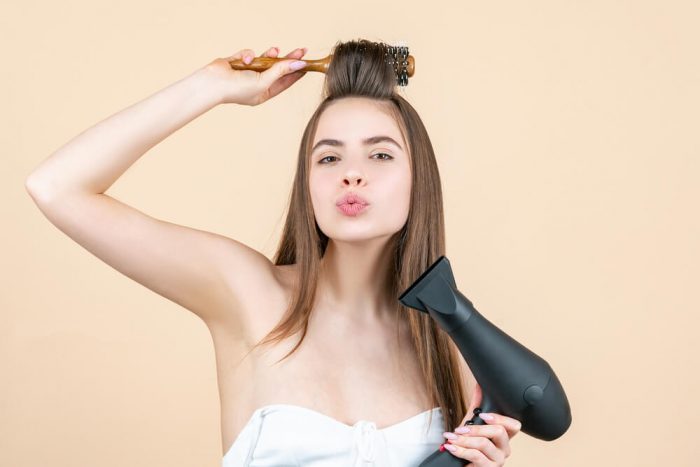 7 new from $49.99

4 used from $43.95

Free shipping
Last update was on: March 27, 2023 7:57 am
This product is non-sealed
STYLE AND DRY IN ONE STEP: Style, Dry & Volumize Your Hair in One Step, Max Drying Power with 30% Less Frizz and helps reduce hair damage
IONIC + CERAMIC TECHNOLOGY: Unique Non-Detachable Oval Brush Design for Smoothing the Hair, while the round edges create volume
UNIQUE OVAL DESIGN: Designed with Nylon Pin & Tufted Bristles for detangling, improved volume, and control
STYLING FLEXIBILITY: 3 Heat/Speed Settings with Cool option for styling flexibility
With Christmas and Valentine's Day around the corner, giving a gift to the special people in your life is a truly thoughtful way to express your care and love. A good gift should be both beautiful and practical, so you want to make sure you choose the perfect one, especially when your recipient is one of the most important women in your life.
Luckily, there are a few things that every woman would love to receive, and hairstyling accessories are on top of the list. Whether you know her style or you want to surprise your loved one with something she might never expect, the Revlon Hair Dryer and Volumizer Brush is a real lifesaver. Part of our best gifts for her list, this practical and innovative device will make getting ready for the day a lot easier and more fun.
Designed to deliver gorgeous volume and brilliant shine in one easy step, this fabulous Revlon brush can easily become any woman's new favorite hairstyling product. This is a must-have tool for achieving professional salon perfect hair in the comfort of your own home.
Thanks to the unique oval design, the brush helps create smooth hair, adding volume at the roots and natural beautifully curled ends. The advanced Revlon ionic technology provides 30% less frizz, without any tangling or pulling. You can have a perfectly smooth and shiny frizz-free blowout within minutes.
The flexible, tangle free pin bristles glide easily through your hair, using boar bristle technology to gently grip hair in order to make it straight, silky and shiny. This is the perfect device for somebody who is having problems with styling curled or rebellious hair, enabling them to gain control over their hair type and style it the way they want to, whether straight or with some stunning voluminous curls.
The innovative airflow vents are specially designed for faster drying and  better coverage, while the top cool tip is aptly crafted to meet temperature requirements for comfortable and safe styling. You can use it as an ergonomic place to grab with the opposite hand for better weight distribution.
The Revlon hair dryer and volumizer brush is equipped with a professional 6 ft. swivel cord for a tangle-free experience and with ALCI safety plug required for all hair dryers in the U.S. to offer additional protection.
The multiple heat settings rotating switch adapts to any hair type, offering professional level complete drying and styling flexibility.
For a customized experience, you can choose the perfect hair brush suitable for your hair length. For medium to longer hair, the recommendations are the original ceramic/ionic of 4.2" for a massive voluminous and smooth style, or the titanium max addition 2.4" head if your desired effect is volume with a wavy finish. For shoulder length  hair length to a shorter bob, Revlon suggests the titanium max edition 2.4", a small head for bouncy volume and smooth styles.
Incredibly easy to use, start by towel-drying your hair to remove excess water, separate your hair into manageable sections and brush through starting with the bottom layer, either under or over the piece of hair, depending on your preference. By brushing your hair underneath you will curl it inward, while brushing it over the top will provide a different look.
The versatility of this hair brush is a complete game-changer, allowing you to minimize your beauty and styling steps using just one product. Saving time, getting great results, and using fewer accessories and equipment–what could be better!
Customers love the effectiveness of the Revlon Hair Dryer as much as its affordable price. This is a brush that eliminates the need for other costly products or hair treatments like a straightening iron or hot rollers, and winds up saving quite a bit of money.
Your much loved lady will adore this new addition to her beauty collection and you will love her brand new salon-quality shiny locks. Maybe you want to surprise your mother or grandmother with an unexpected present or maybe you want to show your gratitude to your sister for everything that she has done for you so far. Revlon Brush is an excellent choice that will make an impression and make them forever thankful.