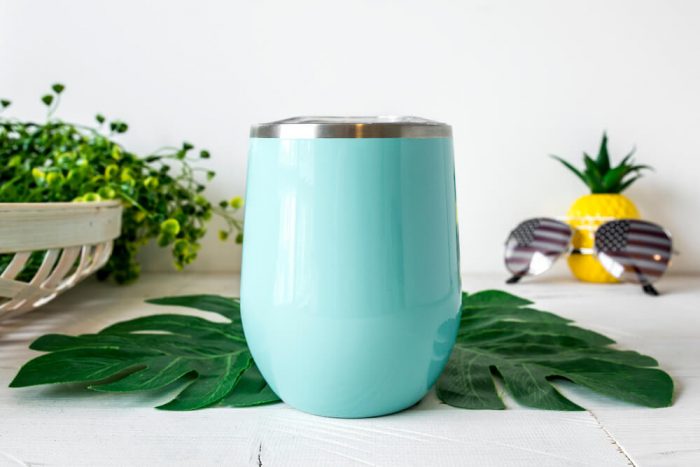 -30%
5 new from $20.98

Free shipping
Last update was on: November 28, 2023 7:55 pm
PERFECT FOR ALL WINES. Achieving the ideal serving temperature for every wine is possible with this set of stemless wine glasses. Each wine tumbler maintains wine's temperature better than a normal wine glass
INSULATED WALLS filled with proprietary cooling gel work as a wine chiller when frozen. Pop a tumbler in the freezer for white wines or cool in the fridge to keep red wines at cellar temp
BPA-FREE PLASTIC construction is sturdy and perfectly suited for outdoor use, An insulated silicone band makes for comfortable handling and ensures that this stemless wine glass set will be your favorite new wine accessories. Hand wash only.
Is it almost her birthday and you're still looking around trying to find the perfect gift? Is Christmas or Valentine's Day around the corner and you are going shop to shop seeking something truly unique to offer?
Even if choosing the right present can come with some small challenges, we believe you can never go wrong with a practical and original item. And is your loved one the kind of person who enjoys a glass of relaxing red wine on a cool autumn evening, or a nice chilled white wine on a warm summer day? Then consider this the perfect, go-to gift for the special woman in your life: The HOST Wine Freeze Cooling Cup. It's the perfect gift for your loved one who loves wine, and it's such a great selection that we've included it on our list of best birthday gifts for her, a list that we hope will give you more confidence in making the ideal choice for her special day.
This practical Cooling Cup is ideal for the woman who likes to take her time enjoying that occasional and rewarding glass of wine. Whether she's observing another birthday or is having a casual dinner with you, wine is always a great accompaniment to a meal or a relaxing moment. And sharing it makes it even better! That's why the HOST Cups come in a package of two cooling cups.
One of the most important aspects of enjoying a good wine is the temperature at which it's served. The right temperature delivers the best possible flavor and texture of the wine as well–it's like the difference between drinking ice cold champagne and warm champagne. You can hardly taste the complex flavors if it's room temperature, but when it's icy cold, you have all the strands of flavor in every sip. The HOST Freeze Cup easily achieves the perfect serving temperature for both red and white wine, maintaining this ideal temperature for a longer period of time compared with any other means of serving wine.
The cup's double insulated walls have a proprietary cooling gel between them. After you've cooled the cups for the right amount of time, the gel keeps your wine's temperature cold for hours even on a hot day, so you don't have to worry about your drink warming up. It's the perfect wine vessel and suitable for all types of wine. Super easy to use, just pop it in the fridge to cool your red wines to the perfect cellar temperature or store it for longer in the freezer to chill your white or rose wines.
A glass of red wine is best at slightly below room temperature, so keep your HOST Cup in the refrigerator to keep your drink between fifty-eight and sixty degrees Fahrenheit. On the other hand, a glass of white wine or rose should be served cold to feel its full character, so put your cup in the freezer for at least two hours to keep your drink between forty-three and fifty-three degrees Fahrenheit. For the best results, place the Cooling Cup in an upside down position to allow the gel to evenly spread and freeze.
And no need to worry about toxic plastics. The Cooling Cup has BPA-free plastic construction, which makes it perfect for both indoor and outdoor activities, and is shatter resistant. To make it easier to hold the chilled beverage, a silicone band assures a comfortable handling and a safe grip.
Less than 5" tall and only 3.5" wide, these compact sized cups can fit in any freezer or fridge, and they hold up to 8.5 ounces of your favorite beverage. Perfectly sized, the HOST cups will easily become your special lady's new favorite wine accessory.
And the cups are versatile too. The classic shape and the magic cooling gel are perfect for other liquids: milk, juice, tea, soda, iced coffee and more. You can use it for any kind of drink you'd enjoy cold. Remember how your mother always enjoys a glass of iced tea on hot summer days? Or how your sister's special drink is home-made chilled orange juice. Or that your grandmother likes a tall cold frosty glass of milk before bedtime?
Now you can help them enjoy their cold beverages with even more ease with what will become one of their favorite kitchen accessories.