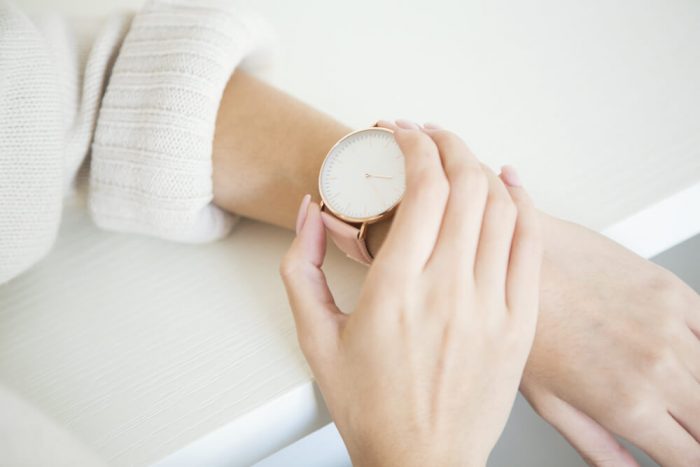 Last update was on: September 28, 2023 2:05 pm
Case Thickness: 7 mm; Case Diameter: 38 mm; Band Width: 14 mm; Band Circumference: 175+/- 5 mm
Strap Material: Stainless Steel; Movement: Two Hand-Quartz; Water Resistant: 3 ATM
Japanese-quartz Movement
Case Diameter: 38mm
Choosing the right gift for a woman is not an easy task. Are you feeling a little bit clueless about how to choose the right present for her birthday, anniversary or on Valentine's Day?
The internet is full of available options you can choose from, but a watch is one of the best gifts you can give your loved ones. It's simple, fashionable, and every woman would enjoy a new timepiece.
Skagen Women's Karolina Japanese-Quartz Watch is a great way to express your love to your special someone. It's so fashionable, we included this item on our list of best birthday gifts for her, hoping to help you make the best choice that will suit the special woman in your life.
With a simple and clean shape, this watch has perfect modern lines–it's not fussy, not over decorative. A minimalistic timepiece that can be easily worn anywhere, from casual activities and to elegant evening dinners, the Skagen's Karolina watch has a monochromatic design, which perfectly complements any outfit, regardless of the trend or the occasion.
No matter if you are looking for a special gift for your loving wife or your caring sister, this casual yet sophisticated accessory is a fantastic expression of their personality and sense of aesthetics in a functional timepiece.
Neat and tidy are both treasured characteristics by the name of Skagen. Developed with the vision that less is more, this Danish brand is focused on essential features, creating beautiful, affordable and classic watches. Definitely one of the most recognized watch brands in the world, their craft is the expression of simplicity and clean design.
Shaped around culture and style, this model answers your recipient's  everyday needs in its simple and sleek timepiece.
Karolina's watch is made stainless steel, so it's durable and resistant to tough conditions. Unlike other materials, the stainless steel does not stain, rust or corrode during infrequent contact with water.
The slim indices give the watch a classy, yet sophisticated design and the plain white case makes it easy to adapt to any kind of outfit or colors. It can be worn during daily activities, a perfect way to remind your loved ones about you, about how much you care about them and want to be present in their everyday life.
The ultra thin and minimalistic case complements both casual and elegant styles yet offers a delicate touch to your look. Practical, refined and stylish, this watch will become a favorite accessory in your loved one's life.
And its rose-gold chromatic creates a soft, feminine look.
Water resistant 3 ATM makes this watch resistant for occasional contact with water, splashes, rain or hand washing. It is not recommended to be worn during showers or swimming.
The Japanese quartz movement ensures superior accuracy and high durability. Whether at class, work or during any other busy moment, this watch will save you from constantly checking the phone, keeping you focused on the present.
The case thickness measures 7mm, case diameter 38 mm, band width 14 mm and band circumference 175 +/- 5 mm. The adjustable mesh strap comes with a sliding clasp on the lower portion, making it easy to adapt comfortably around the wrist.
Customers consider this Skagen accessory a fashionable, yet affordable watch. The most loved features are the fairly thin face, the lightweight craft and its simple, yet attractive design. The alluring rose-gold color and its versatility go well with a variety of outfits and it's a timeless accessory from season to season.
Whether it's your girlfriend's anniversary or your mother or grandmother's special day, the Skagen Karolina watch makes an excellent choice for a gift. Classy, elegant and thoughtful, it can serve as a precious memory in a quietly expressive and impressive way.