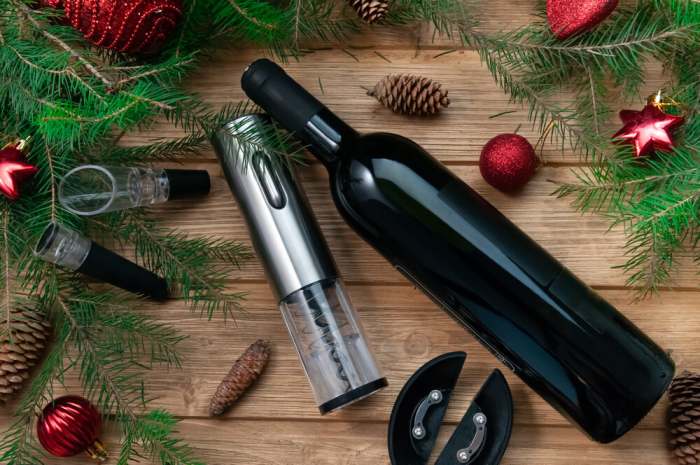 -33%
5 new from $19.99

12 used from $17.56

Free shipping
Last update was on: June 4, 2023 8:45 am
Rechargeable Electric Wine Bottle Opener - Easily remove corks in seconds. Compatible with most wine bottle sizes. Open up to 30 bottles on a single charge.
Easy to Use - Simply place on top of your wine bottle, press a button, and tada, your wine is open and ready to serve.
Small Footprint Saves Space - Our electric wine bottle opener is small enough to store discreetly away when not in use. Keep the charging base next to your wine fridge, storage rack, credenza, etc.
Whenever birthdays and celebrations are around the corner, it is time to think very carefully about creative ways to impress that special woman in your life. Whether she is your caring wife or younger sister, a thoughtful present can go a long way towards showing how much you care.
To help you find the right items, we created a birthday gifts for her list that rounds up some of the most useful and creative options available to instantly get a big smile from anyone you love. We included the Secura Electric Wine Opener as part of the list, a sophisticated and elegant corkscrew that will not only open bottles with maximum ease and speed but also beautifully decorate a dinner table.
Secura has long been a leading small appliance manufacturer, their innovative products are top sellers on many top online shopping services and in several large national retailers. Proudly offering high quality products for kitchens, health and beauty areas, the brand is focused on ease of use, environmental friendly materials, ergonomic designs and affordability.
Secura Electric Wine Opener with Foil Cutter is a fantastic gift to any wine lover or to someone who would like to make a big impression during dinner parties. Making family life much easier, the device is a great help for wine savoring moments.
Those who truly understand the difference between good and excellent wine probably also know the importance of having the right tools while serving a bottle. A glass of wine comes with a full package of times, places or memories. The simple wine drinking experience itself can recall a valuable memory of a certain moment or situation.
Considering this aspect, it is no wonder that an occasional glass of wine can be such a delight. Secura Electric Opener brings its contribution in enhancing this experience, regardless the occasion. You might straight away think of a family dinner or a romantic candle meal served for Valentine's Day.
Secura's rechargeable system allows easy removal of up to 30 bottles of wine on a single charge. This makes it ideal not only for home events, but also for outdoor activities and traveling weekends.
There is always a fit occasion for a glass of wine. From marking someone's passing to a traditional Sunday pizza night with family or maybe simply when detaching from the day's rush, relaxing music and a glass of good wine can create an oasis of calm in the midst of our hectic lives.
An occasional glass of wine might bring a huge change to the taste of food, its flavor being a great complement to what is being consumed. No matter the occasion, a well-chosen wine can add a classy touch to any tasty meal.
Extremely easy to use, whatever wine is chosen will be ready to serve in no time. Start by cutting the foil using the featured foil cutter, then place the opener vertically on your bottle, press the Down button until the cork is pulled out.  The last step is to press the Up button until the cork is released. Don't worry about what sound is created while in use; the device makes almost no noise.
With a compact size, the Secura Wine Opener can be easily stored even in smaller kitchens. For accessible access, consider  keeping the charging base close to a wine fridge, storage rack, credenza or any other suitable place.
The device features an attractive stainless steel handle that fits comfortably in the palm of the hand and the transparent durable shell that surrounds the mechanism lets you see when the cork has been fully removed from the bottle.
With a modern design and practical use, the Secura Wine Opener can be a great addition to any household. Its elegant charging base with blue LED light is definitely made to impress any eyes, making this opener ideal for a multitude of events like catering parties, banquets, restaurants or behind the bar operations.
The customers are excited with their purchase, using the Secura Opener in a variety of circumstances, from work related events to family picnics and friends gatherings. With a comfortable and convenient system, the electric opener is suitable for any age, especially for your mother or grandmother, who might encounter difficulties in using the traditional methods.