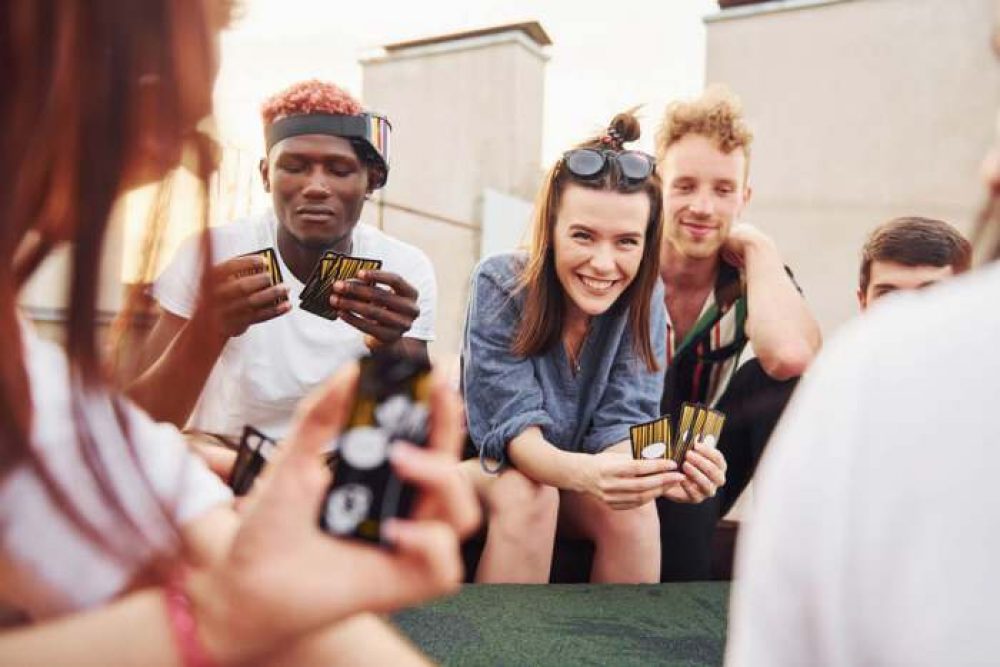 -6%
2 new from $12.95

Free shipping
Last update was on: March 21, 2023 9:15 pm
Werewolf is a party game of lies, deceit, & accusations. Are you devious enough?
20 Villager Cards, 10 Werewolf Cards, 8 Wild Cards, 2 Seer Cards, 2 Doctor Cards, 2 Moderator Cards, 2 Village Drunk Cards, 2 Witch Cards, 2 Alpha Werewolf Cards
Play with up to 35 people (or two 20 person games!)
Most well-designed Werewolf game that exists.
Made in the U.S.A.
When it's time to buy birthday, Christmas or Valentine's Day gifts, it is absolutely normal to feel the task is a little bit daunting, especially when it is a gift for a special woman. Luckily, she would appreciate anything you offer her as long as you do your best to show your admiration and gratitude.
We believe you can never go wrong with a fun present like Werewolf: A Party Game for Devious People, which is specially created for an outgoing person who enjoys playing a multitude of games with friends or family members during social gatherings. We included this item on our list of best birthday gifts for her, where each item has been carefully selected to make it easier to impress your beloved one.
Founded in 2014, Apostrophe Games is a small product and game design studio, whose mission is to use well-designed goods and experiences to bring people together, while encouraging playfulness and joy. Focused on real world puzzle experiences, the brand has a huge focus on visual design, its games are quick to learn and fun to play with friends, family or coworkers.
Werewolf is a party game of lies, deceit and accusations. It includes 20 villagers cards, 10 werewolf cards, 8 wild cards, 2 seer cards, 2 village drunk cards, 2 witch cards and 2 alpha werewolf cards. With a playful and easy to understand design, this game is the ideal way to bring up to 35 people around a table, the result being a fun evening of laughter.
The game allows you to take multiple roles, but the mission always remains the same – the village. You will attempt to save it or destroy it. Each round of the game will test your skills, personal judgment and moral character, creating epic experiences.
The most common role the game can offer is a simple villager, whose unique role is to find out who are the werewolves and the other villagers. Your mission is to defend the village, so you have to pay great attention in pointing out the flaws or mistakes of your fellow players. It all depends on how much you know each one of them, which makes the game even more intriguing and fun.
The werewolves, typically outnumbered by the villagers, want to take over the village. Pairing with the rest of the werewolves, you need to secretly plan the elimination of one villager during the night. One-by-one they will eliminate all the villagers and win only when there are either the same number of werewolves and villagers left or if all the villagers are eliminated. This might be the most difficult role to have, considering that you have to lie for the entire duration of the game.
The seer has the ability to observe who the werewolves are once night falls. The most important decision is to choose to keep your information a secret during the day or reveal yourself and use the knowledge in your defense or to your advantage.
The doctor is a character who is able to heal himself or another villager. Should you choose to heal yourself, you will be safe from being eliminated by the werewolves, but you can also prove yourself to be a doctor or prevent the death of a fellow player by opting to heal them instead.
The village drunk has the burden of only being able to communicate with gestures and noises. A mischievous strategy by other players is to pretend to be the drunk because the role is so easily recognized.
The witch has the additional powers of one potion and one poison, which can be used at any desired point during the game. The alpha werewolf's additional burden is to say at least once the word Werewolf during the game, which is a big challenge, considering that anybody will avoid pronouncing the word in an attempt to root out this player.
The last character is the moderator, who knows the role of each player and controls everybody during the game. It is their job to keep the game going and to call for a vote when a nominee to be eliminated has arisen.
This game is a fantastic way to keep a group together through fun and entertaining social interaction. Werewolf is compact enough to be carried in a purse, so it is easily transported to any party, where it will create an epic phenomenon. From your younger sister to your mother and grandmother everyone can enjoy it with friends or other family members.