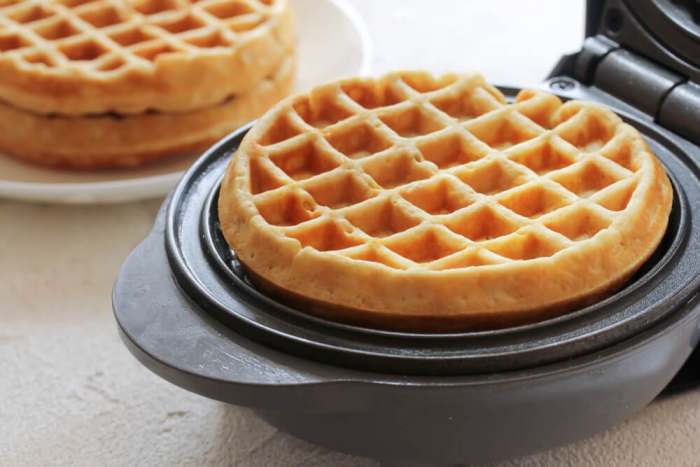 12 new from $19.00

2 used from $17.22

Free shipping
Last update was on: March 26, 2023 11:21 am
MORE THAN WAFFLES: Make your favorite breakfast classics, or get creative with waffled hash browns, cookies and even biscuit pizzas. Any batter will "waffle" into single serving portions. Great for families or on the go.
MINI IS MIGHTY: With a 4" nonstick cooking surface, this is a MUST-HAVE for that first apartment, smaller kitchen, college dorm, or camper/RV and stores easily in a kitchen cabinet or drawer.
The key to buying a gift that your friends or family will love is to choose items that would really play to their interests. If you are shopping for someone with a passion for kitchen gadgets or cooking we believe the Dash Mini Waffle Maker can be something they will really appreciate. We included it on our list of best birthday gifts for her, a useful collection of picks that can help you find the perfect present to impress the special lady in your life.
Waffles are, without doubt, a tasty and a very popular breakfast item. Homemade ones taste far better than the frozen kind, are pretty easy to make, and even easier to enjoy. The days when you had to hold long and heavy waffle irons in the fire are long gone.  The Dash modern waffle maker needs little to no experience to effortlessly create tasty golden treats.
Just prepare some waffle batter (this can be in the form of a mix, and usually includes flour, eggs, milk, water and oil or butter), pour it evenly onto the lower waffle plate, close the lid and let the magic happen. The light will turn off when the process is finished. Soft and warm on the inside, a bit crunchy on the outside, there are infinite ways to enjoy waffles.
If your mother or grandmother used to prepare delicious meals for you when you were young, the Dash Waffle Maker experience can bring back many memories by recreating the tastiest meals. After learning to make basic waffles, your recipient can get creative and try out different toppings, dips and garnishes.
Dash Waffle Maker is a versatile and fun device that encourages use of the imagination to create countless delicious waffled creations.  Apart from the sweet breakfast dish eaten with chocolate cream, maple syrup or butter there are so many other recipes to experiment with that will undeniably surprise guests or family members.
Try a savory presentation by pairing them with cheese, fried chicken or a fried egg and to obtain a delicious meal for a savory brunch or even dinner. Who says the waffle fun has to stop at breakfast? Try the keto or vegan way of cooking, by using low-carb ingredients or by replacing the eggs and dairy.
Compact and lightweight, the Dash Mini Waffle Maker is suitable even for a small kitchen or college dorm room, making it a fantastic present for your younger sister or for Valentine's Day, if you just moved into a new home. A great aid in space saving, it can easily become a portable device, which means it can be carried comfortably on a trip, making it perfect for camp or van travelers.
A big advantage of this mini waffle maker is the quick baking, so anyone can create tasty wonders within a few minutes. Without having to exert much effort for spectacular results, you are ready to search and enjoy a fantastic meal.
Very easy to operate, the Waffle Maker features a nonstick surface that can help anyone create elegant and attractive meals. With a composition that does not include PFOA contents, its surface creates less mess and is very easy to clean.
Its thoughtful design includes a practical handle, which is easy to use and to lift while protecting fingers from heat. As an addition to giving greater safety, the featured non-slip feet will keep the waffle maker stable and secure while in use.
The included recipe guide is a great way for beginners to get started in their cooking process, making it ideal for multiple age categories. Furthermore, the booklet offers free access to a database of a thousand tasty and original recipes.
A breakfast of waffles with a favorite topping is an irresistible temptation for many of us; this is why we believe the Dash Mini Waffle Maker is a fun device to offer that will not only allow your beloved one to bake some cute and adorable waffles, but will also help her reveal her creativity and let her present different meals in unique and impressive ways.
The Dash Waffle Maker surpassed its customers' expectations with its versatility and usefulness. Excellent for baking small bite-size waffles in no time while on the go, it might unleash the creative person in your recipient for creating interesting meals or serving snacks.  A large batch can even be made during a more relaxed time and stored in the freezer for later serving.